Technology Tools
Personalized Learning Technologies and Platforms
November 19, 2015
Topics
Personalized Learning
Tools for Next Gen Learning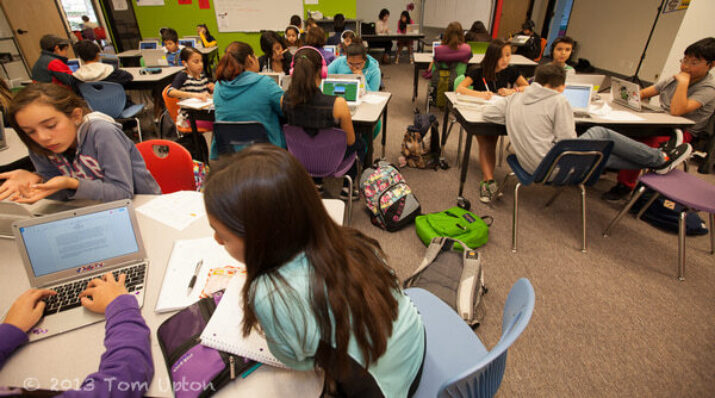 Technology Tools
Technology Tools
Educators often take advantage of educational technologies as they make the shifts in instruction, teacher roles, and learning experiences that next gen learning requires. Technology should not lead the design of learning, but when educators use it to personalize and enrich learning, it has the potential to accelerate mastery of critical content and skills by all students.
Learn More
Two personalized learning school leaders answer tough questions related to building platforms to support personalized learning and innovative school models and the impact of their work on the field at large.
The field of personalized learning is young but experiencing exponential growth. This rapid pace of adoption makes the need to address significant challenges facing the field ever more urgent. One real challenge was reflected clearly by a participant in NGLC's session at last week's iNACOL Symposium, Car Talk Comes to iNACOL: Why haven't we figured out the platform issue yet?
The platform issue was deeply explored in another session at the symposium, "Build IT and They Will Come: A Discussion of Schools and Personalized Learning Technologies and Platforms." NGLC grantees Erin Mote of InnovateEDU and co-founder of Brooklyn Laboratory Charter School and Adam Carter, CAO of Summit Public Schools, sat on the session's panel alongside Mary Jo Madda, senior editor at EdSurge, and Mike Baur, program officer at the Michael & Susan Dell Foundation. LaVerne Evans Srinivasan of the Carnegie Corporation of New York facilitated the panel.
Erin and Adam tackled tough questions related to building platforms to support personalized learning and innovative school models and the impact of their work on the field at large. Information about InnovateEDU's Cortex and Summit Public Schools' PLP is provided below. Here are the questions, highlights, and complete answers from the engaging and lively session in mini-podcast format.
Why do you build a platform in the first place? Aren't there enough products out there? Why are you doing what you are doing by developing your own?
Erin: I am a technologist posing as an educator and I didn't think we were going to need to build something. I thought we were going to be ok. I thought there had to be something out there that's interoperable and that would allow us to do dynamic grouping, and something that would allow us to visualize operational and instructional data side by side, that would be able to give us rich program and assessment data so that I can know where my students are to do extension or remediation while delivering grade level content. I was wrong! Listen to the rest of what Erin had to say about why she developed Cortex.
Adam: I came into this in the opposite way that Erin did...I am an educator that isn't even trying to pose as a technologist. We built the PLP to help us do things that we always wanted to do for kids. We initially focused on the front end—what do we want kids, teachers, and parents to see? But what's driving us now is the back end. How can we intervene more rapidly than we could before? It all begins and ends with students. Listen to Adam explain the other opportunities that building a platform afforded Summit.
From your perspectives, is it really the smartest thing to have each of these schools, districts, or CMOs develop their own solutions?
Mary Jo: In our observations, we have these events called the EdSurge Summits all over the country where we invite entrepreneurs and we invite educators into the same room and get them to talk to one another. The educators' biggest complaint is... "I don't want a silver bullet, but I want a silver bullet. Can you just give me one platform that I can use to do everything?" The problem is that kind of product is inherently challenging for any one entrepreneur to develop because you are not developing a product for each individual customer that you have. Listen to Mary Jo describe what would happen in her perfect world.
Mike: From a funder's perspective, I think the jury is still out on whether there are enough options in the market to say, "Yes, as a school, CMO, or district leader we should absolutely use one of these technology platforms focused on personalized learning." It's an ongoing discussion. However, I do think the area we should all agree is that we are not going to have innovation until there is a broader acceptance and compliance to something we technologists call a "data standard." Listen to learn more about the data standard and impact to platform development.
One of the challenges for our field is that you are developing solutions that are closely aligned to your instructional models. How do we go from this phase in this field to a place where the field is learning from what you are developing and then to a phase of developing solutions that are more easily scaled?
Adam: I believe in a diverse marketplace. What I care about are kids and if they are learning in personalized ways. That is what matters. So, we have a free product (the Personalized Learning Platform which, through Basecamp, allows educators across the country to customize instruction to meet students' individual needs and interests, while putting students in charge of their own learning) that groups of schools are signing on for and, without any marketing campaign whatsoever, we are getting lots of fantastic, aligned educators asking for it. Listen for the beliefs embedded in Summit's system and Summit's plan to give tools away freely.
Erin: I agree with Adam 100% that the marketplace is not healthy enough and that a healthy marketplace has a variety of choices. I also disagree with Adam and in part that disagreement means we've taken a fundamentally different approach at Brooklyn Lab and InnovateEDU in saying that elasticity is the most important thing to build into our platform. That you should be able to set your own grading scale, that you should be able to define mastery, that progress and pace are important. Certainly there are things like a progress and a pace bar, but there's also the power for a teacher to choose whether their playlists are going to match what they are teaching in the classroom or students can move through a whole playlist at their own pace through self-directed learning. Erin explains the power of the Cortex's flexibility and its potential to radically disrupt K-12 education.
How do we move the field away from everyone using a different standard and scale on platforms?
Erin: I can talk a little about the approach that we are taking right now in order to think about moving data in and out of the system. I think it starts with a data standard. It doesn't make sense that what I call first name and what you call first name, if the f isn't capitalized...we are never going to be able to talk to each other. That's crazy town! Listen to the rest of Erin's proposed solution.
Session participant Jin-Soo Huh agreed: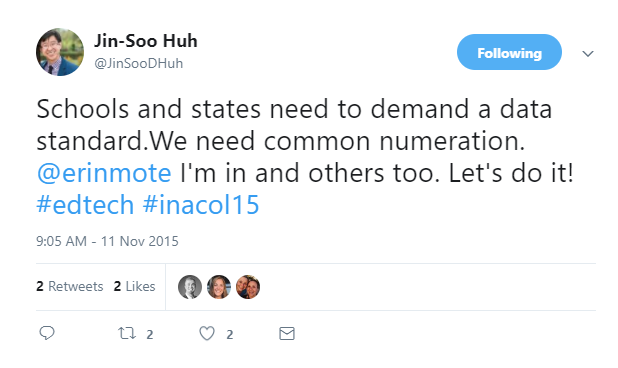 Building in flexibility is expensive and complicated. What can we learn from the more traditional vendors? What are the lessons learned as you try to scale up?
Erin: I am an agile developer. I do a ridiculous amount of UI (user interface) and UX (user experience) testing with teachers and students and I throw stuff away all the time. I had a vision for how teachers were going to create playlists that was total crap. I spent weeks on it and turns out it was crap and what teachers wanted was a list. On the front end, what you have to do is design age appropriate UI and UX that schools can choose and pick from. Listen to more of Erin's ideas about building in flexibility.
You've presented two different platform solutions. If we all pooled our money, could we send you both off on a 4-day-palooza so you could learn from each other and make sure that this doesn't create two separate camps? What's the thing that intrigues you most about the other's platform?
Erin's answer.
Adam's answer.
The Next Step for Personalized Learning Platforms
It's clear to me that the work Erin and Brooklyn Lab and Adam and Summit are doing is helping to address the platform issue. Yet we are in early stages and there's much to learn. It's also clear that the marketplace needs more options. During the session, we only heard about two models, InnovateEDU's Cortex and Summit Public Schools' PLP. I believe it is important to convene more folks like Adam and Erin—those who are building their own platforms or partnering with vendors to build custom platforms aligned to their academic models—with the goal of sharing the learning with each other and with the field. It's clear that we can't all build our own platform—there's isn't enough talent flooding the education sector with the right skill set to get this work done, and the everyone build your own platform approach just isn't scalable. So what's it going to take? It's going to take collaboration, a common data standard, prototyping, and the support of funders.
About Summit's PLP and InnovateEDU's Cortex Platforms
The PLP is a teacher-developed online tool that supports students to set short and long-term goals. Students are able to track progress on their goals, set roadmaps to achieve their goals, learn content at their own pace and engage in projects that foster deeper learning and connections to the real-world.
Cortex is a learning platform that presents operational data (enrollment, attendance, etc.) alongside instructional and assessment data. The Cortex platform integrates learning profiles with customizable playlists along grade-band competency progressions.