Designing for Equity
How Emergent Bilingual Students Excel through Meaningful Language Practices, Relationship Building, and Extracurricular Activities
March 10, 2022
Topics
Competency-based Education
Student Success
School Culture
Curriculum & Instruction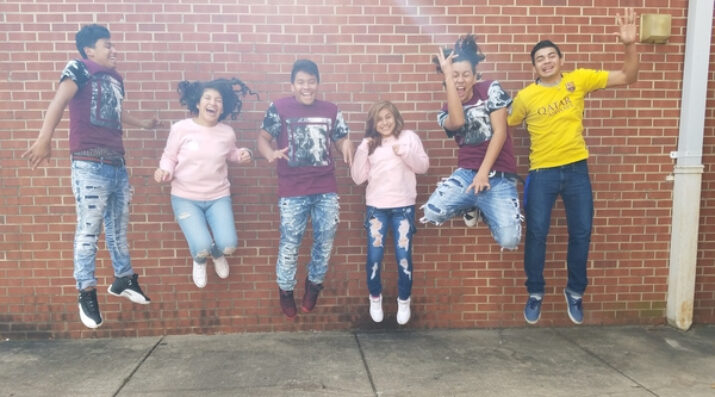 Designing for Equity
Designing for Equity
Together, educators are doing the reimagining and reinvention work necessary to make true educational equity possible. Student-centered learning advances equity when it values social and emotional growth alongside academic achievement, takes a cultural lens on strengths and competencies, and equips students with the power and skills to address injustice in their schools and communities.
Learn More
These three strategies used at International High School at Langley Park (IHSLP) can help emergent bilingual students excel in the U.S. education system.
So much has changed for emergent bilingual (EB) students since my own walk in those shoes back when I started school in the United States in 1991. The country has made significant leaps in helping EB students achieve "success" in all traditional senses. In other ways, the experience for EB students in schools has also remained stagnant when it comes to innovative and transformative learning. One of the things that I am most proud of is being the founding principal of The International High School at Langley Park (IHSLP), a school for emergent bilingual students in Maryland. It is a place that I proudly imagined in collaboration with others and where I was allowed to fully explore, from a different perspective, how EB students should experience learning in this new age. It was a dream come true to help design a school that puts student voice at the core of all decision-making.
To be here, co-writing and publishing a blog post with a formerly classified EB student from IHSLP, Jimmi Rios, means that we must have done something right! From the beginning, we knew that Jimmi would keep us on our toes for all of the best reasons one can think of. He exposed congress members and local politicians to our school through his own aspirations of someday becoming one and through recognition of his participation in various programs. He is now headed to Lewis & Clark College in Portland, Oregon, on a full tuition scholarship through the Posse Foundation (also an experience that I know all too well as an alumni of the program).
Together we will explore some of the strategies used at IHSLP to help emergent bilingual students excel in the U.S. education system.
The question was always about how do we center the experience of EB students to create learning experiences that are meaningful and allow them to become competitive members of society?
Core Learning #1: Using Language as an Asset in the Classroom
You hardly ever get to hear about new and innovative initiatives starting with students that have been historically marginalized in educational spaces. Even when those opportunities exist, they tend to be framed from a deficit perspective. At IHSLP we imagined a new kind of learning space completely focused on the development of academic, language, critical thinking, and social and emotional skills through a competency-based model for EB learners. The question was always about how do we center the experience of EB students to create learning experiences that are meaningful and allow them to become competitive members of society?
It has been the case that in traditional schools students are often graded down on academics because of language even when students come from more advanced learning environments abroad. The design team at IHSLP wanted to make sure that students were not penalized for having lower English language levels and found ways to gather information on a student's understanding of content. Below are some strategies that were commonly used in the classroom to help with language acquisition and some of the pros and cons behind using those strategies:
While there are other strategies that can be used with EB students, these were the most commonly used at IHSLP.
When I transitioned into a monolingual classroom in the 5th grade the messaging that I received was that I should only be speaking English all of the time. This put me in a bind as I navigated two worlds: an English-only classroom and a Spanish-only household. While I was able to eventually figure out how to navigate these spaces, I saw how my sister, who grew up in the same household, struggled to dominate either language in elementary school. She'd try to pronounce English words in Spanish and to this day I remind her how in kindergarten she used to fully sound out the word "because" using Spanish phonetics. Although we make fun of it now, it is something that was very real for us and that many students still experience in the United States. It is important that as we help EB students navigate content acquisition that teachers are fully aware of their students' language levels and how to appropriately challenge without letting go of rigor.
Dr. Beato:
Jimmi, what was different about how you were able to use language at IHSLP? What has been your perception of the way language is used at IHSLP?
Jimmi:
Those are some tough questions, Dr. Beato, but I will try and answer as best I can.

One of the things I love most about IHSLP is the fact that we have access to teachers who speak my native language, Spanish. Sometimes, we have full blown conversations in Spanish to help me really understand a concept that I might be having trouble with. While some of my teachers are able to have a conversation with me in Spanish, the expectation is and has always been that any products that I produce will be completed in English and in that way my teacher can give me a proficiency score that reflects where I am with both my content and with language. Receiving these scores is much different from what I had experienced in middle school where I would get a letter grade, which I sometimes felt was not an accurate reflection of me as a student.

There are specific things that I have experienced in English class that helped to solidify writing in English for me. I remember walking into English class for the first time at IHSLP, it was the year that I was introduced to SEAL in our argumentative writing unit. I remember thinking, "isn't that a sea animal?" and quickly learned that it was a writing formula (Statement, Evidence, Analysis, Loop Back) that I would use for the remainder of my high school career. To think that three years later I am still using it to organize my thinking in my forensics and English classes is beyond me, but it is also a testament that language is embedded into the IHSLP experience whether through reading, writing, speaking, or simply listening. While this writing concept has remained the same, for example, there is more depth and analysis that goes into SEAL as a senior student. It is one of the writing techniques that I know will help me as I venture off to college this summer.
I think for me it all started in advisory and knowing that I would go through four years of developing deep and meaningful relationships with the kids in my group.
Core Learning #2: The People Experience at IHSLP
Dr. Beato:
Jimmi, it seems like you've been able to use language to connect with other people at the school, including your teachers. Let's explore that a bit because I do think there's something there. Could you talk to me about what made the people at IHSLP different? How did they make your experience different?
Jimmi:
Adults at IHSLP are unique because they really care about students. Teachers are always working really hard to teach not only a specific topic or theme for their class but also English as well. I love it when adults work tirelessly for students because that makes us work even harder. As a school community, students know that we are really cared for and that our success goes beyond the physical school building. We are always being pushed into things that allow us to challenge ourselves and to get out of our comfort zone. That comfort zone was breached a few times as I was challenged to try sports like basketball and tennis, but it also felt great to know that the adults at IHSLP saw some potential in me and that they believed I could learn and grow in something that I had never even experienced before. And I can say that watching basketball on TV and playing it are two very different things. All that to say that it takes a really special adult to really listen to the needs of us students and I do not feel that schools always get it right. But at IHSLP I can honestly say they are always there for you and to hear you out if you are going through any kind of problem. I have felt that love since freshman year by the teachers, Dr. Beato, our Assistant Principal Mr. Sass Assistant Principal, and even now with our new principal, Dr. Humphrey.

I think for me it all started in advisory and knowing that I would go through four years of developing deep and meaningful relationships with the kids in my group. I didn't know what that would mean for me until now as I think about all of the different paths we are all about to embark on once we graduate from IHSLP. Ms. Amaya, my advisor, has been instrumental in helping us develop the social skills and knowledge of future pathways that will help me make sound decisions for my future. Of course, it definitely helps to share a similar background with her because I feel like she understands me in a different kind of way. She understands my family and some of the challenges that my family has had as immigrants in this country.
Dr. Beato:
Jimmi, that is some deep reflection on how the relationships you have built at IHSLP have helped to mold you into who you are today and who you'll become tomorrow.
I do believe that one of the things that helped separate IHSLP from other schools was the culture that was created by those in the building and the school's core value of collaboration. It can sometimes be difficult to navigate different human personalities and perspectives, but IHSLP is, after all, an incredibly diverse school. This all started at the hiring level where we focused on finding culturally-competent educators to lead the school. We created a hiring process unlike any other in the teaching profession using some of the processes I had encountered in the many programs I'd been a part of like The Posse Foundation's DAP process. I remember the very first set of teachers to ever apply to IHSLP as it opened its doors to the first 100 9th graders. I remember seeing the faces of the candidates when they were asked to build a robot from scratch with opportunities to both look at the directions and, at other times, only use their memory, leadership, and listening skills to complete the task. It wasn't the puzzle pieces that teachers were putting together that struck them as wildly different about this hiring process, but rather the fact that they were being asked to collaborate with potential future colleagues. In engaging in that process in that way we were ensuring that our community was able to see how people would potentially collaborate with others and how well they connected to IHSLP's mission and vision.
My favorite part of the hiring process though was that students had the last say in who we hired. They had an opportunity to see the top two candidates in whatever subject area we needed and through surveys and comments we collectively made a decision on what was best for the students at IHSLP. I remember students debating who the "best" teachers would be for them and why; their voices were elevated beyond any of the other humans in the building. It is what we did in every process at the school and, in fact, I would argue that it was this student-centered approach that allowed IHSLP to shine. You can read more about student-centered approaches at IHSLP in a blog published by NGLC: "A Full Spectrum Narrative of a School for English Language Learners." Everything we did at IHSLP was about the students. We had a hiring process that spoke to what we were about, a student intake system that was profound, and both helped us to make informed decisions about some of our systems and structures, like advisory and who would be paired with who.
Tips to improve the people experience for EB students:
Give students voice in all processes and established systems, and if you don't know where to start, check out our transformation design work.
Align human practices in your school building to your collective "why."
Directly teach the social and emotional skills attached to your district's portrait of a graduate to give students the tools they need to succeed in life.
By doing those programs I have been able to gain more leadership skills.... Participating in extracurricular activities has also been about gaining confidence to speak in English and interact with students who do not have an accent like me.
Core Learning #3: The Extracurricular Experience
Dr. Beato:
Speaking of systems, Jimmi, I think one of the other aspects that made IHSLP special was how we were able to make meaningful connections with partners outside of IHSLP to give IHSLP students access to a variety of opportunities.

When I started my principalship, I noticed the lack of participation of the district's EB students in extracurricular activities. I came to understand that there were many underlying factors as to why students traditionally did not participate in extracurricular activities: having to work after school, having to pick up their siblings from school, needing to go home to help their parents with chores, or going to appointments with their families, amongst other reasons. This is not unique to EB students, but it is definitely a commonly shared experience amongst EB students.
The staff at IHSLP made a commitment that helped to create a safe space for students to participate in extracurricular activities. As a staff, we decided that having an early school day would work best for our kids even though it meant very early mornings for the adults who had to commute at least an hour to get to work. Adults also played a variety of key roles including coaching sports, and some nights they'd still be waiting at 9:00 p.m. for a parent, an uncle, or a grandparent to pick up their kid after a long game. Some parents and other family members feared that their kids would be engaging in something other than the activities we had at school, and our staff worked with families to find solutions. For example, for some kids, we created a plan that required a student to call home from the main office when school was over and then once more when the activity was over. Oftentimes, finding the best solution for a family would fall to advisors who had built the best relationships with the students and their families. Advisors were often masterful negotiators to ensure that IHSLP students had a holistic schooling experience that prepared them for high school and beyond.
Dr. Beato:
Jimmi, could you talk to us about your leadership experience while in high school? And what was different, for you, given your experiences at other schools in the United States?
Jimmi:
Dr. Beato, I can honestly say that I have had a pretty solid leadership journey at IHSLP. I have participated in the National Honor Society, Student Government Association, basketball, tennis, and other programs. By doing those programs I have been able to gain more leadership skills like writing skills, speaking in public, working in a team, and helping people. Gaining those skills has been really helpful to me because it has helped me to get out of my comfort zone to work with new people.

This year I am involved in different programs which require me to work with different students from different places in my county and the state and I am able to put my leadership skills in practice. Remember how I said that everything we do at IHSLP is about developing our language skills? Well this was no different and participating in extracurricular activities has also been about gaining confidence to speak in English and interact with students who do not have an accent like me.

The good thing in my school is that people do not limit us to the thing we can or can't do. They are always there supporting us. I feel like other schools around the United States do not give that much of an opportunity to students who are learning English. Sometimes schools limit what programs students are able to participate in with policies and rules but I also think that it depends on the students and understanding how they want to navigate their experience. Sometimes, students wait for the opportunity to come to them, instead of going after them, which I think is also a result of what we have or have not learned from generations before us. If you are new to this country, for example, then it can be difficult to navigate all of the things that are available to you.
Dr. Beato:
Jimmi, you are already a leader and have positioned yourself to be involved in politics for the long run. What are your aspirations? And how has your experience as an EB student influenced that pathway for you?
Jimmi:
Being a student leader involved in politics has helped me a lot to learn more about what is going on around me and my community. In the summer of 2019 I was able to complete an internship with Ms. Carletta who is a councilwoman for the Bladensburg community. I was able to learn a lot from that internship, like how to make connections with other politicians in the future when I run for government. It was about applying some of the skills learned in school into a real life context. This year I am serving as a student page in the Maryland General Assembly where I am working with other students with the same interests in politics. Serving as a student page has helped me to learn how bills work and how they are passed. In the future I look forward to doing an internship with Senator Malcolm Augustine which will help me to learn even more and to apply the skills I am learning through all of my other experiences.

One of my goals is to become a senator or congressman to help my community to get the help they really need to succeed in the USA. During COVID-19 I have seen how badly the Latinx community has been really affected with some of the highest death rates. Sometimes I feel like the local or federal government could have done more to stop that. In the future I am looking forward to helping to open programs for my community where they will be able to get access to hospitals without paying the insane amount of money that it costs to get health care. I also experienced how families struggled to pay rent or not even have enough money to pay for basic things, like food (I was ecstatic when I saw IHSLP offer food to families who needed it during the pandemic). No one should ever have to experience that and living through that really helped me to develop a level of empathy with all of those families.

I have come to realize that we all have power, even as high school students, and it is up to us to help think about what the future should look like when we become adults. We can choose to allow others to continue to make decisions for some of our communities, or we can be the owners of our own narratives to ensure the success of all and not just some.
Questions for reflection:
Have you explored the systems and structures of your school building that are not allowing students to fully participate in their high school experience?
How are student experiences beyond the classroom being highlighted as places where students get to exhibit the skills learned in school and in life?
What are the culturally responsive practices that will help propel learning in your school/district to the next level? And, more importantly, how do you enable change agents, build an inclusive environment, and embed a culture of innovation in order to make that happen?
Dr. Beato:
Jimmi, I don't know if I have said this enough, but you have a bright future ahead of you and I am so grateful to have crossed paths with you for part of your high school experience. I look forward to seeing you change the world.
Jimmi:
Thank you, Dr. Beato!