Designing for Equity
How Thrive Public Schools Supports Special Education Students
February 26, 2019
Topics
Project-based Learning
Social-Emotional Learning
Student Success
School Culture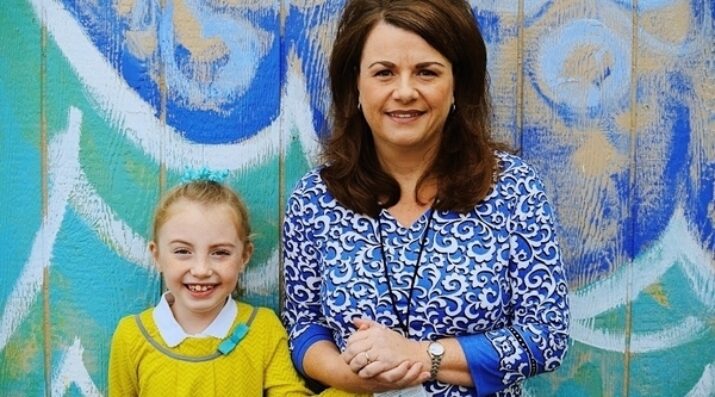 Designing for Equity
Designing for Equity
Together, educators are doing the reimagining and reinvention work necessary to make true educational equity possible. Student-centered learning advances equity when it values social and emotional growth alongside academic achievement, takes a cultural lens on strengths and competencies, and equips students with the power and skills to address injustice in their schools and communities.
Learn More
As a school of bridge builders, Thrive Public Schools is building bridges between typical and developmentally diverse thinkers.
Thrive Public Schools is located in two of San Diego's most distressed neighborhoods and our kids come from 45 different zip codes. They represent nearly every racial and ethnic subgroup and a wide range of socio-economic backgrounds. This was intentional.
When we opened our doors in the fall of 2014, we knew that we wanted to be a school of bridge builders, and we set out to mirror the diversity found in our state. We wanted to bring together people of diverse backgrounds and cultures to learn and live together. What we didn't know is that in this work, one of the most important bridges we'd be building would be between typical and developmentally diverse thinkers.
That first year, Thrive had two students with IEPs, making up 4 percent of our student body. Now that number is 20 percent: one in five of our students has an IEP or 504 Plan. Even among these students, there's great diversity of needs across a broad band of unique neurological profiles:
Autism Spectrum Disorder (19%)
Intellectual Disability (4%)
Orthopedic Impairment (2%)
Other Health Impairment (21%)
Specific Learning Disability (35%)
Emotional Disturbance (3%)
Deaf and Hard of Hearing (1%) and
Speech and Language Impairment (15%).
Additionally, 15 percent of these kids have a moderate to severe disability and receive one-on-one behavior support.
In a time when charter schools are being accused of cherry-picking students to inflate their state test scores, Thrive stands out as anomalous. Our Special Education (SPED)/504 demographic doesn't mirror that of the state. It nearly doubles it. (The state has 11 percent students with disabilities. Our local district, SDUSD, has 13 percent.)
Despite their complex learning needs, Thrive students with disabilities are making steady academic gains. Over the past three years, the number of Thrive students with disabilities meeting NWEA MAP growth targets has increased by 7.6 percent in math and 19.1 percent in reading. Additionally, last year we saw a 12.5 percent increase in the number of students with disabilities on track to read college level texts. (That is, their Lexile scores fall within the College-Ready text bands.)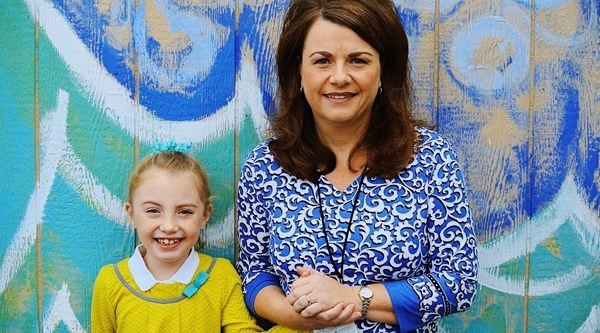 Thrive parent Daniela with her daughter who is fully included in elementary school at Thrive. (Courtesy of Thrive Public Schools)
Our 2018 statewide test results are on par with neighborhood schools serving a similar percentage of students with disabilities. In fact, Thrive outperforms all of these schools in ELA and all but one in math.
Percent SPED Tested by School (2018)
19.8% at Thrive Public Schools TK-11*
17.6% at Local Middle School A
19.6% at Local Middle School B
22.9% at Local Elementary School
*Thrive currently has no HS CAASPP test takers, so we are focusing on schools that have comparable state data.
2018 Schoolwide CAASPP Meets/Exceeds Standards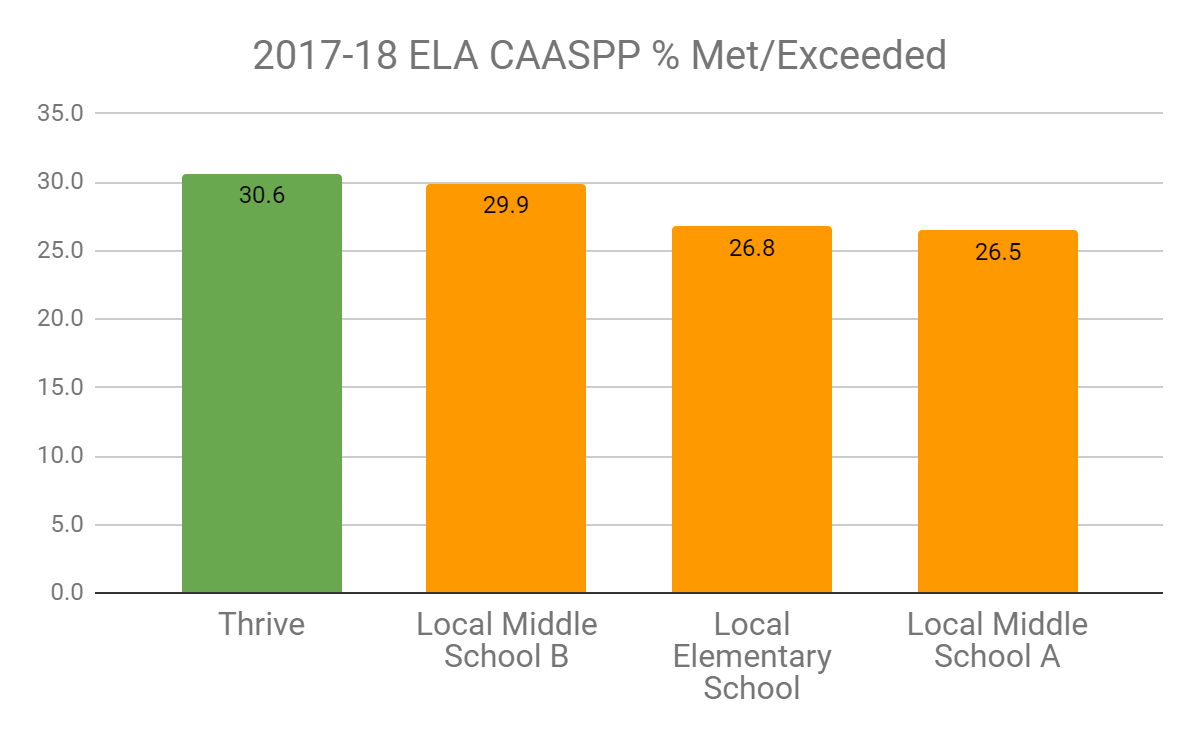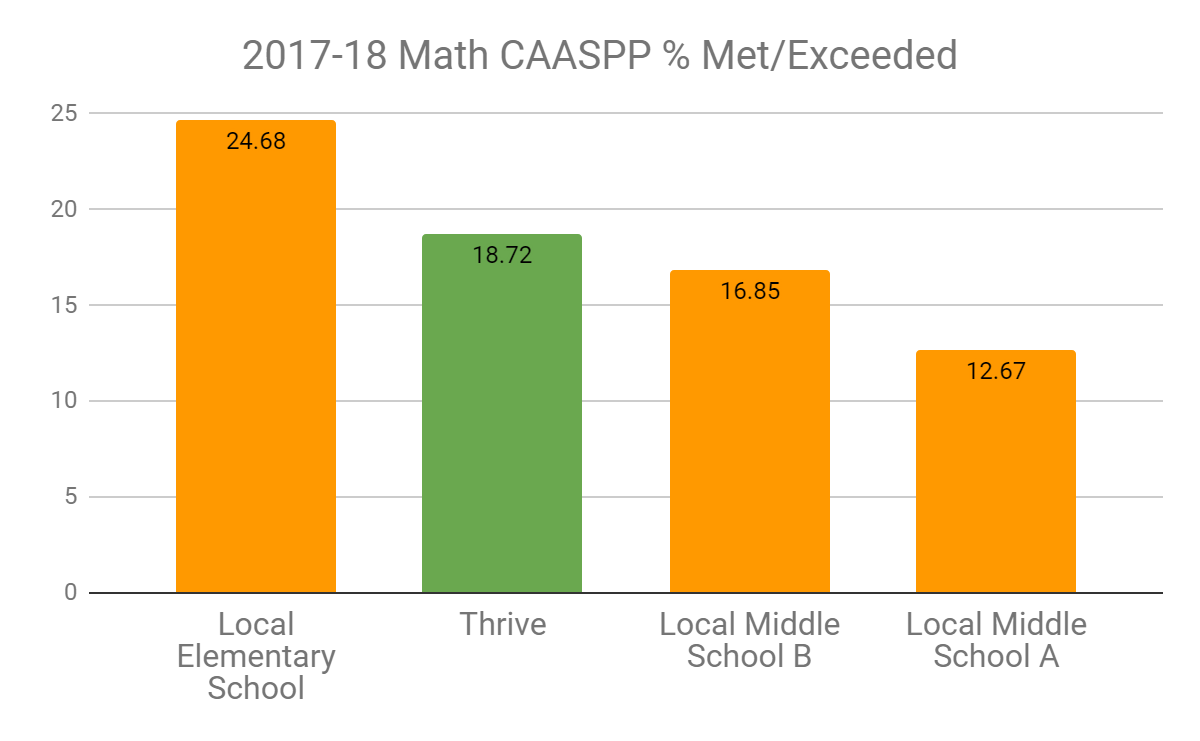 Using a full-inclusion model that emphasizes personalized learning, we are able to teach all of our students—no matter what their needs are—in the same environment. Students with special needs are not separated from their peers for general education, and their supplemental services are tailored to meet their needs.
Taking this strategy one step further, several of our special education teachers often co-plan/co-teach alongside general education teachers, sharing responsibility for all students. This year, we've also brought on several in-house service providers, including a school psychologist, a mental health counselor, an occupational therapist and two speech pathologists to support our teachers and students in ensuring that all students can truly access the core curriculum. The Center on Reinventing Public Education highlighted all of these practices in its case study on how Thrive uses personalized learning to meet the needs of students with disabilities.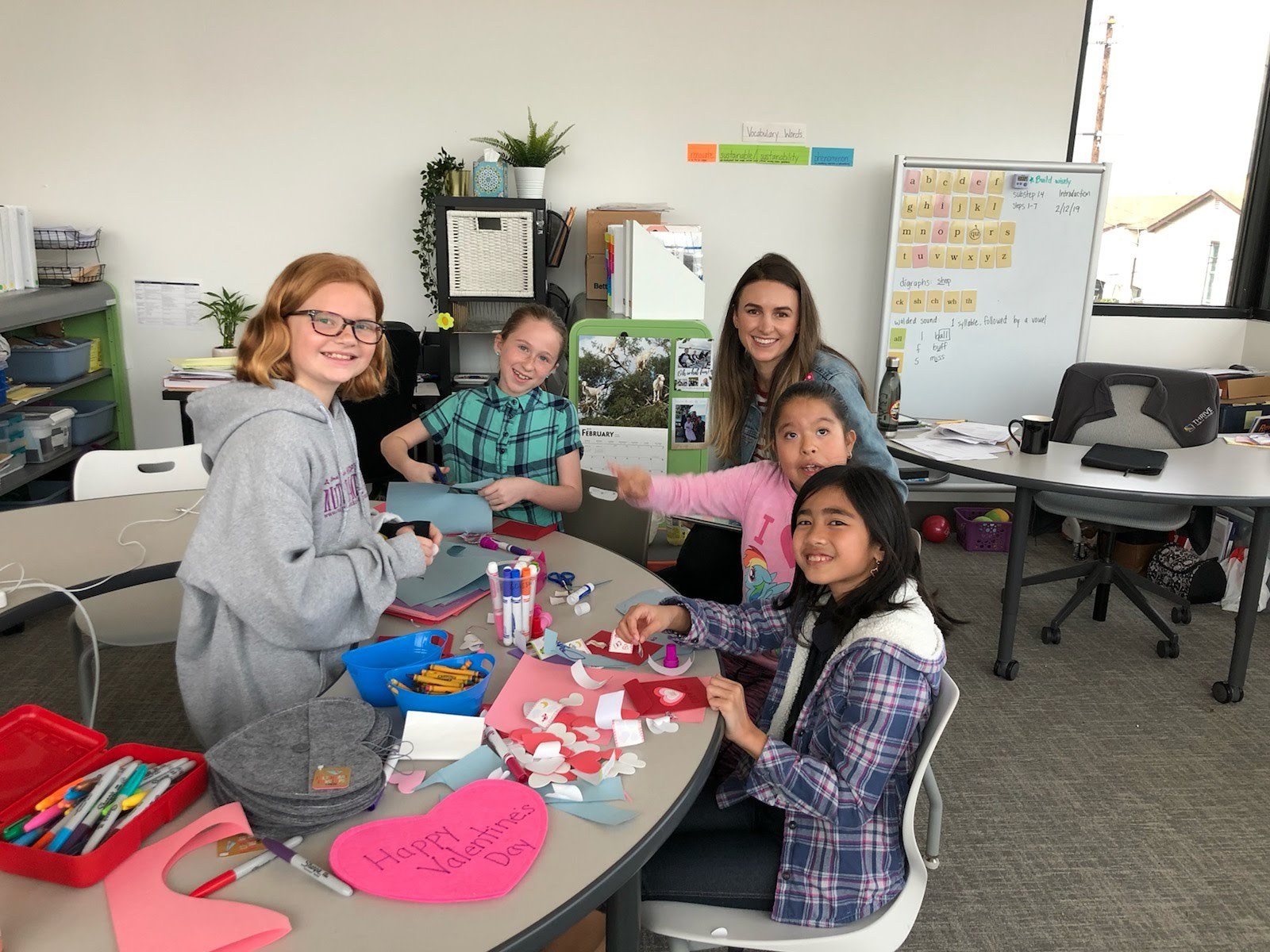 A Thrive teacher created special time for these best friends to be together. One of them has a 1:1 aide and uses an iPad to communicate. Her friends and Thrive teachers make sure she is fully included in everything they do! (Courtesy of Thrive Public Schools)

Another key practice that we employ is project-based learning, which allows students to engage in real-world challenges and learn skills like critical thinking and problem-solving—practical skills that are required for success in college and in the professional world. Getting Smart, whose team visited Thrive, conducted a case study on our work and named us one of the nation's 101 top school and charter networks, describing how personalized learning "is igniting enthusiasm starting in Kindergarten, where Thrive's youngest students are collaborating on intellectually challenging problems—and they're seeing real-world impact. As students advance, project-based learning naturally builds with greater complexity and autonomy."
Equally important as validation from the education community is knowing that the families we serve are experiencing new successes with their children. Mark, a Thrive parent, says about his son,
"I've been so impressed with how everyone has worked so hard to adapt to his unique needs and strengths. Most importantly, I've seen more social/emotional progress in four months than the previous five years in other schools, thanks to Thrive's commitment to grounding learning in inclusion and diversity."
Mark's experience is not unique at Thrive. Daniela, a Thrive mother adds,
"The faculty and staff have made such a difference in my child's life. She is more verbal and will actually go up to another child and say hello. It may seem small to others, but this is huge for her….We have noticed that she is more patient and able to take direction more easily. This is not only important to her school environment, but has spilled over into the home and in the community environment which makes going out and doing everyday things much easier and less stressful on all of us. I don't think we could have gotten here this fast without Thrive and the school's curriculum, teamwork and inclusion."
There is no doubt that serving students with disabilities can be incredibly challenging. I'm the first to admit there is still plenty of opportunity for growth. But I'm proud to be part of a team that embraces, rather than avoids, this challenge. Our students' academic progress reflects that commitment.