Building Community
Learning and Leading Together: The Growth of the Mentor Teacher
March 4, 2020
Topics
Social-Emotional Learning
Leadership
School Culture
Staffing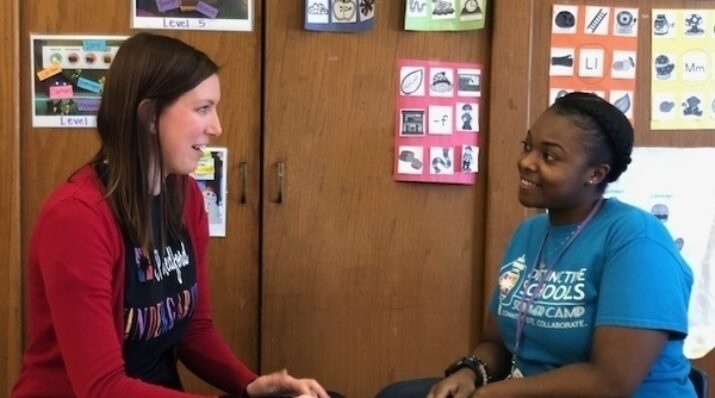 Building Community
Building Community
When educators design and create new schools, and live next gen learning themselves, they take the lead in growing next gen learning across the nation. Other educators don't simply follow and adopt; next gen learning depends on personal and community agency—the will to own the change, fueled by the desire to learn from and with others. Networks and policy play important roles in enabling grassroots approaches to change.
Learn More
Experienced mentor teachers offer three key strategies for mentoring middle school students and their fellow teachers.
"When one teaches, two learn." The message is simple and direct, yet gets to the heart of a fulfilling relationship between the learner and teacher. The role of the teacher has traditionally been described as the "sage on the stage," lecturing to students and imparting knowledge. However, the role of the teacher is evolving, and the teacher has become an active partner in learning.
At Distinctive Schools (DS), this partnership approach is reflected in the role of the mentor. All DS middle school students have a mentor teacher who they meet with regularly. They work together one-one-one to reflect on the students' academic progress, set goals, identify barriers, problem solve, and ultimately celebrate their achievements. DS believes in the power of mentor relationships so strongly that we also have mentors for teachers. These teacher leaders are willing to share their practice and take on an additional, important role—they focus on building relationships with their peers, listening and learning alongside them, and are a welcome presence in the classroom of their mentees. Typically, mentor teachers work with first-year teachers, but they are a constant support and advocate for the entire teaching team.
The mentor teacher is integral to a system of academic and emotional support for both teachers and students.
While children and adults learn differently and each mentor-mentee relationship has unique needs, all mentors and mentees benefit from a few key characteristics of mentoring. Mentor teachers and teacher leaders at DS offer three opportunities for learning and leading together.
1. It all begins with building a relationship.
"When a mentor builds a positive relationship with their team," explained Jeremy Crowe, mentor teacher at Chicago International Charter School (CICS) Bucktown, managed by DS, "new teachers are able to open up about the challenges they are having in the classroom and the teacher-teacher relationship strengthens, becoming a supportive, positive, and collaborative discussion. New teachers are in the process of discovering their teaching style, management routine, and work-life balance." Mentors need to invest significant time in building the foundation for a strong relationship by getting to know their mentees personally, creating a safe space for honest conversation and reflection, and being an unwavering source of encouragement and support.
Jeremy has been a Distinctive mentor teacher for several years. He describes his role "to help [teachers] on their journey... while also sharing my experience and 'quick tips' they can use to best fit students needs. By bringing themselves and their own style into the classroom, the idea of 'imposter syndrome' fades, and teachers feel more confident and empowered in their approach and practice, thus leading to a positive mindset and an attitude of perseverance."
Mentoring students requires a similar attitude. In a recent Distinctive Schools blog post, "The Secret to Mentoring," one teacher shared that, "Students love having a specific person they can talk to and trust at school, and when they feel safe and cared for, it leads to increased attendance and academic performance." Improving teaching and learning are always the focus of mentoring, whether a mentor supports teachers or students, but teaching and learning will not improve if a positive, strong relationship has not been established.
2. Learn as much as you lead.
"I am surprised at how I have learned to pause when asked for advice," said Cala Millis, a mentor teacher at Distinctive College Prep - Redford, "and instead of immediately offering up my ideas and thoughts, to ask the teacher for more information or what ideas they have before moving into a collaborative problem solving conversation." Cala understands the power of approaching the work through the lens of partnership and shared expertise. While a mentor teacher may enter the role with the belief that they need to be the "expert" and be prepared to have the answer to every question, the reality is that the mentor teacher's talent lies in asking questions and listening deeply. Mentors are actively curious. Cala continued, "I have learned to be a very patient and engaged listener. I often want to jump right into problem-solving, helping the teacher analyze the situation and find a solution; I've learned that sometimes the best solution is to provide a calm and patient listening ear and let the teacher talk through issues that they may realize how to solve on their own."
Similarly, students often need a space to process their thinking, to grapple with information, and to make sense of the world around them based on their personal perspective. In a world in which information is easily accessed, they do not need teachers to give them the content. They too need a curious mentor. At its core, and when done well, mentoring is a process of discovery for both parties.
3. Be present. Be visible.
Everyone needs to know that they have an advocate, someone who will both see them through challenging times and celebrate their accomplishments. A mentor teacher does both. As both colleague and confidant, the mentor teacher provides an accessible resource, readily available for their mentees. This does not mean that the mentor has to schedule their time around the mentee's needs; being present and available can be as simple as offering a warm greeting, checking in on how the mentee is feeling, and making personal connections. "The mentor role at our school has created a smooth and resourceful transition for our first and second year teachers," shared Jessica Story, mentor teacher at CICS Prairie. "It has created an open and supportive environment for all." The mentor teacher is integral to a system of academic and emotional support for both teachers and students.
While teachers and students spend their days in the company of others, there are times when teaching and learning can feel lonely. The mentor teacher helps to bridge the gap, creating a supportive environment for all. Perhaps Sarah Mobley, mentor teacher at CICS Irving Park, expresses this sentiment best:
"It is so culturally powerful when the system of the school staff is one of reciprocal support. In this system, people all check in with each other often to bolster and support each other."
---
Photo at top, courtesy of Cala Millis: Distinctive College Prep - Redford mentor teacher Cala Millis in a mentoring conversation with Shelby Blackley, another kindergarten teacher.