Building Community
MakerEd Movement: An Organic K-12/Higher Ed Connection
May 23, 2017
Topics
Project-based Learning
Design Thinking
College & Career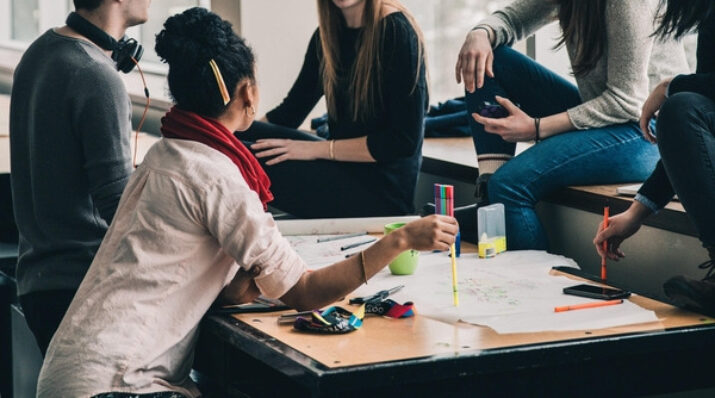 Building Community
Building Community
When educators design and create new schools, and live next gen learning themselves, they take the lead in growing next gen learning across the nation. Other educators don't simply follow and adopt; next gen learning depends on personal and community agency—the will to own the change, fueled by the desire to learn from and with others. Networks and policy play important roles in enabling grassroots approaches to change.
Learn More
A parallel trend across higher ed and K-12 has given rise to a new generation of inventors, creators and tinkerers. The maker movement has arrived within all levels of education.
Shortly before the turn of the Millennium, the work world shifted toward a digital environment, and academia followed shortly thereafter. While some high schools retained shop classes and home economics, much of the 'making' aspect of K-12 education existed either in art classes or in class projects of earlier grades. Experimentation and creation happened virtually.
I was a part of that shift. Homework was submitted online and research was conducted largely without the use of a card catalogue. It was exciting, being on the cusp of such large systemic changes. It was also incredibly lucky timing, in terms of riding the crest of a giant tech wave that won't subside anytime soon.
Yet progress isn't necessarily linear. While some technologies like virtual reality and augmented reality suggest that this shift continues ever forward, in reality, this isn't the case. There is a parallel trend across higher ed and K-12—one that's given rise to a new generation of inventors, creators and tinkerers.
The maker movement has arrived within all levels of education.
Initially hailed as a bridge between higher ed and industry, makerspaces have enabled college students to design, prototype, create and iterate using computers, power tools, 3D printers, arts and crafts, and electronics. They've reintroduced a playful element to learning within a 'sage on the stage' environment. But the movement is reaching and influencing students far younger than those enrolled in university degree programs.
On an unseasonably warm Sunday this past April—Easter Sunday, in fact—over a thousand area school children and teens gathered in Cambridge for a special one-day event. (It was not an egg hunt.)
They were waiting in line to get into MIT's Zesiger Sports and Fitness Center to experience the university's MakerFest. Developed by a group of undergraduate and graduate students, MITxMake invited companies and organizations from across the region and the globe to 'inspire attendees to think creatively about building products, finding inventive solutions to everyday problems, and get hands-on experience building something new'. Attendees gathered to eagerly assemble and rebuild creations with BRIXO's new electricity-conducting building blocks; they squealed while constructing and programming basic robots with Makeblock, and enjoyed getting crafty with Chibitronics' LED Circuit Stickers. They quickly manipulated the smart toys with MacGuyver-esque ingenuity, creating 'outside the lines' just as the visiting organizations had intended.
Despite the cache, this gathering in Cambridge wasn't unique. A global network of makerfaires, makerfests, and similar events have sprung up at universities, secondary and primary schools across the globe, providing a combination of hands-on creation and technology use that is a hallmark of maker ed.
Yet what is most remarkable, perhaps, may be how students are encouraging other students as makers both inside and outside the classroom. DIY characterizes a sort of disciplinary depth and breadth likely unattainable by rote instruction alone.
Media outlets have taken notice of the trend. EdSurge has published a guide for schools to kick off their first maker programs.
Such programs are appealing to schools, higher ed institutions, and students of all ages for a variety of reasons—decreasing screen time not the least of them. Here are just a few of them:
Want to learn more about the maker movement? Check out these helpful resources: