New Designs for School
NGLC Schools Take On Competency-Based Learning
March 20, 2015
Topics
Competency-based Education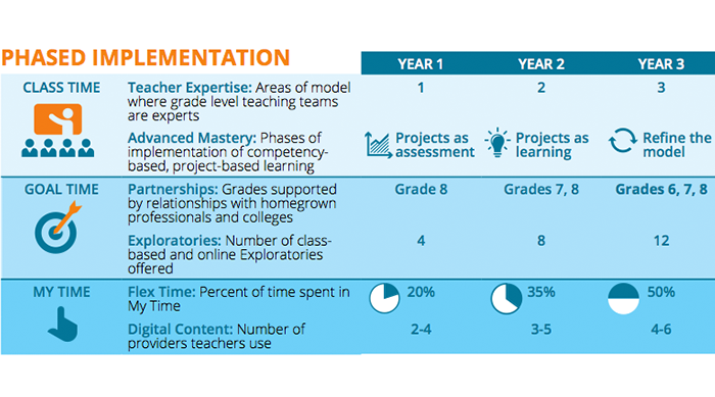 New Designs for School
New Designs for School
We've all had the experience of truly purposeful, authentic learning and know how valuable it is. Educators are taking the best of what we know about learning, student support, effective instruction, and interpersonal skill-building to completely reimagine schools so that students experience that kind of purposeful learning all day, every day.
Learn More
Let's take a look at competency-based learning in a few NGLC schools to better understand how it works.
Over the winter, I worked with NGLC's newest grantees to create profiles of their school models. As I worked with them to identify key features of their academic models, I got to see how different elements of their innovative approach to learning intersect and work together. I'm particularly intrigued by how these schools use competency-based learning to help students succeed.
As described in the Personalized Learning School Design Attributes:
In a competency-based learning model, "student learning is continually assessed against clearly defined expectations and goals. Each student advances as s/he demonstrates mastery."
This is VERY different from learning in a traditional school model, where all students in a class start the next lesson once instruction in a particular lesson ends. Students' grades reflect the level of mastery they were able to achieve within the specific period of time allotted to the lesson. If there are gaps in a students' understanding or skill at the end of the lesson, those gaps remain.
Competency-based learning, on the other hand, acknowledges that all students should reach the same level of mastery—no gaps. Some students will take longer than others to get there. This shift impacts classroom instruction, assessment strategies, and nearly every other assumption behind the traditional approach to school.
Let's look at competency-based learning in a few schools to understand how it works. Although the schools incorporate it in unique ways, they all utilize at least some of these tactics:
Competencies spanning academic, social, and personal development and requiring deeper and more complex thinking
Students working at their own pace
Schools tracking individual student progress toward mastery through individual learning plans and dashboards
Students demonstrating mastery in a variety of ways, including performance assessments and real-world applications
Teachers using blended learning and project-based learning to help students develop competencies
Design Tech High School: Through performance tasks, students at d.tech "synthesize and apply multiple concepts to demonstrate deeper learning and mastery as they move through a standards-based curriculum." Students drive their own learning toward competency through flexible schedules that change weekly; increasing ownership over what, how, and when to study; and applying design thinking to address challenges and issues of interest to them.
Piedmont Middle School: This rural district school integrates multiple approaches to learning to support mastery: "Piedmont expects students to master state standards through hands-on projects, original creations, and experiments, not just multiple-choice tests. Teachers guide students to advance through standards using adaptive digital content at an individual pace while demonstrating deeper understanding of core concepts through interdisciplinary projects and performance assessments. The curriculum is not bound by grade levels or seat time." Student ownership is a core piece across the curriculum, which is divided into Class Time, My Time, and Goal Time.
Thrive Public Schools: Thrive helps K-8 students at its school to develop competencies not only in academic content but also in social-emotional development and real world understanding. The academic model "integrates technology throughout a curriculum built upon project-based learning, targeted instruction, and tinkering. Students progress at their own pace, receiving targeted support and instruction as needed to ensure they master content before moving on." The school offers students multiple opportunities to develop and demonstrate mastery and uses personalized learning plans to track growth along goals tailored to each student.
Epic Charter School: Some schools talk about education as a journey, but students at Education for Change's new middle school live that journey in an immersive academic experience bolstered by game mechanics. "Students make progress through 12 distinct levels of mastery, not grade levels—a second-year student could be at copper level in math, platinum level in ELA, and silver in science and history." Student progress is tracked through a data dashboard. The goal of mastery-based education at Epic is for students to become "critical independent thinkers with the capacity to self-direct their learning."
Valor Collegiate Academies: In this grade 5-12 secondary school in Nashville, "competency-based grading requires students to master all course standards as well as 'VCA competencies' (higher-order combinations of course standards)." Students incrementally set their own pace—within a lesson, within a course, and across courses—as they progress from 5th to 12th grade.
Montessori for All: The uniqueness of competency-based learning in this Austin, Texas school is the focus on student self-direction and hands-on learning to educate the "whole child, attending to their minds, bodies, and hearts."
Alice M. Baxter College-Ready High School: Alliance College-Ready Public Schools launched its PACE model at this new high school, integrating competency-based progression with blended learning and early college high school. Students begin taking college courses as soon as they demonstrate readiness by passing the college's placement test, which they take for the first time in 9th grade. They are provided coaching and targeted tutoring for this high-stakes test.
Caliber: Beta Academy: This school uses "blended learning for English and math to ensure students are always learning or practicing based on their current level and need." Personalized learning plans keep everyone clear on the individual needs and goals of each student.