Designing for Equity
Rethinking Curriculum for Equity: Community-Based Projects
December 8, 2021
Topics
Project-based Learning
Learner Agency
Design Thinking
Curriculum & Instruction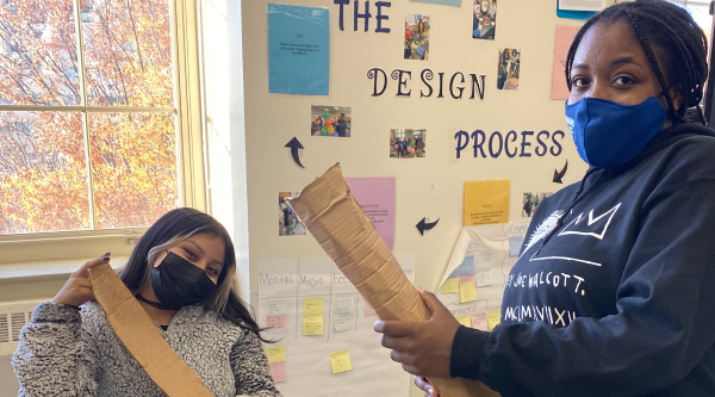 Designing for Equity
Designing for Equity
Together, educators are doing the reimagining and reinvention work necessary to make true educational equity possible. Student-centered learning advances equity when it values social and emotional growth alongside academic achievement, takes a cultural lens on strengths and competencies, and equips students with the power and skills to address injustice in their schools and communities.
Learn More
As more schools are re-examining their curriculum with an eye on equity, the need for community partnerships is more pressing than ever.
During the peak of the COVID-19 pandemic, teachers at Fordham High School for the Arts (FHSA) in the Bronx, New York, continued to work to ensure that the school's vision and mission were evident in all of our practices—specifically that all scholar's social, emotional, and academic needs were met. Amid all our struggles, there were glimmers of new light and a revolution that would transform our teaching and the lives of our students forever.
During the 2019-2020 school year, the Equity Team at FHSA was assembled to combat inequities and disparities in our students' achievement, ensure that each of our scholars had access to college readiness beginning their 9th grade year of high school, and to promote an inclusive culture that engages and draws on the assets of students, families, staff, and community members. With the pandemic in full swing, the Equity Team also worked to understand and respond to our students' needs after the transition to remote learning. In the midst of decreased levels of student engagement and Zoom fatigue, the Equity Team gathered data from our students and found the following to be true about how students learn best:
Scholars want to become more connected to and educated about their communities.
Scholars crave the opportunity to collaborate on projects that can positively impact people in their communities.
Teachers required training in Gholdy Muhammad's Historically Relevant Curriculum and building empathy into their curriculum.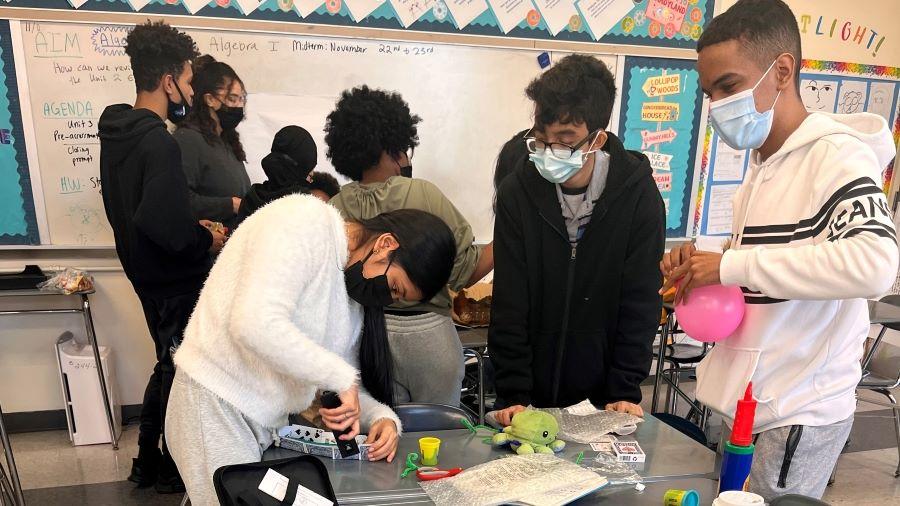 A Project Invent team building a prototype of their invention. (Courtesy of Renesha Edwards)
At the peak of the pandemic when virtual fatigue was even more prevalent amongst our scholars, scholars found an outlet: they created a club, Pandemic Partners, where students served as mentors for other students that were struggling during the pandemic. Pandemic Partners was rooted in kindness and a need to help others. The actions of our scholars made it evident that they wanted to make an impact on others. Around the same time, the school community started a student-led food drive initiative to give back to members in the community and engage in community-based initiatives. They dedicated time to help with collecting, counting, sorting, and making posters to inform community members of the food drive. As teachers, it was memorable and refreshing to see how involved and engaged our scholars were as they participated in the food drive. This experience revealed to staff the deep desire our students have to help others in the community.
To meet the needs of our students, teachers created a cross-curricular, school-wide arts integration task to give students an opportunity to reflect on their "Bronx Identity" and create artistic expressions of what it means to be a Bronx-ite along with proposing solutions to combat inequities in the Bronx.
In doing this work, teachers realized that our traditional grading policy was outdated and reflected an emphasis on students memorizing and reproducing content, instead of demonstrating mastery of content in a myriad of ways. The Equity Team interviewed a sample of students asking them to give feedback on how they were graded and what they were graded on.
"We want more creative projects and community-based tasks that will deepen our imagination and allow us to be more creative across all of our classes...students want more tasks that are community based and not just squeezed into the curriculum." –Layla Hussein (Student, FHSA)
Students cited the arts integration project as a step in the right direction, but they were hungry for more opportunities to examine content and make connections to their everyday lives. This certainly resonated with our staff and school community.
The Equity Team worked diligently to create meaningful learning opportunities to empower students as innovators and agents of social change within our Bronx community.
Due to our desire to create empathetic innovators, the two of us sought out opportunities to incorporate community partnership into the classroom. We stumbled upon Project Invent and jumped at the opportunity for students to innovate with the specific purpose of creating something for people in their own community. Through Project Invent, we were able to create two teams of students that were innovating solutions for two distinct community partners. Team A's community partner is a woman who has conquered schizoaffective disorder and Team B's community partner is a teacher at our school suffering from a physical disability, Left Hip Comminuted Fracture (due to cyst formation)/LLD (leg length discrepancy).
Through Project Invent, students engage in the design thinking process:
Empathizing with the user
Defining the nature of the problem
Ideating to share all ideas
Creating a PHYSICAL prototype
Sharing the prototype with the user to test the product.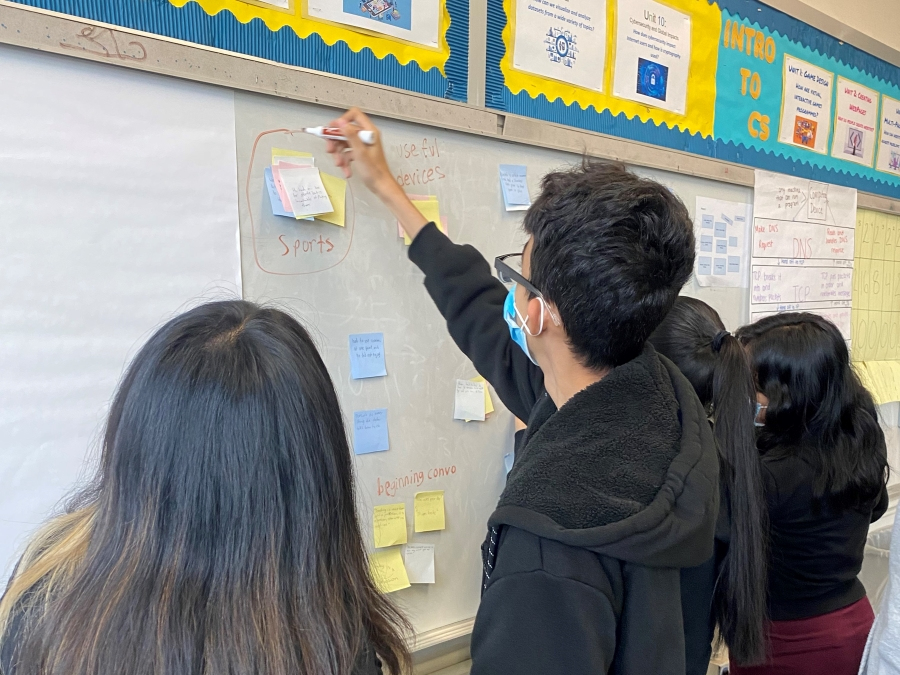 A Project Invent team at the ideation phase of the design thinking process. (Courtesy of Maha Hasen)
Our Project Invent Scholars have expressed the following:
Scholars feel empowered to innovate and design solutions.
Scholars feel more connected to their communities and believe that they can be changemakers.
Scholars expressed higher engagement in their classes as they deviate from traditional educational models.
Fostering Collaboration
Before the invention process could begin, our scholars dealt with an unexpected hurdle: creating a collaborative team that was purely student-led. Students created team leaders, modes of communication to continue brainstorming outside of the school building, and weekly checkpoints to keep them on track. Throughout the weeks, scholars improved in their communication techniques, presentation skills, and empathy for community partners. Teams understood that to help their community partner, they needed to lay the foundation for a cohesive team.
Interviewing Community Partners
With their team norms in place, students began the interview process to understand and identify the challenges that partners were facing. Students were dealing with sensitive topics and so they practiced empathy and constructed questions that would lead to a narrative rather than fishing for a solution.
After the interview process we heard comments from our scholars such as these:
"OMG he liked sports like us. Imagine how I would feel if I knew I would no longer be able to play sports."
"Most of his childhood was lost because of the injury that he sustained that must have been really difficult on him. I wonder how he is coping right now?"
We were hugely excited to see students viewing life through someone else's eyes. As an Equity Team, we had been studying the literature of Dr. Gholdy Muhammad. Her Historically-Responsive Literature (HRL) framework guided the development of a new framework, designed specifically for our scholars at FHSA: EMPOWERS. EMPOWERS (End Goal, Purpose-Driven, Ownership, Woke, Empathy, Role, Standards) is meant to serve as a gut check, asking educators at FHSA to consider: "Is this assignment, task, or project empowering my scholars to disrupt social injustice and question social inequity?"
A common ingredient in tasks that meet the EMPOWERS requirements is an external audience. As demonstrated by the Project Invent experience, when students are given a chance to connect their work with the needs of their community, they are more likely to adopt identities as disruptors and change-makers.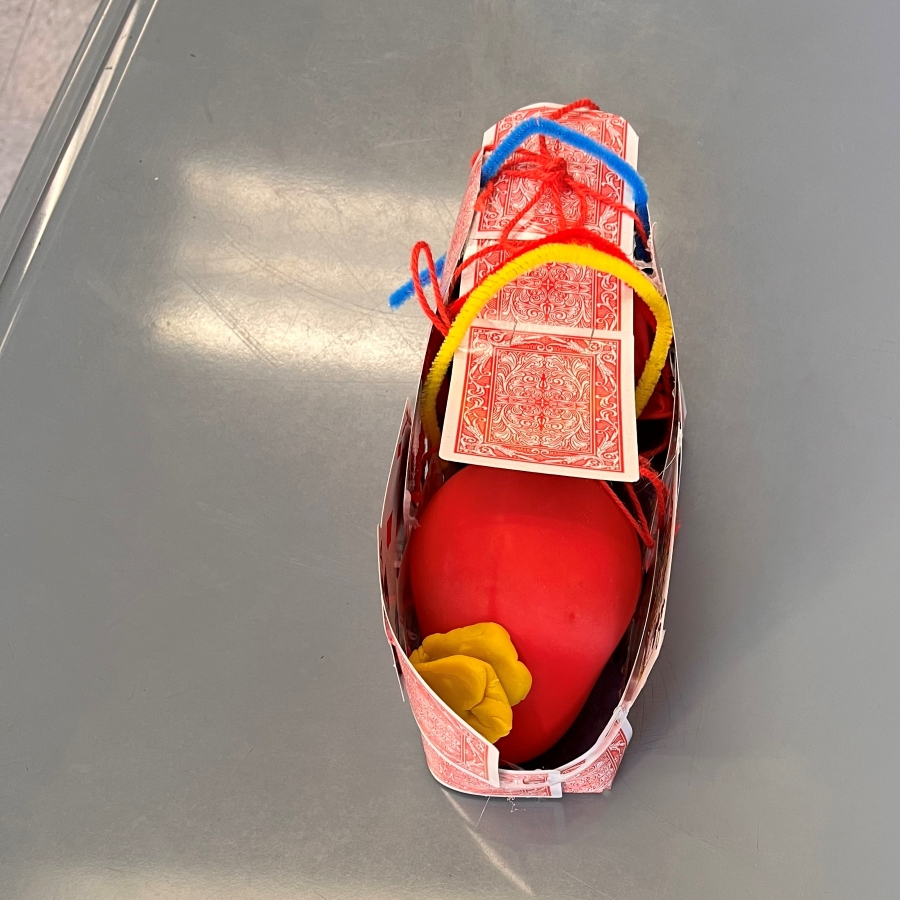 A prototype created by a Project Invent student design team. (Courtesy of Renesha Edwards)
EMPOWERing Our Scholars
As our students engage in the prototyping process, we are witnessing how students test their ideas with their community partners, reflect on the process, and refine or completely change their ideas and redefine the problem. At this point, scholars have learned that the most important part of their work is their relationship with their community partner. Having an actual person who their work is impacting has motivated scholars to persevere through the frustrating ideation process.
Scholars have noted the following about their time in Project Invent so far:
"Project Invent is different from my other classes because I know that whatever it is I am creating can actually make a difference in the world around us. It's not all hypothetical, I'm not working to pass, I'm working to truly impact and help others on a physical, mental, and technological level." –Aryana Hezam
"Project Invent is different from other classes because in other classes, you talk about real world problems. In this program however, you actually get to (or at least attempt to) solve it using science and math which is AWESOME." –Marvin Gutierrez
"I really enjoyed collaborating with my team, especially creating the prototype. We were all able to add on to our ideas to make them even closer to what our ultimate goal was for the prototype. Also, during this process we have been able to improve how we communicate with each other. We constantly let each other know what our next steps are to make sure our community partner would be happy and satisfied with our results." –Ashley Caivinaguaortega
Due to the success of Project Invent, we are strategizing how to provide all of our scholars with an opportunity as innovative, authentic, and grounded in community. Project Invent has afforded our scholars the unique opportunity to merge their creative thinking with their altruistic efforts to innovate for their community. It is a teacher's dream to see their scholars empowered to create innovative solutions with a real impact on their community.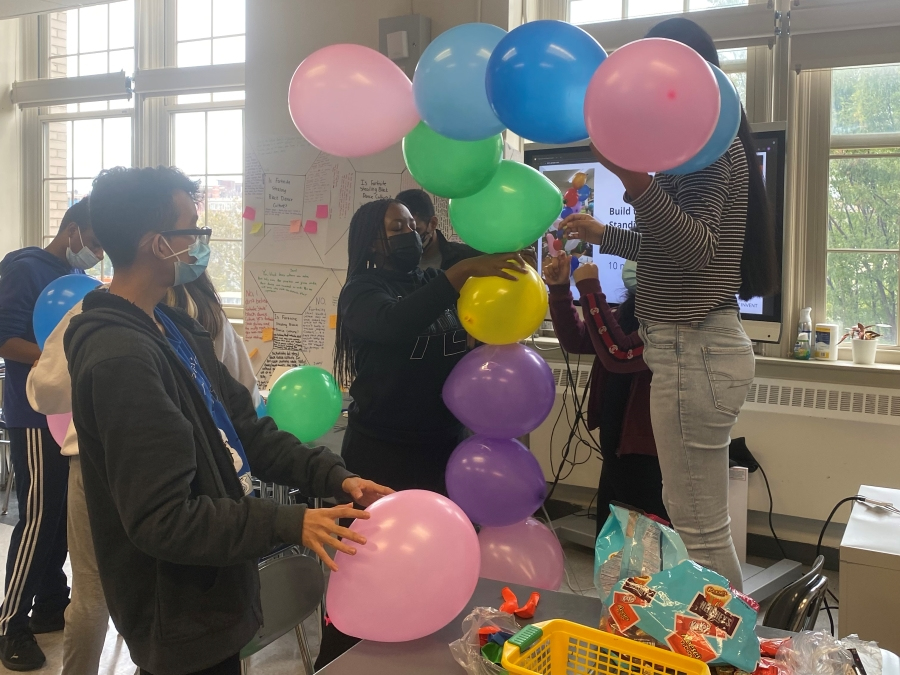 A Project Invent student team collaborating on their design. (Courtesy of Maha Hasen)
How Can You EMPOWER Your Scholars?
Use the NYU Scorecard to assess your own curriculum and identify inequities that are perpetuated by your work.
Study and implement the HRL Framework to inspire JOY in your classrooms.
Create partnerships with members of your community and create opportunities for students to be agents of change in their communities.
---
Photo at top courtesy of Maha Hasen.