Why Schools Need to Change
School Was My Safe Place: Prioritizing Safety for Learning
December 13, 2022
Topics
Social-Emotional Learning
Student Success
School Culture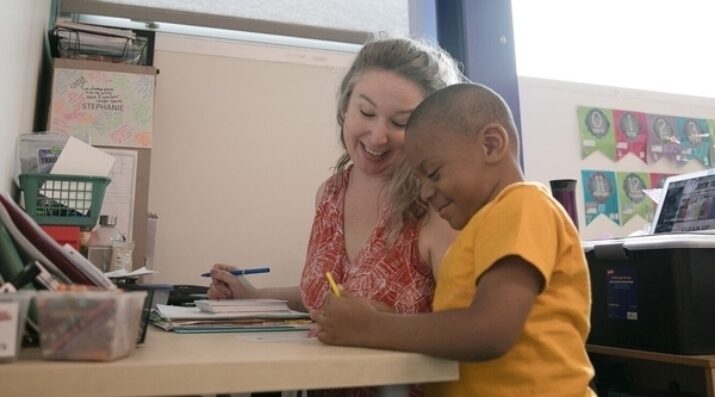 Why Schools Need to Change
Why Schools Need to Change
Today's learners face an uncertain present and a rapidly changing future that demand far different skills and knowledge than were needed in the 20th century. We also know so much more about enabling deep, powerful learning than we ever did before. Our collective future depends on how well young people prepare for the challenges and opportunities of 21st-century life.
Learn More
School leaders and educators can use a number of strategies to cultivate safe spaces for learning in their schools and classrooms.
* Please note this blog post contains descriptions of domestic violence which could be triggering for some readers.
How School Became My Safe Place
When I was a kid growing up in Boston, my friend Diedre and I would play this game. We'd pretend the floor was wicked hot lava. We'd jump from one piece of furniture to another to avoid the floor, trying not to knock things over as we leapt around her room. Each time we landed somewhere other than the floor, we'd say, "I'm safe!" We'd laugh and smile at each other. At the time, I was eight years old and didn't realize the vital role safety would play throughout my life.
A couple of years before that, my Dad tried to hurt my Mom. He held a knife to her throat as she laid on the couch in the living room watching a TV show. I was laying down on a couch on the opposite side of the room. I saw everything play out in front of me. Within a few minutes, other family members intervened, saving my Mom from being physically hurt. Because I was so young and couldn't process what I was seeing, my mind protected me by suppressing the experience. I was 37 when my oldest sister told me I was actually in the room when it happened.
Just before my ninth birthday, my Dad moved my Mom and me to Florida to get away. He didn't want to take medication or see a therapist to support his struggles with bipolar disorder. I started fourth grade in Florida and acted out because I just didn't want to be there. I wanted to be in Boston where the rest of my family and friends were. My teacher that year didn't really take the time to get to know the why behind my behaviors, so I got in trouble a lot.
In fifth grade though, I met Mr. Weaver. He spent time getting to know me and my classmates. He knew our interests and passions and got to know us as human beings. He also made us feel safe. We trusted him. Because of him and his intentional approach to creating a safe space for learning and cultivating meaningful relationships and community, I improved academically, socially, emotionally, and mentally. I likely healed some too. This is when school became a safe place for me.
Because I felt safe there, I continued to find ways to engage at school for long periods of time. I became a year-round long-distance swimmer and runner, which kept me practicing about seven hours a day. I also immersed myself in clubs and other organized activities. I spent as much time at school as possible.
When I was in ninth grade, my Dad tried to hurt my Mom again, and I was the only one in the house at the time with them. I interrupted the interaction when I came out of my bedroom and startled my Dad. The next morning, my Mom and I flew to Boston to stay with family, but six months later we moved back down to Florida with my Dad. Living in the same space as my parents, I couldn't find a safe place to support my healing. I continued to depend on school to be my safe place. It took finding safe places and safe relationships to truly and meaningfully heal.
Recently I was reading a number of sources that claimed safe spaces are dangerous for students and educators because that sense of safety might encourage them to atrophy instead of grow. Given my personal experience and the research on the need for safety in the healing process as well as in the learning process, I see the opposite to be the case. According to trauma research, safety is the foundational piece of not only the healing process, but it's also the foundational piece for learning. Creating a safe place for learning is even more vitally important for students and educators of color and those who identify as LGBTQIA+. How can schools and districts prioritize safety for learning?
School as a Safe Place: Strategies
Some safety issues are more systemic, such as gun violence, racism, and gender discrimination, but there are a number of strategies school leaders and educators can begin to implement at the school and classroom levels to start cultivating safety at school:
School-Level Strategies
Employ more licensed mental health professionals to support not only students but also educators and staff.
Regularly seek feedback from faculty and staff to understand what they need to feel safe, and take action to provide for those needs.
Ensure there is representation for both BIPOC and LGBTQIA+ on your faculty and staff.
Co-establish values for the learning community where all stakeholders have input.
Encourage respect of differences.
Let go of shame and replace it with self-compassion and empathy.
Provide calming spaces where people can go to reset.
Think differently about roles and how to clear some things off people's plates.
Classroom-Level Strategies
Provide space for educators and staff to create and cultivate trust-based relationships with students.
As much as possible, encourage educators to practice calming techniques with their students so that everyone is supporting each other.
Incorporate books and other learning materials that represent diverse cultures, races, gender, etc.
This is definitely not an exhaustive list, but these steps are a good start to creating safe spaces for learning.
---
Photo at top courtesy of Two Rivers Public Charter School.