Designing for Equity
Self-Actualization and Organizational Development
October 24, 2022
Topics
Learner Agency
Leadership
Staffing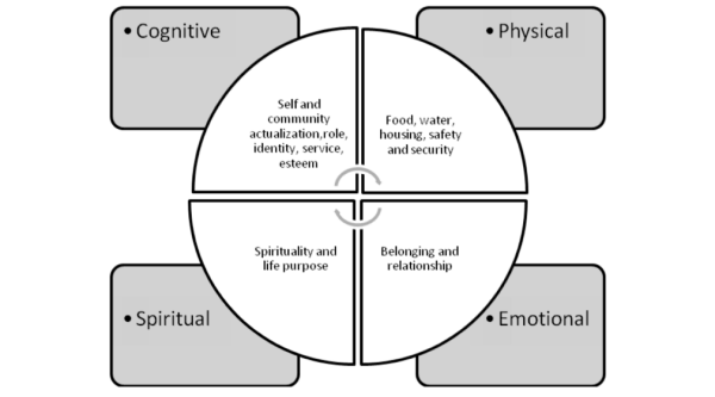 Designing for Equity
Designing for Equity
Together, educators are doing the reimagining and reinvention work necessary to make true educational equity possible. Student-centered learning advances equity when it values social and emotional growth alongside academic achievement, takes a cultural lens on strengths and competencies, and equips students with the power and skills to address injustice in their schools and communities.
Learn More
NGLC's Evolving Approach to Evaluation Growth, Part 1
We are taking an approach to individual and organizational growth that is closer to an Indigenous worldview that we all arrive to the planet as already fully self-actualized.
An Introduction
For centuries, organizations have been designing and building models of employee evaluation that focus solely on outputs and outcomes aligned to individual and organizational goals. This has arguably turned 99 percent of evaluation processes into performative documents focused on the systems for which they were built instead of building capacity and developing skills. This concentration on the completion of tasks amplifies a common "worldview manifestation" of rigid hierarchy and competitive environments that focus on superiority (Topa & Narvaez, 2022). At Next Generation Learning Challenges (NGLC), we decided to revisit our approach to "evaluation" using the National Equity Project's (NEP) liberatory mindsets of "Practicing Self-Awareness" and "Working to Transform Power" with a clear "Focus on Human Values" (Read more about NEP and Liberatory Design). It is through this lens that we have opened ourselves up to envision employee and organizational growth from a different point of view—one that draws overtly from an Indigenous worldview that runs counter to some aspects of dominant/western White culture.
An Acknowledgement
At NGLC we know and understand that we are privileged in being able to do this type of work. Our staff is small, we continuously practice radical candor with one another, and we have established solid relationships with one another. We also know that, unlike schools and districts, we can manage time in more liberatory ways because we are not consumed by public sector systems and structures that bind us to them. We also acknowledge that we are only scratching the surface in understanding and practicing Indigenous worldview manifestations; we continue to learn about what those mean for us in our varied identities. There's also this notion that I, someone who has also only known the westernized view of power and hierarchical structures, am leading this work. It opens us up for making many mistakes, but also gives us ample space for growth and opportunity. It is with that sense of fragility and vulnerability that we have leaned into this work and decided to share what we are learning with others. Please extend your empathy and grace as we continue to learn and grow to align our practices in the ways that we want to "be" in the world.
Since working together in new ways within schools and districts is important for re-imagining learning, then we at NGLC need to work in new ways as well.
A Fundamental Shift and Foundational Establishment
About a year ago, we began conversations about our collective hope to design a vision for individual and organizational growth that got us closer to an Indigenous worldview manifestation. It took us on a journey to build nonhierarchical evaluation structures that centered on helping individuals within our organization to develop positive potential. The origins of this journey preceded my entering into NGLC, but in many ways this work highlights a change for our organization that directly connects to NGLC reorganizing into a co-directorship model when I joined (read more about the co-directorship).
We started our redesign by looking to Blackfoot Nation's approach as it offered insight into a worldview that sees humans arriving to the planet as fully self-actualized, an asset-based view of human development. This is different from traditional systems that are more aligned to Maslow's westernized view of self-actualization where we become self-actualized through what we do and learn over time. This traditional model also presumes that our needs are met in some particular hierarchical order. The reality of human nature is that we have different needs that come up at different intervals of life and that those needs can show up in silos or simultaneously with other needs. It is with this vision and intent that we have explored a different view of individual and organizational "growth" and the role of evaluation processes to support that growth. We wanted to practice internally what could inform our practices externally with our community along the way.
First, to know and understand us as an organization: We believe that when districts or schools re-imagine their vision for student success, it not only needs to shape the learning model, but also the adult professional culture and the system's processes as well (See NGLC research here and here, all informed by the research here). One cannot exist in the absence of another, especially when talking through how adults function and operate within that re-imagination. It is that human perspective that determines whether a re-envisioned learning model succeeds or results only in a temporary or incremental change (Check out the work we are embarking on with Bravely and how we are living this change). Essential to this new way of being and working in schools and districts is acknowledging that we come into the world self-actualized and that we all have something to contribute and offer to the communities we work within. In our understanding of Blackfoot culture, it emphasizes community actualization as the collective goal/result of people acting out of personal actualization, all on the way to cultural perpetuity. Since working together in new ways within schools and districts is important for re-imagining learning, then we at NGLC need to work in new ways as well.
It took us in different directions for each staff member, and that marked the beginning of a beautiful and magical process.
Some Fundamental Changes
In a traditional evaluation process, someone in power may come in and expect their subordinates to come up with a set of goals aligned to organizational goals that have been established for a particular time frame. As we envisioned a new process for NGLC, we designed a system that spoke to who we are as an organization and landed on a co-development process from start to end. In a year-long cycle, we began with a co-empathizing and co-planning phase where we individually defined our Wildly Important Goals (WIGs) for the year. This was done after we had co-developed organizational goals for the year, so each person could set WIGs that would contribute to our organization's growth as well as their own. Next came a co-monitoring phase designed to meet every employee where they are. This phase was enhanced by quarterly triad meetings (a staff member with both co-directors, Andy and myself) where we revisited the goals, worked together to address challenges, and reflected on the individual's learning and growth. This all was leading to time for co-review and co-analysis of each person's growth journey for the year.
The co-planning phase was extremely important in showing that we all approached goal-writing very differently from one another and helped to show that we were all at different places of vulnerability. It took us in different directions for each staff member, and that marked the beginning of a beautiful and magical process that accepted how each of us was coming into this journey and how we were internalizing the process.
I learned quickly that I was not fully out of the traditional mindset and that over time I would need to rethink the ways that I was seeing this process. For one, language is important and we needed to be intentional about what we were saying. For example, we could not continue to call this an evaluation process or model because what we intend to do is to amplify our growth. Using terminology like "evaluator," "appraiser," and "success" was a trigger and understanding why was just as important as the words themselves. Where we landed consisted of a necessary process of listening to each other and embracing complexity as it happened. In some ways, the use of different terminology helped us heal and to create "a partnership based on acceptance and respect for human diversity" (Topa & Narvaez, 2022).
There was also the case of the rubrics. What, if any, was their role in this process? Ultimately, where we landed was having rubrics but not using them to "grade" our growth. Instead, we used them to have a common language that we could all pull from to express growth aligned to self & community actualization, belonging, and cultural perpetuity. To be honest, the rubrics and how we use them are still a work in progress. Without rubrics, though, we had to think about what feedback would look like and how our feedback loops would be different than in a traditional process flow. For now, we have built in monthly check-in opportunities supplemented by weekly 15 minute circle-ups and intentional check-ins through some of our other meeting structures. It positioned Andy and myself in a space of understanding more deeply what has been happening on the ground and the ways in which we could best support each individual given our varied expertise.
Then, there's the work of ensuring that the WIGs are connected to Indigenous worldview manifestations. One of the major missed opportunities we had was that we did not allow ourselves to heal from the traditional systems that we were bound to, knew, and learned how to function within. While we did some activities to acknowledge how different our approach was, we did not go deep into sharing stories of harm; we did not spend time learning how to let go of those boundaries we knew so well and allow this new process to set in. And while using different language was a form of healing, another is actually truly letting go. In many ways, we are still dealing with that today and will continue to learn, especially as we head into the final quarter of the year.
There is power in experiencing change with the rest of your staff and helping to facilitate the change.

Leading and Living the Change
When I look back at all that I am learning from this experience, I cannot help but think about the ways that I have been transformed as a leader. It has been interesting to navigate some of the spaces when I did not have the answers, when I was bound to my readings and research to learn more about Indigenous worldview manifestations. On this journey, I've been both a facilitator of learning and a learner myself. Navigating both worlds has opened up a level of inquiry for me about how to lead in different spaces. There is power in experiencing change with the rest of your staff and helping to facilitate the change. It also helps to humble you as a human being who is trying to reach cultural perpetuity. As a staff, there is still work to be done in how we give feedback and how we receive it. We continue to update the processes that support our new approach to reflect who we are at NGLC.
We are getting closer to building a vision of growth for our team that we would want to see reflected in the adult models built for schools and districts everyday. This is part of our work as an education non-profit, to model and live the values we try to lead by, to build our own understanding by restructuring our own internal systems, and to best position ourselves to help contribute to the actualization of the school communities we work with.

Continue to Part 2
Read Part 2 to learn about the three shifts NGLC is making as we navigate the challenges and rewards that come from replacing a traditional performance evaluation system with a new one that is focused on learning and growth.
---
Image by Cindy Blackstock representing the ideas of Seneca First Nation member and psychologist Terry Cross. (Source)