Designing for Equity
Fighting the Stigma of Special Education: Students as Inventors for Social Good
June 7, 2022
Topics
Project-based Learning
Learner Agency
Student Success
Curriculum & Instruction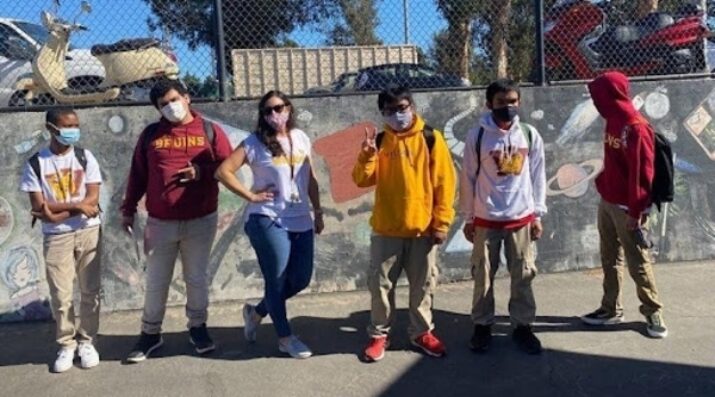 Designing for Equity
Designing for Equity
Together, educators are doing the reimagining and reinvention work necessary to make true educational equity possible. Student-centered learning advances equity when it values social and emotional growth alongside academic achievement, takes a cultural lens on strengths and competencies, and equips students with the power and skills to address injustice in their schools and communities.
Learn More
Students in special education often believe they aren't smart enough to do challenging things. These students saw their own talent when inventing a solution for a community partner, challenging these beliefs.
Being a special education high school teacher during the quarantine was challenging. Seeing my students disconnect from others, get depressed, and stop attending school due to lack of motivation was disheartening. Toward summer last year, I began wondering how I could motivate students as they returned to school in-person, looked online, and found Project Invent. My classes mostly consist of high school seniors with mild to moderate disabilities who come to my class for academic resources and support. All of my students have IEPs (Individualized Education Plans) but the rest of their classes are in general education. There is a stigma for students who receive specialized academic instruction (special education classes) and there is a negative connotation toward having a disability. Most of my students often believe they aren't smart enough to do challenging things. I hoped that exposure to innovation and design thinking would help them challenge these beliefs. Plus, the idea of creating an invention for social good would be a great way for students to think about their role in our Long Beach, California, community.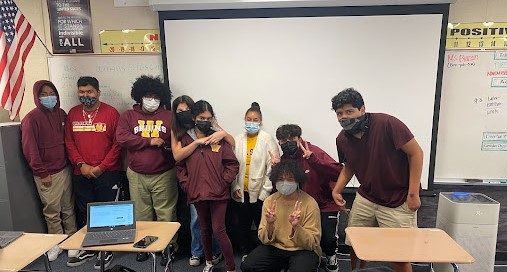 Students in my RSP class
Motivating students through the invention cycle with the support of industry professionals felt like it would be a great alternative to the current state of education. I began the school year connecting with another special education teacher, Ms. Kamar, who teaches a Special Day Class for students with mild to moderate disabilities. They are in special education classes all day long and don't have much interaction with the general population. We decided to partner up my students with Ms. Kamar's students to begin "empathy interviewing," a formative element of the design thinking process, as represented in Project Invent's curriculum. Encouraged by Project Invent's "Community Partner" model, my students had a curious task in front of them: how might they determine a need displayed by their classmates—one that would lead to an invention idea?
When I first told my students about this project, they were confused but curious. Some were excited to meet their new partners in in Ms. Kamar's class. But others, especially those with autism, were nervous to have to interact with others. What came out of this was a change in mindset: after so many months of distance and disconnect, the students built a sense of community. Before long, students were looking forward to coming to class, collaborating on activities, celebrating milestones together, and making one another feel valued and important.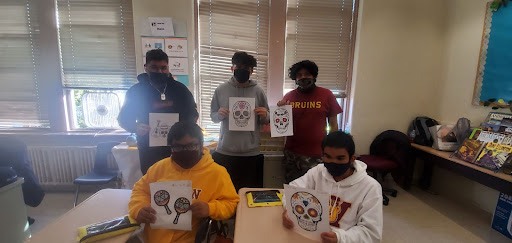 Building relationships with a Dia de los Muertos art activity
When my students fell in love with one of their invention ideas, the long and challenging prototyping process began. All of our efforts were motivated by connections that we made through the needfinding process. We discovered and empathized with the needs of Ms. Kamar's students, one of whom has diabetes. He often had to have his vitals read, including blood pressure and heart rate. Two other students in our shared classroom space were selectively mute and often carried around stuffed animals. My students came up with the idea of having a monkey stuffed animal that reads heart rate and blood pressure.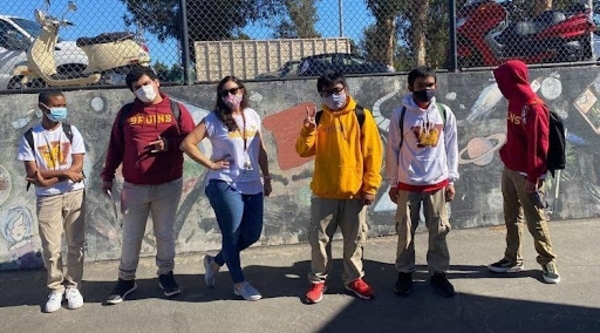 Our community partners: Ms. Kamar and her class.
They started with a drawing of their prototype, then we used existing materials, including a stuffed animal from home and a heart monitor that went into the hand of the stuffed animal, to have a 3D representation of the prototype. We wrestled with Arduino to make our stuffed animal WiFi-enabled, allowing it to message a nurse, parent, or doctor with vitals. After meeting with our prototype coach, we realized that we had to adjust the features of our invention for it to be a monkey that reads heart rate using a heart rate sensor and displays it using a LCD display using Arduino. Along with the invention was a Heart Rate Education Booklet. Version 2.0 may include a blood pressure sensor and Wi-Fi capability.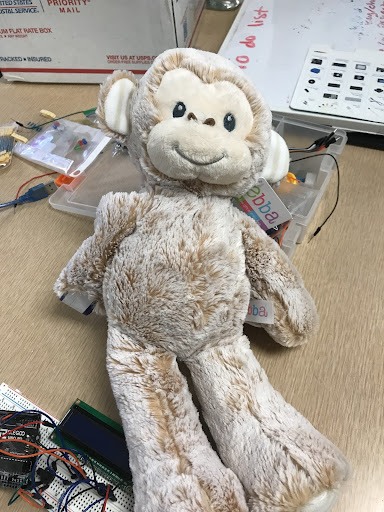 Our Koi.Care prototype
I came to realize the importance of co-learning alongside my students—I had to learn how to utilize Arduino and the basics of coding; I relied on one of my peers in the Project Invent Fellowship for technical back-up; Project Invent staff and volunteers filled gaps when my students moved beyond my own level of expertise. My own ability to demonstrate the joy of life-long learning made room for my students to experiment with their own identities as experts, leaders, and creatives.
Our team later chose a name for ourselves: Koi.Care. Koi means love in Japanese and was chosen by the students. We went through many iterations of the prototype and decided for this version 1.0, the monkey would only read heart rate and would come with an educational handbook that educates its users (children ages 4-14) about heart rate and how to maintain a healthy heart rate. We even used the curriculum in this handbook to do workshops with our community partners on heart rate and maintaining a healthy heart rate.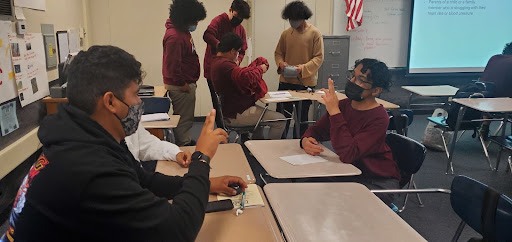 The Koi.Care team teaching our community partners how to take their pulse manually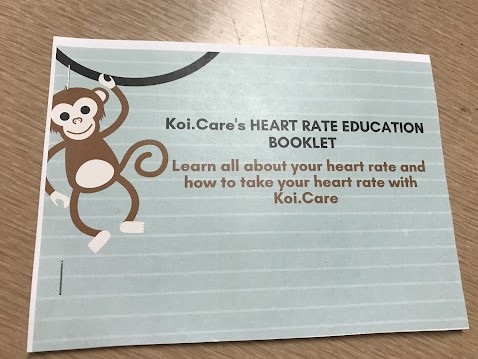 Heart Rate Education Booklet by Koi.Care
Through lots of practice in class and with our volunteer Pitch Coach, our students prepared to share the story of Koi.Care at Project Invent's Demo Day. Despite the shyness that some of them had to overcome (some of my students have autism), they made it through! We were excited to learn that we won the award for the needfinding cycle.
We have continued to meet with our community partners and now refer to them as our "buddies." My students learned lessons about grit, resilience, and perseverance and saw what it took to complete a project from start to finish. They saw what it meant to fail and keep going. I am hoping the lessons my students learned from this will help them to continue to bond with all people for social good and inspire them to design and invent in the future.
---
All photos courtesy of the author.