New Designs for School
Supporting Students to Drive Their Learning in ELA
June 8, 2022
Topics
Personalized Learning
Learner Agency
Curriculum & Instruction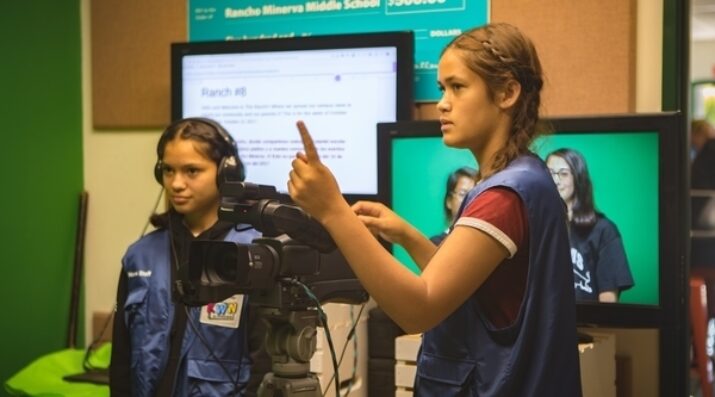 New Designs for School
New Designs for School
We've all had the experience of truly purposeful, authentic learning and know how valuable it is. Educators are taking the best of what we know about learning, student support, effective instruction, and interpersonal skill-building to completely reimagine schools so that students experience that kind of purposeful learning all day, every day.
Learn More
English department chair Michelle Daum explains her approach to personalized learning: moving students toward independence and ownership of their learning, so they are prepared for their futures.
The faculty and staff at Mission Vista High School (MVHS) in San Diego County's Vista Unified School District have been on a six-year journey together. We are transforming classrooms so that students are given opportunity to have a voice in their learning, co-create learning opportunities with their teachers, and work with peers to co-construct learning and understanding. Ultimately, MVHS students are encouraged to create their own self-directed, personalized pathways. To build a shared understanding of personal learning (PL), our school adopted the definition from Allison Zmuda, Greg Curtis, and Diane Ullman in Learning Personalized: The Evolution of the Contemporary Classroom:
"A progressively student-driven model of education that empowers students to pursue aspirations, investigate problems, design solutions, chase curiosities, and create performances."
The chair of our English department, Michelle Daum, helped to explain what her approach to personal learning looks like.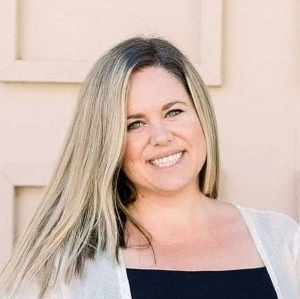 Michelle Daum
For Michelle, the phrase from MVHS's definition of personal learning that resonates the most is "progressively student-driven." As chair of the English department and a teacher on special assignment, she supports colleagues in achieving their individual goals to promote personal learning. "Our end goal," she says, "is that our students are self-directed and prepared for their futures beyond our four walls."
She explains, "Our purpose as a staff is to empower students to be self-directed, creative, and critical thinkers who persevere to positively impact our interconnected world. Within our [English] courses, we want to move students toward that independence and that ownership so that they're prepared to make their own decisions and see themselves within our content. To know who they are as readers, as writers, as speakers, as listeners."
According to Michelle, teaching both ninth graders and seniors allows her to perceive learners' progression over four years, so that she and fellow English teachers "can continually support them to be more independent with their learning and have more ownership over it." In her own practice, Michelle began by supporting learners to set their own goals and by providing them with more choices about what, when, and how they learn, including choosing their own writing and speaking topics and making decisions about the kind of feedback they receive.
In her ninth grade class, for example, learners were tasked with hosting a 45-minute literature-circle talk on a book of their choice from the Advanced Placement list. Learners set up their own reading schedules and topics for discussion, and they also took the lead in designing the assessment for the project. Michelle describes the process as starting with broad questions like, "What should our discussions of the book look like? How would we evaluate them?" Teams of students then came up with descriptions, which Michelle synthesized into a draft rubric. "I had the students review it and give feedback. In this way, students were able to co-create their evaluation."
As a department, Michelle and the other English teachers are supporting student ownership by helping students see the work they do and the feedback they receive as evidence of progress toward goals for each course. In the English department, she observes, "Feedback has always been a big part of what we do." However, new areas of focus include placing greater value on feedback than on grades and promoting "ownership of data as a tool for students to measure their own growth." The first step, she says, was to create course goals as a team, by looking at standards and asking, "What is it that we're hoping students will be able to do by the end of this course?" The English teachers next wrote out the course goals as 'I can' statements for students. From there, learners set personal goals for the course that aligned with course goals, standards, and individual needs.
"We then provided students with opportunities to practice. We took their work and provided feedback on the moves they're making in their writing, their reading, their speaking, and listening." Based on that practice, Michelle explains, students can reflect on where they are at the beginning, set specific goals for themselves, and then measure how they are making progress as they work through the course.
According to Michelle, this learner-driven goal work culminates in inviting students to reflect on their learning journey in writing and provide evidence of growth toward their course goals. Specifically, learners in Michelle's Expository Reading and Writing Course (ERWC) write a letter that functions as an argumentative essay to propose and justify their semester grade in the course. The essay also provides opportunities for learners to self-assess more broadly, such as by describing their work habits, strengths, and weaknesses, as well as how learners addressed any obstacles or circumstances that complicated their learning progress.
In Students' Words
Students in Michelle's class were asked again and again to co-create and reflect on their own learning. Here are a few excerpts from students' final grade reflection essays.
"During the start of your class, I was fairly confident in my skills in reading and writing. This class helped me realize that there was much more room for growth in these skills, and that my idea of good reading and writing was a lot simpler than what the skill entails. I also entered your class believing that there was no way I could greatly improve my speaking and listening skills, that they would just remain stagnant. My growth is a testament that that initial belief is wrong. I believe the grade that well reflects my habits and skills in your class is an A, proven by my consistent grades in writing, my change in how I read texts, and my improvement in my listening and speaking skills." –EC
"My learning journey began with slight confidence, but it also began with intuition and a spark of interest in English. The prompts and assignments given in reading, writing, and listening and speaking all covered engaging topics which allowed creativity to take place. This creativity carved a path for growth and the development of skills for me to be deserving of an A in this class. I believe an A is deserving because I know my skills, and I know 'I CAN' have a 3 in reading, a 4 in writing, and a 4 in listening and speaking. These numbers represent my power of words, my ability to engage in meaningful conversations, and comprehending intense literature." –KD
"I genuinely feel that during my time in this class I have been able to learn and develop so many important skills that I will be able to carry with me throughout the rest of my life, not just in my schooling." –JC
Related Posts
Personalized Learning in Social Science: Skills, Agency, and Relevance - Robert Chodola describes how personalized learning looks different in history compared to the high school electives he teaches at MVHS, but the goals are the same.
Personalized Learning in Photography: Discovery, Innovation, and Growth - Personalized learning in a photography course comes through unique, individual work products, but MVHS teacher Will Salley pushes for even more student ownership of the learning.
Personalized Learning and Math: Not Just about the Numbers - As MVHS math teacher and department chair Stacy Eyton personalizes learning in math, it's changing mindsets on what the subject is all about.
---
This article is an excerpt from the NGLC publication, Personal Learning at Mission Vista High School. Read the publication for more of our teachers' stories of personal learning.
Photo at top of Vista Unified School District students, courtesy of NGLC.