Professional Learning
Teacher PD: The Achilles Heel of Personalized, Next Gen Learning
December 6, 2016
Topics
Personalized Learning
Change Management
Staffing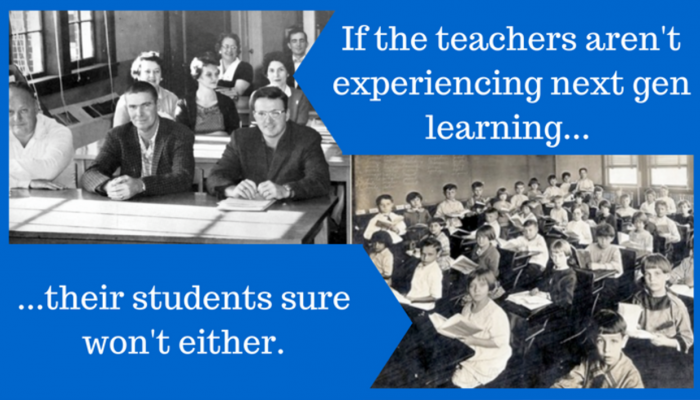 Professional Learning
Professional Learning
Educators are the lead learners in schools. If they are to enable powerful, authentic, deep learning among their students, they need to live that kind of learning and professional culture themselves. When everyone is part of that experiential through-line, that's when next generation learning thrives.
Learn More
If the teachers aren't experiencing next gen learning… their students sure won't, either. It's time to make it happen, for all of the nation's teachers on behalf of the learners they serve.
How will thousands of teachers re-engineer their skills to succeed in next gen classrooms?
We Americans like to think of ourselves as creative, entrepreneurial, and self-determining. Our public schools set lofty visions promising their graduates will have the skills, knowledge, and lifelong-learning dispositions needed to fulfill that ideal. Personal agency: yes! That's what the United States is all about.
And yet… in the workplace experience of far too many teachers in far too many public schools… personal agency seems as distant as the moon. Beyond the moon. For many, that sensation is orbiting somewhere in the vicinity of Pluto.
Workers on assembly lines can build fine widgets. But if the 21st century demands that we become a nation filled with strong, creative, self-actualizing lifelong learners, then the professional lives of teachers must reflect those same ideals. It's hard to imbue kids with "far and wide" when your teaching job confines you to "straight and narrow."
In many good schools across the country, of course, teachers feel and act like the professionals they are. They are the lucky ones, judging from polls and other recent research. But they are an increasingly dispirited bunch, according to a 2013 TNTP survey of high-performing "irreplaceable" teachers. These teachers, say survey authors, "have a distinct love/hate relationship with their profession" and are dramatically more likely than the average teacher—60 to 43%—to leave the profession in the next five years.
Something needs to change. Just as students' experience of public education needs to become richer, deeper, more personalized and more engaging, their teachers need to live a transformed professional life. One that affords them genuine responsibility, permits and enables the exercise of professional judgment, and gives them the skills, knowledge, and latitude to focus on what's being learned, rather than the simple transmission of content. Moreover: a professional life that recognizes their need—and their right—to learn, themselves, in ongoing, job-embedded ways that reflect the nature of the learning they are enabling among their students.
That's the vision of a new initiative launched by NGLC this past month, the Next Gen Professional Learning Project. With support from the Chan-Zuckerberg Initiative and the Bill & Melinda Gates Foundation, we are asking:
How can schools moving toward personalized, next gen learning for students best enable their teachers to work successfully in these richer, deeper learning environments?
This is a complex challenge and an urgent one, as more and more schools and districts begin to embrace 21st-century definitions of success for students and learner-centered education as the best route to get there. Fortunately, there is a rapidly developing community of organizations focusing on this challenge, including many that were represented at a compelling two-day meeting in Washington, D.C. last week, convened by the non-profit initiative Education Reimagined. Several are working with us on this project, including The Learning Accelerator, 2Revolutions, EdSurge, Business Innovation Factory, Getting Smart, and Digital Promise.
We carved up the work into four distinct design challenges:
What does effective next gen professional learning look like, and how does it reflect the tenets of personalized, next gen learning that more and more students are experiencing in NGLC's breakthrough schools and others nationwide?
What does it look like at scale, when districts attempt to bring it to hundreds or thousands of educators instead of dozens?
What are the best ways that philanthropy can accelerate the supply-side of PD providers to adopt and support next gen professional learning practices?
What are the most productive roles for technology tools and platforms?
The initiative will generate a public report to be distributed next spring or summer, along with recommendations for proactive field-building by the funders, other philanthropies, and forward-looking organizations working to address the challenge.
If the teachers aren't experiencing next gen learning… their students sure won't, either. Clear enough. It's time to make it happen, for all of the nation's teachers on behalf of the learners they serve.