Building Community
Teachers as the Drivers of Change
November 26, 2019
Topics
Personalized Learning
Change Management
Staffing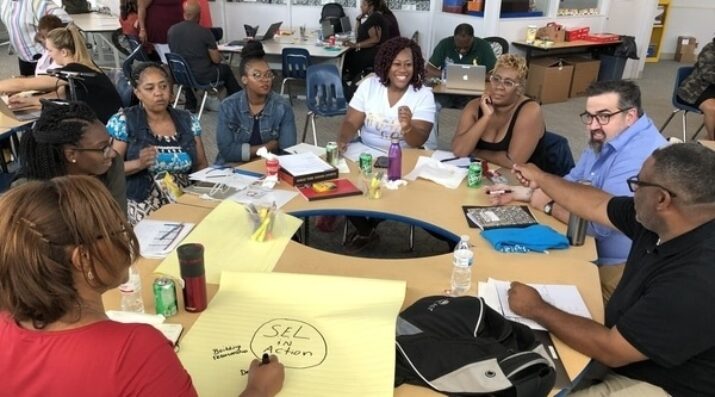 Building Community
Building Community
When educators design and create new schools, and live next gen learning themselves, they take the lead in growing next gen learning across the nation. Other educators don't simply follow and adopt; next gen learning depends on personal and community agency—the will to own the change, fueled by the desire to learn from and with others. Networks and policy play important roles in enabling grassroots approaches to change.
Learn More
When we increase student voice and choice in their learning, we must also increase teacher voice and choice in curriculum and instruction, school operations, and professional learning.
The shift to personalized learning requires a completely new mindset about how we as educators do what we do. When we increase student voice and choice in their learning, we must also increase teacher voice and choice in curriculum and instruction, school operations, and professional learning. Teacher leadership is not a new concept, but rarely does it rise to the level that personalized learning demands. In fact, schools, districts, and CMOs in the U.S. are more likely to use top-down approaches to decision-making and implementing changes, and provide limited opportunities for teacher leadership.
How then, can K-12 education begin to shift its practices to create space and opportunity for teachers to lead the change to personalized learning? The Distinctive Schools Personalized Learning Innovation Fellows is just one way that we at Distinctive Schools (DS) practice our commitment to make decisions "with teachers, by teachers, for teachers."
Our educators, regardless of years of experience or teaching assignment, are key stakeholders whose perspective provides invaluable insight. In short, our teachers matter.
Teachers are in the best position to speak to who we are, what we believe, and who we wish to become.
The fellows are a group of educators that represent our five Chicago and three Michigan campuses. They have been chosen to support the organization's mission to transform learning. The fellows represent a range of grade levels and teaching experiences, yet they share a common goal: to serve as DS trail-blazers whose work propels the organization's growth and development, thus improving the school experience for all learners. In doing so, they become a mentor for colleagues and a model that the network can look to as we design our path forward.
As fellows, these teachers agree to take on additional leadership while maintaining their pivotal role as classroom teachers. Their contributions include piloting new strategies, driving efforts emerging from our partnership with LEAP Innovations, and modeling exemplary practices in their own classrooms.
Piloting New Strategies
As leaders from within, the fellows pilot personalized learning strategies and invite feedback from their peers. They encourage and support academic risk-taking, often by sharing the successes and challenges of their own risk-taking. The Personalized Learning Innovation Fellows commit to ongoing learning and reflection by attending workshops, participating in school visits, and serving as DS Ambassadors at various events. As a result, the fellows often become an immediate source for teachers, a colleague they can reach out to for inspiration, feedback, and collaboration.
Driving the LEAP Partnership
Another core component that the Personalized Learning Innovation Fellows support is DS' partnership with LEAP Innovations. Stephanie Cardella, Executive Director of Curriculum, Instruction, and Assessment, states, "Distinctive Schools empowers the innovation fellows to be in the driver's seat and to take ownership of our partnership and communication with outside stakeholders. The fellows reflect our beliefs and values, both in attitude and practice. They are in the best position to speak to who we are, what we believe, and who we wish to become."
The fellows have played a key role in our entire staff developing a deep and shared understanding of the LEAP framework, identifying connections between the LEAP framework and the DS Teaching Framework, and designing the rollout of the LEAP framework across the network. They participate in the learning as both a teacher and teacher leader, which is a key piece of the success of the work to date. As teachers, they can best speak to how the language of the framework reflects current instructional practices and what form of professional development will best meet the needs of the staff. As teacher leaders, they participate in the learning alongside members of the network team, develop and facilitate professional development at their campus, and provide ongoing feedback to network leaders on the successes to celebrate and the challenges to address. Doing so ensures that the work moves at a rigorous, yet appropriate pace and meets the needs of our staff.
In addition, the LEAP partnership includes overseeing the administration of the LEAP survey. The survey, given annually to students and staff in grades 3-8, helps determine a baseline of improvements to our personalized learning efforts and highlights opportunities for growth. The fellows communicate expectations, explain the purpose to both teachers and families, and help ensure participation. Once the survey results are in, the fellows are on the team that analyzes the responses and designs action steps based on the identified areas of need. Here again, the fellows bring teacher voice and perspective to the conversation and help ensure that initiatives are done with teachers rather than to teachers.
Modeling Exemplary Practice
The most important and most impactful work the Personalized Learning Innovation Fellows do takes place in their own classrooms. As teacher leaders and champions of the work, the fellows commit to constantly refining their work, accepting new challenges, and engaging in risk-taking. They invite colleagues to visit their classroom and willingly share their journey with others. In doing so, they foster a collaborative environment in which teachers are the source of learning and inspiration.
"With teachers, by teachers, and for teachers" is more than a catchy tagline at Distinctive Schools. It is a core value and belief that drives our personalized learning model. Teachers deserve and need a seat at the table; the invitation to join the conversation is key to our culture. When we value and invite teacher perspective and experience, we mirror the learning experience we strive to create in DS classrooms.
---
Photo at top courtesy of Distinctive Schools.