Technology Tools
Teaching the Whole Child Utilizing Collaborative Learning Spaces
September 12, 2017
Topics
Facilities & Classroom Design
Curriculum & Instruction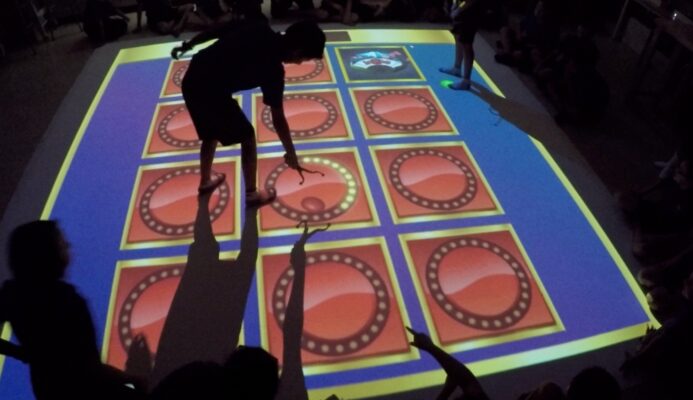 Technology Tools
Technology Tools
Educators often take advantage of educational technologies as they make the shifts in instruction, teacher roles, and learning experiences that next gen learning requires. Technology should not lead the design of learning, but when educators use it to personalize and enrich learning, it has the potential to accelerate mastery of critical content and skills by all students.
Learn More
A SMALLab Q&A with Grande Innovation Academy
Grande Innovation Academy uses SMALLab as part of its Creative Learning Spaces to provide a gifted-type education to all students in its school.
In the first article of a four-part series, SMALLab Learning CEO, Dr. David Birchfield, sits down with Patty Messer, a 30-year veteran of gifted education and Executive Director of Grande Innovation Academy. They discuss how professional development and embodied learning combine to improve student outcomes at her school, a K-8 charter school located near Phoenix, Arizona. The school features a "whole student" pedagogy that emphasizes a well-rounded curriculum and extensive use of technology in the classroom.
SMALLab is a learning company that partners with educators to transform learning. SMALLab is a room-sized, 3D collaborative learning environment. When students are learning in SMALLab they are out of their seats, moving around and working together to understand the lesson. Multiple research studies show that SMALLab yields an 86 percent increase in student learning, 6.7X increase in student collaboration, and a 33 percent increase in teacher effectiveness. Learn more about SMALLab on its NGLC grantee page or at the SMALLab site.
Dr. Birchfield: You spent much of your career teaching gifted students, and later other teachers in gifted programs. Why the switch to leading a charter school?
Messer: My goal has always been to have an impact—impact on teachers, on students, and on students' families. After 30 years of teaching, my commitment to impact hadn't changed, but I needed a change in scenery. I joined Grande Innovation Academy originally as a jack-of-all-trades. I led implementation of the new K-8 curriculum and, later, was asked if I would rewrite the charter and assume my current role as director of the school. I did—and our charter was authorized in December 2013. 
Dr. Birchfield: Essentially, you implemented what a typical gifted curriculum might look like, but for the entire school. How did you do that? 
Messer: Exactly. Within the Charter Application, I called for "Creative Learning Spaces," which meant that students would be learning in a lot of places outside of the traditional classroom. For example, we have a kitchen, a garden classroom, and a mobile kitchen cart. We implement the "Edible Schoolyard" philosophy, have a Fab Lab (which is our maker space), a labyrinth (which is a meditation room), and we recently added a SMALLab. 

I brought all of my gifted pedagogy and design thinking to this campus, and the past year has been amazing. 
Dr. Birchfield: How does SMALLab integrate into the curriculum and with the other technologies you have in place?
Messer: We're very thoughtful about it. We don't just throw technology against the wall. Our STEM Coach starts the school year in July, mapping out everything we plan to do during the school year. Every teacher then meets with her during professional development (PD) so that our staff is on the same page regarding when and how the SMALLab will be used. Then, every week, the STEM Coach works with teachers regarding the modules that are coming up. She takes the lead to make sure the SMALLab is getting used at the right time for our students. It is completely aligned with what's taking place in the classroom.
Dr. Birchfield: What were your teachers' reactions when they experienced SMALLab? 
Messer: They love it! They're so excited. We implemented it in the spring of 2017, after we did demonstrations for the teachers and parents, the students had the opportunity to go in and experience our SMALLab as well. Every single student was able to experience our SMALLab at least once during those last few weeks in May. Just this morning, I gave a tour to three new families, and they were super excited as well.
Dr. Birchfield: Tell me about how the teachers prepare for SMALLab. It's one thing to invest in innovative technologies and learning spaces, but teachers have to be well-trained to use it effectively.
Messer: Our teachers have two weeks of professional development before they ever see a child in the classroom. We also have a 4-day student week, so Fridays turn into additional PD time, and it's very specific and very targeted. We spend a lot of time writing lessons, creating materials, and conducting research. I am a firm believer in being prepared and in using research-based technologies to advance learning. If you can't take the time to do great prep work up front, you're going to take the easy way out once you're in the classroom. Good teaching starts with good preparation. 
Dr. Birchfield: Grande Innovation Academy runs a gifted-like program in every classroom, but not every student meets the criteria of what's traditionally considered gifted. How do you make it all work?
Messer: Like most schools, we have a core group of students who perform below grade level. We don't "teach to the test," but we do have a robust Responsive Intervention program with 10 teachers dedicated to it. These are people who are instructional assistants for math, ELA, and so forth, and they provide support to our classroom teachers.

We also have an After School Homework Club and Friday Learning School. We do all of these things because I will never be the person who says, "Our students didn't do well on the test, so I guess we have to cut back in certain areas to focus on test taking." We give as much support as possible to our teachers and students, and we do whatever it takes to succeed. 
Dr. Birchfield: What's next for Grande Innovation Academy?
Messer: Community relations are important to us. We showed our SMALLab to the mayor of Casa Grande, AZ, who loved it so much that he was going to tell the City Council about it. I'm hoping we'll have the opportunity to share our SMALLab with the City Council. Perhaps they'll want to host an upcoming meeting here.
Related Posts in the SMALLab Educator Q&A Series: