New Designs for School
The Cost of Personalized Learning
June 16, 2016
Topics
Personalized Learning
Leadership
Finance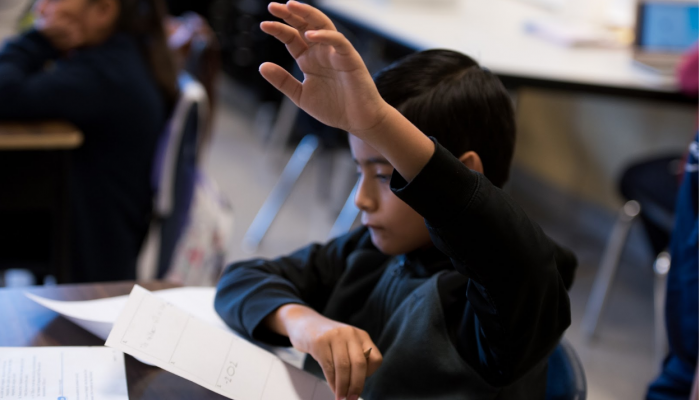 New Designs for School
New Designs for School
We've all had the experience of truly purposeful, authentic learning and know how valuable it is. Educators are taking the best of what we know about learning, student support, effective instruction, and interpersonal skill-building to completely reimagine schools so that students experience that kind of purposeful learning all day, every day.
Learn More
A new report sheds light on the financial decisions that are shaping the use of time, talent, technology, and space in personalized learning schools.
How do NGLC schools spend their money? A new report from the Center for Reinventing Public Education (CRPE) sheds light on the financial decisions that are shaping the use of time, talent, technology, and space in personalized learning school models.
CRPE and Afton Partners collected data from 25 NGLC breakthrough schools that launched their new models in 2012 and 2013. The report, Financing Personalized Learning: What Can We Learn From First-Generation Adopters?, only includes findings about the 16 charter schools in those two cohorts. The nine district schools are not included in this report.
(The report states that it was difficult to include data collected from district-run schools in their analyses because the district schools were inconsistent in reporting district-level costs like utilities and food services which were included in the charter school budgets.)
The goal of the three-year study, which was funded by the Gates Foundation, was to understand how personalized learning affects budget-setting priorities and how PL schools can be sustained. They looked at revenues and expenses in a planning year and the first year for all 16 schools and extended into a second year of data for five of the schools. The authors concluded with a "cautious optimism for the financial sustainability of personalized learning models."
Innovators Spend What They Have
The 16 schools are in different localities with different levels of public and private funds available to them. As part of the NGLC grant, all 16 were provided with a start-up grant of $300,000 plus an additional $150,000 available in matching funds.
CRPE found that spending tended to match the revenue available to the schools and ranged from $5,300 to $24,000 per pupil. Of note for the highly innovative new models and the infusion of grant funds that defines this group, several schools had revenues "near or even below the 2013 national average of $12,000 per student, even including private funding."
Although spending was higher in schools with more revenue, 13 of the 16 schools balanced their budgets and even ran surpluses in Year 1.
What NGLC Schools Invest In
NGLC schools don't ascribe to one singular model. It makes sense, then, that spending varies by model. Even so, CRPE found some trends.
Salaries: Salary costs were the largest expense. Schools made large investments in people in these early years. Even when enrollment fell short of projections, and as a result total revenue fell short of projections (on average, 17 percent less in the first year), NGLC schools continued to invest in staff. It resulted in smaller adult-to-student ratios and smaller class sizes than their learning model prescribed, and an increase in per-pupil expenses.
Professional Development: Schools continued to demonstrate a commitment to investing in people by laying out significant funds to build their teachers' capacity for personalized learning. Spending on professional development averaged in the $35,000 range in each of the three years, for a small teaching staff in small schools that were not yet at full capacity. The schools also spent significant funds on consulting services to help teachers implement the learning model. The five schools in Year 2 spent an average $134,000 on consulting services in that second year alone.
Facilities: To get their schools up and running, they had to invest in operations and facilities costs were another big ticket item. Schools spent a good amount of their budgets on leasing or purchasing a facility, building upgrades, and remodeling the facility to meet the design needs of their flexible, personalized learning model. Most schools underestimated facilities costs in their budget projections.
Planning: Planning is important when launching a new school, regardless of the school model. Fifteen of the 16 schools in this study were new schools and they all invested in planning. But startup costs increased in Year 1 compared to the planning year and increased even more in Year 2. CRPE found that the so-called "startup costs" will also apply to existing schools looking to adopt personalized learning as much as new schools: "Even existing schools that are adopting personalized learning, however, have significant planning needs. This includes, but is not limited to, reworking all of the curricula, retraining teachers, informing families of the new approach, and building new assessment systems."

The schools report that non-recurring startup costs will begin to drop as their models become more established. But the researchers worry that these expenses will last longer than private funding will be available. Part of what has them concerned is that "some of these expenses seemed to catch the schools by surprise."
Technology: Spending on technology is last on the list, and that's the storyline that CRPE highlights. Schools underspent on technology when compared to their budget projections, and when faced with budget shortfalls, they chose to invest in staffing over technology. They did spend $205 per pupil per year on technology support services like hardware maintenance and repair, an average of $460 per pupil on devices, and $169 per pupil in Year 1 on infrastructure upgrades. They spent 44 percent less on software than anticipated. Instead, they opted for free or low-cost options. Other cost-savings decisions included cutting non-essential tech tools, ending expensive contracts with software and technical support providers, or choosing less expensive hardware. The cost savings allowed the schools to balance their budgets and invest in staffing, but CRPE cautions that the cuts may be too deep:

"Relying solely on freeware to keep technology spending down constrains the ways in which a school can use technology to personalize learning...and may place a greater burden on teachers to supplement weak or fragmented resources."
In an EdWeek article about the CRPE report, NGLC's deputy director, Andy Calkins, shared some cautionary words in interpreting this staff/technology trade-off:

Some of the decisions made by K-12 officials to cut back on technology, he noted, are a result of their frustrations with the inadequacy of digital tools to meet their needs, Calkins said. "It's important not to draw a 1-to-1 link between 'spending choices' and 'degree of innovation,'" he said. "These schools all point to technology as an enabler, but none of them would say that technology is the main headline … Deciding to invest in people rather than technology doesn't automatically mean, 'This model is now leaning back towards status quo.'"
In a way, CRPE agreed with Andy that the ed tech market is lagging. The authors noted two schools that developed their own personalized learning dashboards and commented, "In these early days of personalized learning, schools will likely need to invest in customized software. As these tools continue to develop and gain popularity, they will likely be available for affordable prices. It remains unclear whether these tools will ever be available as freeware."
The Cost of Innovation
The authors don't include "iteration costs" as a finding of their study, but their findings suggest that the NGLC schools are consciously choosing to invest in the iterative nature of innovation. Each of the schools in this group designed a unique personalized learning model utilizing new learning strategies—blended, competency-based, project-based learning—and new organizational models—rethinking one-teacher-per-classroom, 20-30 students-per-teacher—that have never been used before. CRPE noted that "Many schools in our sample changed (and continue to change) their approach to PL as their leaders have learned what works for their students and teachers."
This is a good thing: to refine an innovation, to take on a learning mindset, to flexibly meet the needs of learners and educators. But it costs money.
Iteration is a new way of thinking about school transformation and it may be why the startup costs have a longer tail than typical, and why those costs increase before they start to decrease. I'm curious to better understand the cost of iteration. These schools are leading the way in designing next generation school models, systems, and structures that are student-centered, based on learning science, and widely adoptable and I wonder about the long tail of innovation:
How can the field of K-12 education continue to invest in these schools as they iterate their way to stable, sustainable, powerfully effective learning environments for students?
Understanding the spending patterns and expenses of personalized learning incurred by these 16 school is valuable for the field, but I think the value of their spending can extend beyond individual school budgets. When I think about how K-12 education can benefit the most from the innovation design work of NGLC schools—and the cost it incurs—I wonder about the impact on the greater good:
How can we make sure that the lessons emerging as these schools innovate, iterate, and continuously improve are shared widely and used broadly?