Why Schools Need to Change
These Five Core Values Can Transform Education
May 11, 2023
Topics
Project-based Learning
College & Career
Curriculum & Instruction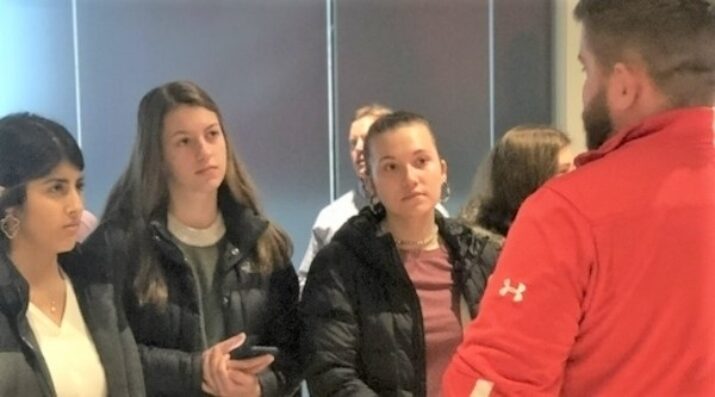 Why Schools Need to Change
Why Schools Need to Change
Today's learners face an uncertain present and a rapidly changing future that demand far different skills and knowledge than were needed in the 20th century. We also know so much more about enabling deep, powerful learning than we ever did before. Our collective future depends on how well young people prepare for the challenges and opportunities of 21st-century life.
Learn More
The CAPS Network, where learning is driven by students' curiosity and interest through authentic projects, helps K-12 pivot to engage learners now and not just advance them to graduation.
The existence of predominantly stale learning spaces in the age of the technology revolution and a rapidly changing and growing world baffles me. In a time when there is a seemingly endless drive and desire for innovation, students by and large feel disengaged at school. In fact, the inability of our education systems to be agile and experiment—in tandem with the lingering impacts of the COVID-19 pandemic—is in many ways strengthening the gravitational force of the K-12 status quo, what former Hallmark executive Gordon McKenzie would call "the Hairball." At times it feels like there is no escape—and no hope for significant change.
For the past 14 years, a counter-cultural experiment has been underway in a Midwestern public school district. Inspired by McKenzie, whose official job title at Hallmark was Creative Paradox, the Blue Valley School District created a program intent on disrupting traditional educational practices, and disrupted itself in the process.
Launched as the Center for Advanced Professional Studies (CAPS), the program reverses and shuffles school. Learning is driven from day one by a student's curiosities and interests, with choice from semester to semester of industry sectors to try out, and potentially rule out, as future careers. Traditional curriculum in the "learn in order to do later" format is replaced by just-in-time learning dictated by an authentic project. Projects are either student driven (a recent example—a food science student inventing a 100 percent natural pickle chip for the on-the-go athlete) or sourced by an industry partner. These projects have ranged from market research for large firms, to consulting with a startup regarding product pricing and legal considerations, to logo and website designs for nonprofits.
CAPS is now a growing global network of educational hubs of innovation, encompassing over 170 school districts in 23 states and four countries. Hope springs eternal that systems can make the important pivot to engage their students and not just advance them until they are out and on their own.
My hope ties directly back to what we refer to as the Five Core Values. I believe these are replicable anywhere the desire exists to give students meaningful, authentic learning:
1. Profession-Based Learning
Connect professionals and community members directly into the learning process, starting with the design of course experiences, continuing with authentic project delivery as the curriculum, and including a post-year debrief and recalibration.
2. Professional Skills Development
Establish the importance of professional, durable skills with students (as opposed to simply the "hard skills"). Connect students with direct exercises to practice skills such as verbal communication, written communication, time management, project management, and leadership. Expose students to these skill sets in natural environments so they can also learn organically and build confidence.
3. Self Discovery and Exploration
Provide students the space and time to truly learn who they are. This includes a strengths inventory, as well as what students like and don't like to do. Once students understand more about their strengths and work styles, students should be deployed as young professionals to see what the world has to offer them. This wayfinding accelerates the process of "knowing thyself" through deployment to the real world.
4. Entrepreneurial Mindset
All students should learn how to iteratively explore solutions to challenging problems and situations using approaches such as Lean Startup or Design Thinking. In this model, failure is positioned as a quick way to learn and pivot as opposed to an act to punish. We should view entrepreneurship as a mindset and not simply the act of starting a business or creating a product. Professionals in any industry benefit from an entrepreneurial mindset.
5. Responsiveness
The new style of school should be one that moves at the speed of innovation and meets students and industry partners where they are. Building a responsive classroom or school requires agility, where educators are open to receiving blunt, real-time feedback on the relevance of their curriculum and experiences. Teachers should embrace rapid prototyping of their instructional design and delivery. This ensures a world-class experience unparalleled by the traditional classroom.
We will be going deep into the Five Core Values of the CAPS model at the 2023 CAPS Network Summer Huddle: Education Elevated, June 26-28 in Provo, Utah, and invite you to join us. By embracing and living the Five Core Values, we can transform education as we know it and make school engaging and fun again for our students.
---
Photo at top courtesy of LAUNCH program of the School District of Elmbrook (Wisconsin), an affiliate of CAPS.