May 21–23, 2018
Pittsburgh, PA
#Networks4Learning
This unique learning experience, co-designed with Stanford d.school partners, included site visits to area schools and highlighted NGLC's co-host, the Remake Learning network. Outcomes for participants:
Feel... Connected + Engaged
Understand... New and age-old network thinking + How it applies to your work
Act... Apply new network thinking to your work + Design toward increasing equity
Make... Contribute stories and assets to express how network design can shape learning shifts for equity.
Build Connections
The learning experience was facilitated by nationally-recognized network leaders and designers. They helped guide and shape participant dialogue, design sessions, and our collective network thinking.
Curtis Ogden, Interaction Institute for Social Change
Lydia Dobyns, New Tech Network
Xiomara Padamsee, Promise54
Josh Schachter, CommunityShare
Sunanna Chand and Gregg Behr, Remake Learning
Laura McBain and Sam Seidel, d.school K12 Lab
Convening resources from these connections, and others, are available on the Network Principles and Network Resources pages of this microsite. New resources and new ideas emerging from the convening will continue to be added.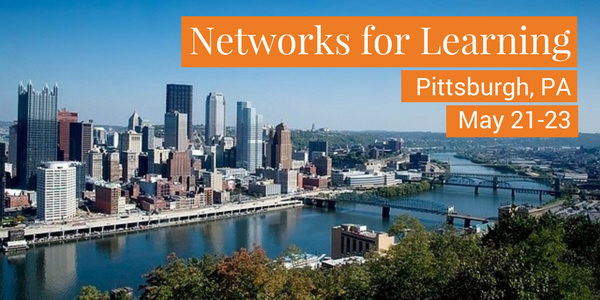 Event Highlights
What role does network design play in shaping future learning shifts for equity?

Monday, May 21
12:00–7:00 p.m. ET
Engage with Network 2.0 Design Leaders on questions of network principles for equitable learning, innovation, and the conditions of "healthy" networks
Optional Remake Learning Showcase events, 7:00—9:00 p.m. ET
Lunch and happy hour included
Tuesday, May 22
8:00 a.m.–7:00 p.m. ET
Meet the Makers at the Pittsburgh Children's Museum
Participant Choice: Two options for site visits
Network design challenge: Equity
Breakfast, lunch, and happy hour included
Wednesday, May 23
8:00 a.m.–12:00 p.m. ET
Design challenge demonstrations
Looking forward: Commitments and community learning
Includes breakfast
VIEW BACKGROUND READING FOR PARTICIPANTS