Additional Resources
Learn more about creating healthy, equitable Networks for Learning.
By Audrey Jordan and Diana Scearce, Robert Wood Johnson Foundation, September 2021
This primer offers a set of principles and suggested best practices for networks and learning communities to play a foundational role in promoting equity, dismantling structural racism, and centering the communities and people most impacted by systemic injustice.
NGLC Regional Funds for Breakthrough Schools
Remake Learning
Remake Learning is a network that ignites engaging, relevant, and equitable learning practices in support of young people navigating rapid social and technological change. The network, established in 2007, is an open group of interconnected, creative, and innovative people and organizations in the greater Pittsburgh region.
Remake Learning Sites
Learn more about members of the Remake Learning network who are hosting site visits for the Networks for Learning convening.
Cornell Middle School - How One High-Poverty District is Adding Virtual Reality to Its Classrooms (Hechinger report article)
Homewood Early Learning Hub - Profile description (web page) and video (5 min)
Manchester Craftsmen Guild - Bill Strickland & Manchester Bidwell video (11 min)
CommunityShare
CommunityShare is a locally-based online network that connects the skills and experiences of passionate community partners—individual professionals, community leaders, organizations, and businesses—in the greater Tucson region with the goals and needs of educators in schools and informal learning environments. Together they create real-world learning opportunities for youth to discover their own passions and illuminate pathways for transforming their passions into career possibilities.
New Tech Network
Through project-based learning, New Tech Network schools empower and challenge students to learn and succeed, to collaborate and communicate, and to engage in the world around them.

Leadership in the Age of Complexity: From Hero to Host
Margaret Wheatley with Debbie Frieze, in an article published in Resurgence Magazine, Winter 2011, provides insights into new ways of practicing leadership in networks by acting more as 'host' than as 'hero'. "Leaders-as-hosts" invest in meaningful conversations, convene people together, offer unequivocal support, and re-engage people who have been held back in confining roles. READ THE ARTICLE.
Disrupting Opportunity Gaps Will Hinge on Networks
Julia Freeland Fisher of the Christensen Institute examines tools available to expand beyond students' inherited networks to learn about careers and opportunity. "Opportunity is something young people are—or aren't—networked into.... Education institutions can address this reality by exploring emerging tools and approaches designed to reach beyond students' inherited networks and, in some cases, immediate geography." READ THE ARTICLE.

How Networks Make the World Better
In a podcast with Getting Smart, Curtis Ogden discusses his work with change leaders to build collaborative capacity. The conversation covers his experience with education networks, both managed and voluntary. And Curtis spends time discussing "regenerative networks"—resilient systems that renew themselves, and how a regenerative network of schools might act. LISTEN TO THE PODCAST.
The Role of Networks in Advancing Personalized Learning
This brief from FSG demonstrates why networks matter for the personalized learning sector and explores the roles that networks already play today. The brief then poses strategic questions for network leaders, funders, and policy makers on how to strengthen networks going forward. READ THE BRIEF.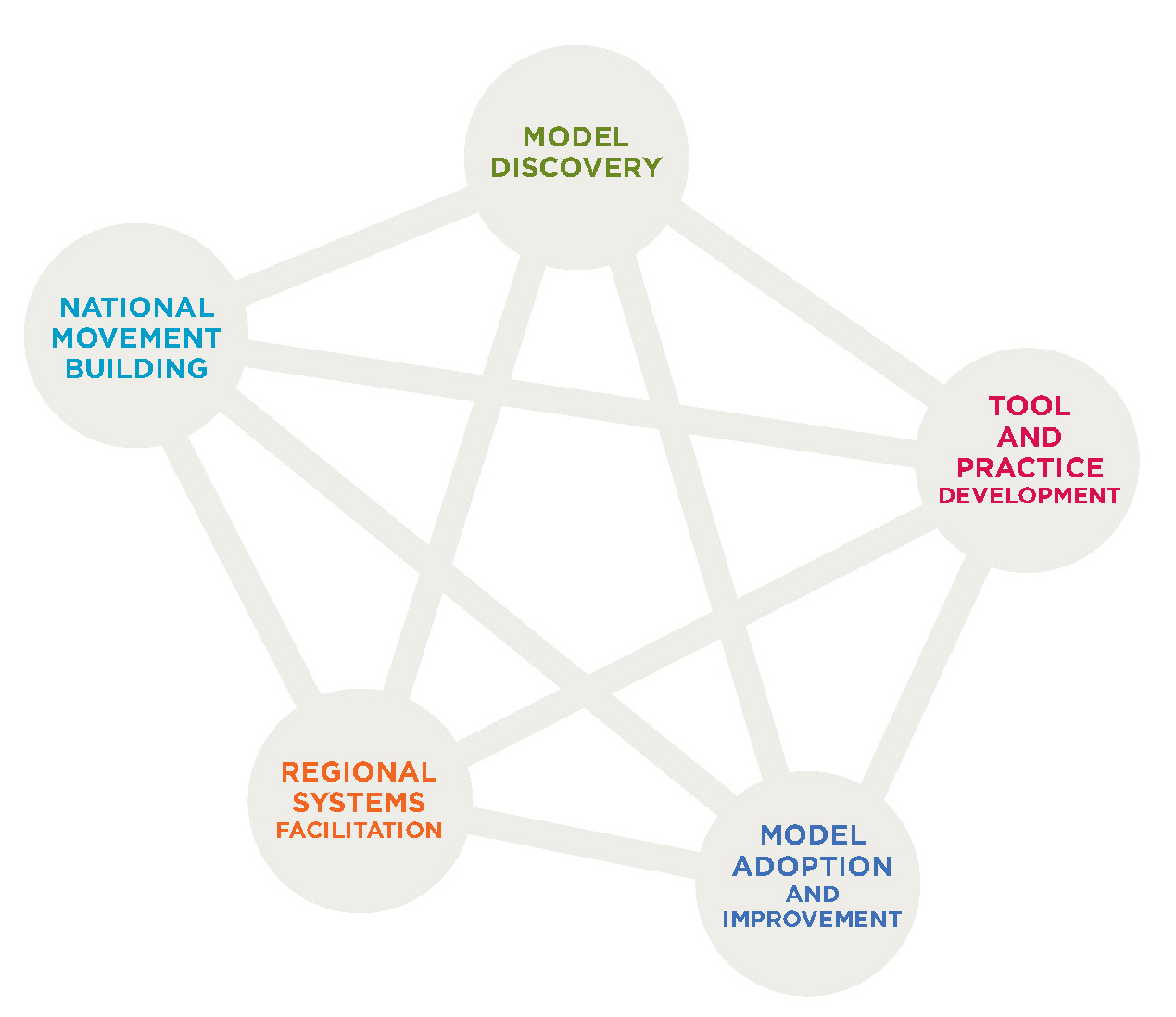 Network Effect Resources
Getting Smart compiled a ton of helpful resources related to school networks. BROWSE THE SITE.
Better Together: How to Leverage School Networks For Smarter Personalized and Project Based Learning
This forthcoming book by Tom Vander Ark of Getting Smart and Lydia Dobyns of New Tech Network examines how both charter networks and networks that connect district schools are streamlining school improvement and creating great new schools. They analyze learning models, strategies, and innovations for collaboration, scale, and quality in K-12 education. LEARN MORE.