Building Community
6 Massachusetts teams head to California with the NGLC Innovative Schools Learning Excursion
February 13, 2020
Topics
Personalized Learning
Student Success
Change Management
Leadership
Staffing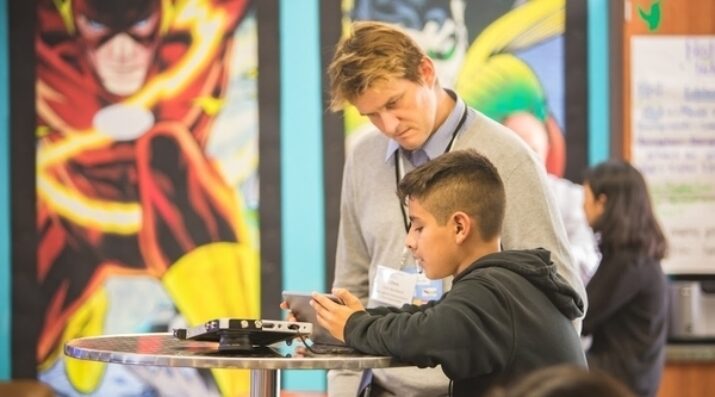 Building Community
Building Community
When educators design and create new schools, and live next gen learning themselves, they take the lead in growing next gen learning across the nation. Other educators don't simply follow and adopt; next gen learning depends on personal and community agency—the will to own the change, fueled by the desire to learn from and with others. Networks and policy play important roles in enabling grassroots approaches to change.
Learn More
Selected through a competitive process, the 6 teams will inspire and engage diverse stakeholders in creating a new vision for teaching and learning in their schools.
The NGLC team, together with the Barr Foundation, is pleased to announce the six teams selected for the Innovative Schools Learning Excursion program!
Lowell Public Schools and Project LEARN
Milford High School
Mohawk Trail Regional School
Mount Wachusett Community College Foundation
Nashoba Regional School District
Springfield Public Schools
Building upon NGLC's successful Learning Excursions for educators, this program is uniquely designed for teams of Massachusetts-based educators, students, parents, and community leaders. Anchored by a learning-focused site visit, the program supports teams looking to change how they go about transforming teaching and learning within their schools, especially through widespread and inclusive community engagement.
Communities Transforming Schools
At NGLC we believe that the important work of transforming teaching and learning is best done when a diverse team of stakeholders works together in partnership. Bringing students, parents, community members, and educators together as equal partners in work that matters is exactly what's needed for real and lasting change to take root. It's what all our students deserve.
That's why every participating team for the Innovative Schools Learning Excursion includes students. And among the teams' community leaders are representatives from a citywide family council, citizen's council, United Way, chamber of commerce, local business leaders, a town manager and a selectman, a district elected representative, parents, a church leader, and representatives from a teacher's union, community college, and school committee.
"Participation in the Learning Excursion will enable us to reflect on our current high school instructional practices and reimagine new ways to engage our students—particularly our underserved student populations—in effective instruction and meaningful learning experiences."
–Lowell Public Schools & Project LEARN team
It was a competitive selection process with 12 teams from across Massachusetts applying for the 6 available slots, made challenging by the overall strength of the applications and the important work each team is doing on behalf of the students they serve. The six teams selected for the program stood out for their diverse team representation, the connection between their "problem of practice" and the program's activities and supports, a desire to learn, and articulated strategies for implementation and engaging with their school communities and stakeholders after the program ends.
Exploring Innovative Learning in California and at Home
Next month, selected teams will be visiting Vista Unified School District outside of San Diego, California. The Vista Unified community has successfully established innovative teaching and learning across its school district, and community engagement has been a hallmark of their approach (see, for example, the role of the community in the three steps to personal learning and the career superhighway project). Teams will tour Mission Vista High School and meet with MVHS students, teachers, and administrators. They also will meet with key community stakeholders who have been involved in the district's learning redesign.
But the program begins closer to home. Leading up to the trip, teams will participate in a "learning excursion" of their own schools. Using the Next Gen Learning School Observation Tool & Process, teams will collect observations and evidence of teaching and learning within their school. This collaborative activity will help teams identify strengths to build upon and questions to guide their work, build a shared understanding of "next gen learning," and support each team member to be an expert and a learner.
NGLC congratulates the selected teams and we look forward to learning with them on this one-of-a-kind Innovative Schools Learning Excursion!