Why Schools Need to Change
The Next Gen Learning Community Rises to Embrace Our Second Decade
October 26, 2021
Topics
Student Success
Leadership
Tools for Next Gen Learning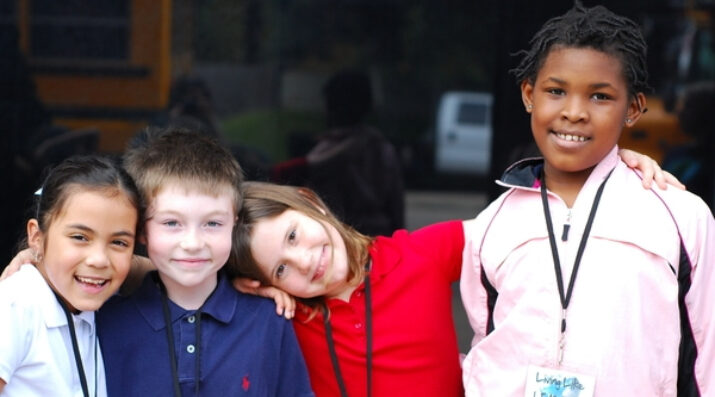 Why Schools Need to Change
Why Schools Need to Change
Today's learners face an uncertain present and a rapidly changing future that demand far different skills and knowledge than were needed in the 20th century. We also know so much more about enabling deep, powerful learning than we ever did before. Our collective future depends on how well young people prepare for the challenges and opportunities of 21st-century life.
Learn More
It's been ten years of questioning, investing, reimagining, building, connecting, sharing… and, most of all, learning. Now the best part begins.
Next Generation Learning Challenges (NGLC) turned 10 this year and enters our second decade this fall. We are celebrating the inspiring work of the next gen learning community with Ten Days of Next Gen Learning, beginning Thursday, November 4 and culminating on Thursday, November 18 with a special virtual event, 12:00 p.m.–1:30 p.m. ET / 9:00 a.m.–10:30 a.m. PT. The event will feature a panel discussion on learning from the past decade and envisioning the next, moderated by Tom Vander Ark and featuring four amazing NGLC partners and allies—Nicole Allard (Vista Unified), Caroline Hill (228 Accelerator), Susan Patrick (Aurora Institute), and Eric Tucker (Brooklyn LAB).
Here's why we invite you to join the celebration.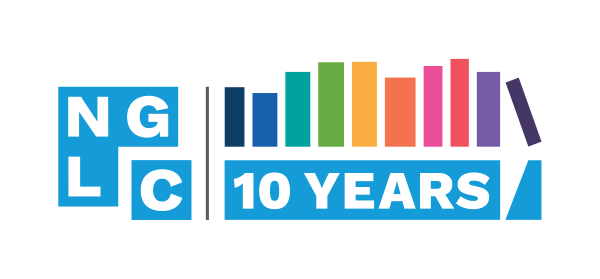 Educators Need to Be Celebrated!
Now more than ever. Every educator who completely reimagined their practice in March 2020, and who has had to keep up that level of invention ever since: they have all been engaged in a form of next gen learning and they have stayed with the mission through thick and thin. Through disruption and confusion, through fear and isolation and anger, educators were cheering on their students and families, providing food and helping them navigate the trauma of the pandemic, finding new ways to connect with learners at home and to celebrate traditions like graduation, and in general, just keeping the learning going. Now it's our turn to celebrate them—and you!—as the field continues to serve and care during this incredibly challenging time.
Next Gen Educators Have Led with Purpose.
As one school leader told us, responding to NGLC's What Made Them So Prepared? research project: "Since our founding, and well before COVID, we have been operating like we are in a crisis, because we are." That's the fire that stokes the internal furnace of every next gen educator—the conviction that our schools can and must serve all public-education kids in profoundly different and extraordinarily deeper ways than what most kids are experiencing right now. We have seen that fire ever since NGLC was founded a decade ago. It inspires us every day.
Next Gen Educators Have Made Enormous Progress in Reimagining Learning and School Design.
NGLC was founded by the Gates and Hewlett foundations to, quite literally, challenge the field of K-12 public education to reinvent itself. Our close to $100 million in investments have helped to catalyze hundreds of next gen learning schools and the work of dozens and dozens of innovators, working to design genuine whole-child learning, reimagine school design and rethink assessment.
That original premise has turned out to be right: there is a growing population of rebellious and inventive change-makers in K-12 education that, given enough room to invent and sufficient resources to sustain, improve, and build on their inventiveness, is capable of changing the trajectory of every school and the prospects of every child in the United States for the better. We aren't there yet—not even close. But over the course of the Ten Days of Next Gen Learning, you'll have a chance to travel through time as we explore the vision and influence of many of these super-inventive leaders, as they have taken on the challenge to transform learning each year of NGLC's first decade.
And Now for the Best Part: When Next Gen Learning Starts to Reach Every Student.
What will the next decade bring? Reformers have commonly questioned K-12 education's ability to fundamentally reshape practice. Last year and this year prove that wholesale, intentional change is possible. But now, the catalyst that ignites that level of change must evolve—from deadly virus to life-affirming assertion that public schools have GOT to serve the whole child. We are at an inflection point, an intersection of urgency, opportunity, and advancing understanding, as shown in the graphic below.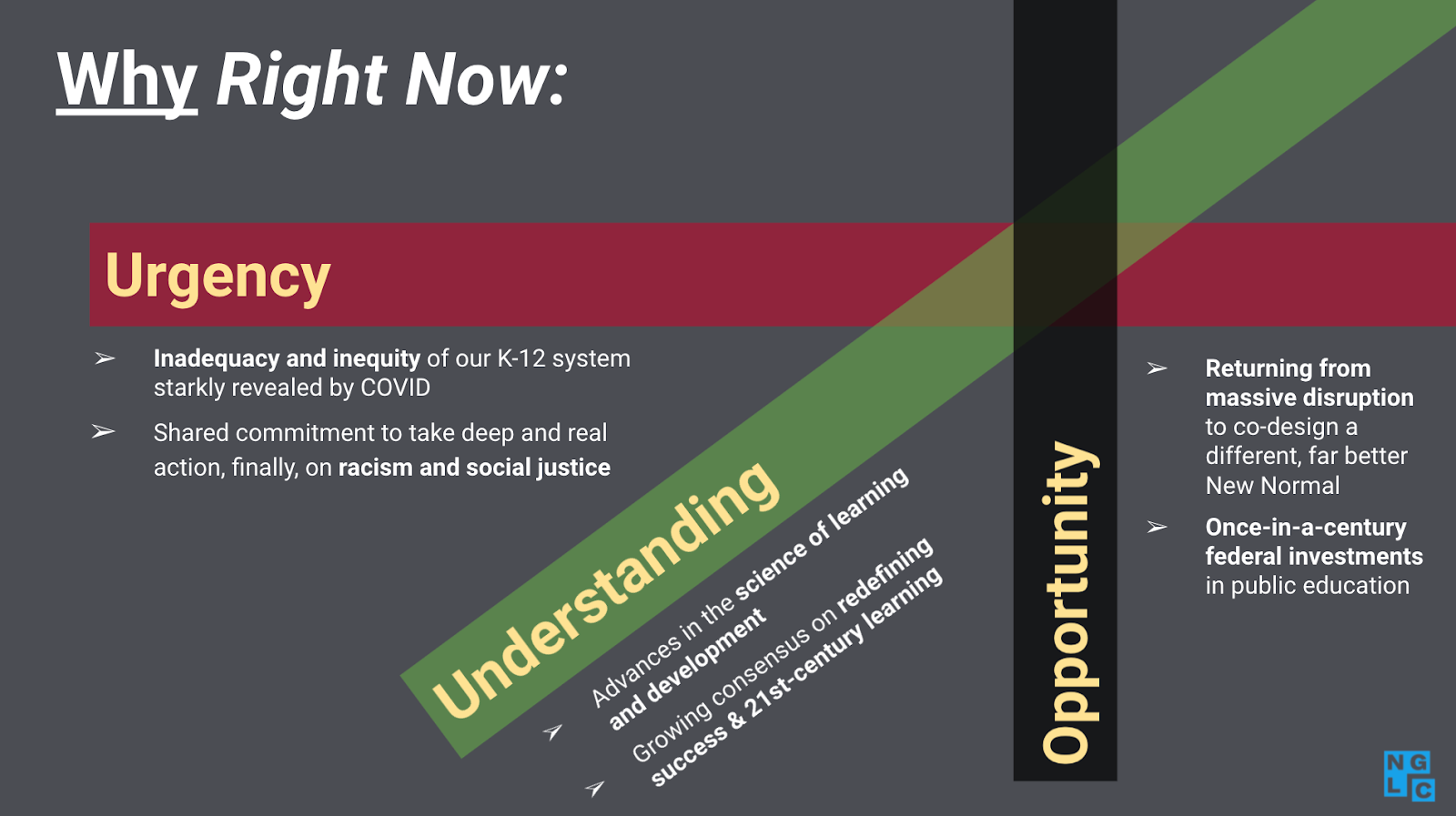 The intersection of those three lines: that's where we all stand, right now.
Next gen learning community: the work ahead of us will be hard. There will be wonderful successes—and there will be other moments that feel deeply disheartening. We will charge ahead with some idea that seems right, only to remember, as we at NGLC have learned so many times over the years, to interrogate that first idea and consider whether there are better ones, ideas that are more inclusive, more enabling, more liberatory, more just. We will want to go as fast as we can, often by having to go alone, and then remember the proverb's wisdom and decide, instead, to go far by going together.
Speaking for ourselves: Team NGLC cannot imagine doing anything more important with our working lives than this. Or doing that work with a more inspiring, challenging, dedicated, capable rebel alliance than you. Thank you for the gift of your vision, your heart, your hands, and your sweat for the communities and the youth you serve. We can't wait to celebrate (and continue to learn) with you!
10 Years of Next Generation Learning
2011 - NGLC challenged K-12 to reimagine learning. Grantee Gooru aimed to reach all 1.8 billion students in the world.
2012 - Da Vinci Schools was selected in NGLC's $12 million Breakthrough Schools grant challenge. Their project-based, real-world learning design continues to shape the future of next generation learning.
2013 - The NGLC network expanded and, when we gathered next gen school designers together to learn, design, and exchange ideas, we took on challenges too big to solve alone.
2014 - Embracing the NGLC design principle of competency-based learning, Building 21 changed nearly everything about "school" and is making CBE possible in schools everywhere with coaching & open-source tools.
2015 - Through NGLC Regional Funds for Breakthrough Schools, LEAP Innovations catalyzed new school designs across Chicago, creating a local network of next gen educators and schools.
2016 - NGLC asked next gen educators: "How do you measure the success of your innovative schools?" Two Rivers shared tools from their work to measure deeper learning outcomes.
2017 - Next gen educators inspired and informed the development of the NGLC MyWays Student Success framework and we worked together on putting it into practice.
2018 - Through NGLC learning excursions, school design institutes, and Mass IDEAS planning grants, Massachusetts dove into reimagining and redesigning schools to create the high-quality, innovative learning experiences all its students deserve.
2019 - Districts that have successfully transformed learning in their schools are making a difference for their students. A group of leading districts convened by NGLC helped create Transformation Design to support others to transform learning district-wide.
2020 - In a pivotal year, NGLC was making important shifts as we learned from BIPOC ed leaders and others who are leading the way to create learning and schools that disrupt inequity.
---
Photo at top courtesy of Montessori for All.