Building Community
Losing a Leg, Gaining an Ally: NGLC Bids a Fond Farewell to Stef Blouin
November 28, 2022
Topics
Change Management
Leadership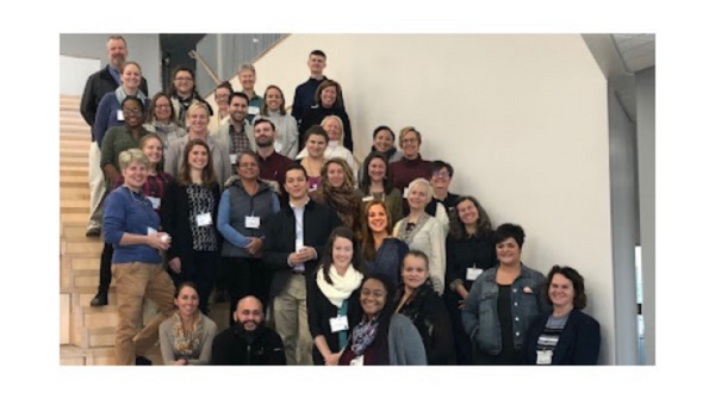 Building Community
Building Community
When educators design and create new schools, and live next gen learning themselves, they take the lead in growing next gen learning across the nation. Other educators don't simply follow and adopt; next gen learning depends on personal and community agency—the will to own the change, fueled by the desire to learn from and with others. Networks and policy play important roles in enabling grassroots approaches to change.
Learn More
After nine years with NGLC, senior program officer Stefanie Blouin is taking her generosity, courage, talent, and deep commitment to transform learning into her new role at Springpoint Schools.
When a starfish loses a leg, not only is it capable of growing a new one; the departing leg is capable of turning itself into a complete starfish.
All by way of saying: Stef Blouin is leaving her senior program officer role here at NGLC to take a senior position at Springpoint Schools. Stef made us a far, far better starfish in her nine years here at NGLC. And just as important, come January, both the NGLC and Springpoint starfish will grow in new and exciting ways as a result.
Springpoint is already a partner of NGLC's and an organization we deeply respect. Now, with Stef there and under the continuing, inspired leadership of (former NGLCer) Elina Alayeva, we're looking forward to a future filled with imaginative and high-impact collaborations between our two organizations. Let the starfish dancing begin!
Okay, now that we've ridden this underwater metaphor as far as it can go…. NGLC community, please join us in utterly showering Stef Blouin with appreciation for everything she has brought. Everything she has brought to you, to us, to the emerging practice of next gen learning, to kids and schools and communities across the country through her work.
There really are no words adequate to describing what Stef has meant to NGLC. It'd be pointless to even try. You'll get a good hint of it, though, in the farewell message she has written below, which has flavors in it that are deeply characteristic of her. Attributes like: Generosity. Transparency. Vulnerability. Courage. Eagerness to learn. Embrace of diversity. Commitment to radical inclusiveness and social justice. Love of adventure.
It's true! All of those amazing things in one person! Plus, if you squint and read between the lines, perhaps you'll be able to pick up something else, something slightly less visible: Stef's seemingly endless ability to simply get stuff done.
It's all there, in her, and while we will miss her voice and her hand in NGLC's work on a daily basis, we take comfort in knowing that she'll be applying her talents and sensibilities to transforming-learning strategies at Springpoint in ways that are deeply aligned with our own. Stef, we thank you, from the bottom of our collective NGLC heart. We look forward to co-learning, and co-developing, and collaborating with you and Springpoint in every possible way in coming years.

Stefanie offers the best of herself whenever she is working alongside innovative educators in the NGLC community.
From Stef:
Life doesn't always follow the trajectory or plan we set, a lesson I learned well since the onset of COVID. Turns out, that's been the greatest gift. As I embarked on a personal journey–exploring my future with regard to where I live and how I live–I learned how to open myself up fully to possibilities. Living with fear and uncertainty taught me to liberate myself. By practicing acceptance and presence, and refusing the constraints of anxiety, fear, and paralysis, I was able to create space for things to come to me. While I was leaning into the expansive place of possibility, I was approached by the leadership at Springpoint. After a great deal of personal reflection and through conversations with Andy and Carlos, and the leadership at Springpoint, I have decided to step into this new role. In January of 2023, I will join the Springpoint team as senior director.
This is the first time that I have ever left a position and an organization I truly love, one that is so central to who I am and who I am becoming. It was torturous at times to even contemplate leaving because I so deeply respect and value our team, each of you in the NGLC community, and the important work we have been doing together.
The future of NGLC requires a diverse and future-ready team.
Given NGLC's bold plans for growth and impact, it's important that NGLC continues to invest in diversifying the team and building capacity to deliver on its promise and plan. My leaving creates an opportunity for NGLC to build a more diverse and future-ready team. By transitioning my existing projects to existing staff, NGLC will build internal capacity while readying themselves to welcome one or more new staff members in and beyond 2023.
I am personally ready for new challenges and growth.
The greatest gift I can give the field is to take all I've learned from working with NGLC's network and share it with a new organization. Along the way, I will be sparked to learn more about myself as a leader and as a member of a new team. Since the work of NGLC and Springpoint is so connected and aligned, I see this as an expansion for both organizations. I envision learning with and from each other as we stay connected as like-partners doing similar work, better together. I think that's beautiful and an example of living out our commitment to alignment at the ecosystem level to positively impact those we serve.
Over the last nine years, I've learned so much from the NGLC team and each of you, the beloved NGLC network. The educators, partners, teams, schools, and districts with whom I have worked have demonstrated vulnerability, high expectations, collaboration, and an unwavering commitment to transforming public education. Every student deserves equitable access to rigorous and meaningful learning and it's been an honor to do my life's work alongside each of you. You have taught me to listen with an open mind and heart; reach across lines of difference; and keep students at the center as we design at the margins. Together we have named and navigated the hard questions; we've collaborated with liberation and inclusion; we've made mistakes and leveraged the lessons those mistakes taught us; we've changed the face of education. And yet there's much more work to do. I will carry with me the lessons you helped me learn, and the inspiration, love, and commitment that are the fiber of the NGLC network.
It seems fitting to me that I am manifesting my future while working with each of you to create an equitable, just, and inclusive world by transforming public education. Let our journey continue! Please stay in touch! You can reach me at stefanie@springpointschools.org.
---
Photos by Paul Schnaittacher for Mass IDEAS/NGLC.