Building Community
Zoomies and Roomies: Empowering Teachers in the Shift to Concurrent Teaching
March 30, 2021
Topics
Change Management
Leadership
School Culture
Staffing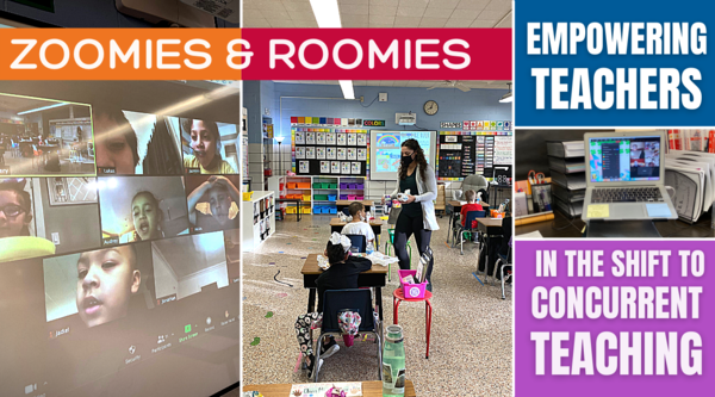 Building Community
Building Community
When educators design and create new schools, and live next gen learning themselves, they take the lead in growing next gen learning across the nation. Other educators don't simply follow and adopt; next gen learning depends on personal and community agency—the will to own the change, fueled by the desire to learn from and with others. Networks and policy play important roles in enabling grassroots approaches to change.
Learn More
These 4 strategies can help schools reconnect with their purpose as they empower teachers to make shifts and respond to emerging needs of their school communities.
As the U.S. passes the one-year mark of the pandemic and considers the way our lives have changed in unforeseeable ways, educators reflect on how schools responded, what has changed, and what we want teaching and learning to look like in the future. Distinctive Schools (DS), based in Chicago and Detroit, is preparing to shift from being fully remote to welcoming teachers and families back into school buildings. This also means we will shift to concurrent teaching, simultaneously teaching students at home and in person. Once again, we must learn and adapt to a new instructional approach. This time, however, we are more prepared. The past year has taught us how to adapt and what to prioritize. It has also taught us what we need to do to empower teachers to successfully navigate a new landscape and feel confident in doing so.
4 Ways to Empower Teacher Leadership
Based on our experience of navigating remote teaching and learning over this past year, we offer four strategies to help teachers and administrators find their way through uncharted territory. Whether it's shifting to yet another mode of delivery due to the impact of COVID on education or a different shift you may need to make someday to respond to emerging needs of your community, these strategies focus on reconnecting with your purpose as you empower the teachers in your schools to make the shift: 1) create an environment that encourages experimentation and risk-taking; 2) shift the teacher-leaders' mindset from "expert" to "lifelong learner"; 3) provide collaborative opportunities for teachers; and 4) trust and support teacher expertise. While none of these approaches offer an instant solution, they do increase teachers' confidence and encourage strong partnership between teachers and administrators.
1. Create an Environment that Encourages Experimentation and Risk-Taking
Accept the fact that we can't replicate the experience of in-person learning in a virtual environment. Engage in a constant process of identifying what is working and what is not. As hard as it may be, be willing to let go of the strategies that are not working and try a new approach.
The shift to remote teaching and learning was abrupt. Teachers had to quickly rethink and redesign familiar routines as they realized that replicating the physical classroom would not work. They needed the freedom to try new ideas and to partner with their instructional coach and principal to receive constructive and actionable feedback. This environment helped our teachers feel confident and embrace their role as a learner.
As DS prepares to transition to a concurrent model, a small group of teachers have chosen to return to the building early to experiment with concurrent instruction. These "early adopters" are taking chances in their practice, identifying what is working and what is not, and opening their classrooms to anyone who wants to see their practice in action. These teachers have been eager to share video clips of their practice and to partner with one another to receive peer feedback in order to refine their practice. As a network, we are empowering teachers to take this leading role, to experiment and learn together, through consistent and intentional messaging that we learn from our failures and that our individual practice has the power to impact our collective development and growth.
We have many examples of teacher leaders in our network. Take Marena Drewery who started her fourth year of teaching this fall, her first year at DS' Chicago International Charter School (CICS) Irving Park in Chicago. As a kindergarten teacher, she is used to sharing lots of firsts with her students, and this year as they met for the first day of school through a computer screen, she joined them in a new series of firsts. Marena spent time strategizing on how to best reach her students, build relationships, and design an effective remote kindergarten classroom. As Distinctive Schools shared plans for concurrent instruction, to teach students simultaneously in person and remotely, Marena's wheels immediately started turning. She designed a preliminary hybrid plan with a schedule, tech requirements, and a vision for success, pitched it to her leadership team, and volunteered to pilot and share her experiences.
During the pilot, Marena has developed strategies to make sure all of her students feel connected, heard, seen, and engaged. "There is a lot of trial and error—make a goal for yourself, try something new each day, and take it slow. Don't overwhelm yourself. It's getting easier each day—we adapt, our students adapt, and the in-person time is so beneficial for our students."
Marena emphasized the importance of community time, including daily morning meetings to keep students connected to one another, time spent in breakout rooms each day to talk to one another, and a reminder to ensure equity of voice in hearing from both students in person and remote. "I always make sure that I can be seen and heard by all parties—zoomies or roomies—whatever I'm saying or displaying. Equity is a huge part of this."
2. Shift the Teacher-Leaders' Mindset from "Expert" to "Lifelong Learner"
Remind teachers that no one is an expert. In the current context, we are all learners. The best way we can learn from and inspire one another is to be willing to embrace a growth mindset and to give ourselves grace. Try a new strategy or approach, accept that it may not go as planned, and be willing to constantly evolve and adapt.
When we transitioned to remote teaching last March, we soon realized that doing so leveled the playing field; everyone in our network, regardless of years of experience, became a learner. Everyone had to relearn and rediscover their role. We did not have a blueprint to follow and did not have "experts" in the field to guide the way; instead, we had to rely on our own experiences to redefine teaching and learning. Doing so also required that educational leaders accept and embrace this mindset and model it for their staff. Network leaders, principals, and instructional coaches reiterated that a successful transition to remote learning required a collective commitment to sharing ideas and strategies and a willingness to embrace and learn from our failures. We can all learn from and teach one another.
Sami Smith has been an educator for eight years and currently serves as both a middle school teacher and an instructional coach at CICS West Belden, another DS school. As an instructional coach, part of Sami's role is to help teachers identify and celebrate their strengths while addressing and developing opportunities for growth. As the educational model changed over the course of the last year, Sami's approach to both coaching and her own learning has shifted. "There are no experts in what we're doing—this is all new," she explained. "This leveled the playing field in years of experience—everyone is a first year [remote] teacher." She encouraged fellow leaders to "put your pride in your backpack, and take time to be curious. Everyone has something valuable to contribute."
In recent practice, Sami has spearheaded peer evaluation roundtables. She started by asking each member of her team to identify their intended student outcomes and specific points of practice they wanted support with. With goals in mind, and intentions set, Sami and her team were able to learn new strategies from one another through peer observation, reflection, and discussion.
3. Provide Collaborative Opportunities for Teachers
Encourage teachers to celebrate and share their ideas with one another. Find ways to have teachers visit one another's classrooms, even for very short amounts of time. It is amazing to see how much teachers notice in five minutes! If finding coverage is an issue, consider using video.
As we return to the building, our principals are empowering teachers as leaders by scheduling opportunities for teachers to visit and explore each other's classrooms during the school day and when students are not present. Our instructional coaches are partnering with teachers to help them figure out what works in a concurrent setting and what does not.
Peer Observations provide professional learning opportunities for both educators and leaders in this new context. Themes emerged, and instructional 'look fors' included a focus on Cognitive Lift, specifically: Anticipate and Monitor Students' Needs, Define Instructional Group, and Purposeful, Targeted Questioning. Teachers assign asynchronous work and take a few minutes to observe the work of their peers through Zoom meetings. Once a 'look for' was identified, teams acknowledged who, where, and when to go see the strategies in practice.
Claire Kreller, lead instructional coach at CICS Irving Park, has been working closely with teachers to establish equitable routines and procedures in a concurrent setting. Even something as simple as transitioning to and from the classroom requires a new perspective. "As a coach, I sometimes feel like teachers expect me to have all the answers," says Claire. "Since there is no 'right way' to do something, I can be an equal partner with my teacher. We try something, see how it goes, and then reflect on what we need to do differently."
Sami plans to continue peer roundtables as teachers return to the classroom: "The way we learn the most is by going to see what other people are doing, taking it back to our spaces, and making it work for us."
4. Trust and Support Teacher Expertise
Teachers have gained the most experience and expertise in teaching remotely as they are the ones who have been doing the work every day for the past year. Recognize that teachers are leading the way and redefining what best practice is. Their planning and instructional practices are constantly evolving. View this ongoing evolution and reflection as an asset; tap into their expertise to inform professional development content.
DS has found ways to elevate the expertise of our teachers over the past year and they have been our main source of knowledge throughout remote learning. In every professional development session, for example, we highlight teacher experience and ask them to share what they have learned and how their practice has evolved. In addition, their voice informs the decision-making process, whether through periodic staff surveys or through the work of our Culture and Retention Expanded Design Team, a group of teachers and leaders across the network that respond to and give feedback on current initiatives and proposals.
The pandemic initially shook our confidence, but never our resolve. We have redefined our practices, established even deeper connections with families, and found ways to connect with students and one another despite the physical distance. The pandemic has emphasized what we have always known; everyone is a learner and teachers are our greatest source of knowledge and inspiration.
---
Image at top courtesy of Distinctive Schools.