Designing for Equity
How to Make Senior Capstones Truly Anti-Racist
August 4, 2021
Topics
Project-based Learning
Student Success
College & Career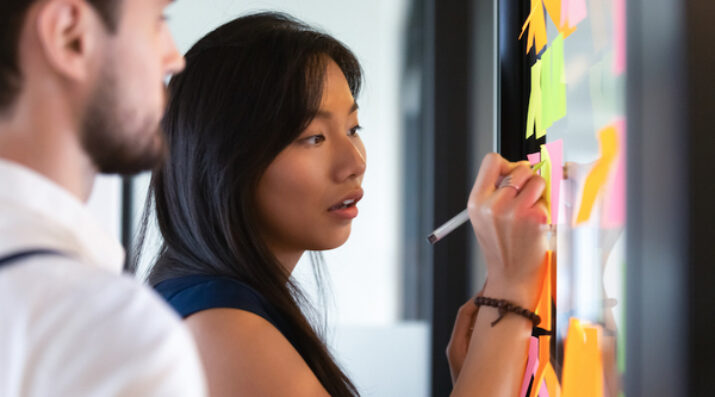 Designing for Equity
Designing for Equity
Together, educators are doing the reimagining and reinvention work necessary to make true educational equity possible. Student-centered learning advances equity when it values social and emotional growth alongside academic achievement, takes a cultural lens on strengths and competencies, and equips students with the power and skills to address injustice in their schools and communities.
Learn More
Alternative Assessments Are Not Inherently Equitable without Concerted Effort
Nearly three years ago, Judge Stapleton ruled in the landmark Yazzie/Martinez lawsuit that all New Mexican students have a right to be college and career ready and that the Public Education Department was not meeting this obligation to its students. To illustrate this inequity—specifically among students who are low-income, bilingual, and receiving special education services—the ruling pointed to low graduation rates and even lower proficiency scores in reading and math on standardized assessments.
We acknowledge that the needs of all New Mexican students have not been met but what if the measures themselves are broken? It is well-documented that standardized assessments are inherently biased (Rosales & Walker, 2021), especially given that their inception is founded in the eugenics movement (Gates, 2019). While the SAT and other standardized assessments have admittedly undergone significant changes over the years, these metrics are fundamentally flawed and were intended to prove that White supremacy culture and values were superior to the language, culture, and knowledge that are essential to New Mexican families and communities.
Responding to a History of Structural Racism
As an answer to these concerns about standardized assessments as well as responding to community feedback about the undue amount of hours New Mexican students spent testing, the New Mexico Public Education Department (NMPED) developed a grant in partnership with Future Focused Education to begin work on a more holistic and community-based capstone assessment. The focus of this New Mexico Graduation Equity Initiative is "to address the education system's history of structural and inherent racism. New Mexico's high school students need a more expansive learning and assessment system that honors their cultural and linguistic strengths while providing feedback and other engaging opportunities—allowing students to take ownership of their learning, build strong identities, and see a rich future ahead."

A graduation capstone assessment is an opportunity for New Mexican students to demonstrate what they know and what they can do in a way that is meaningful to their community. In this effort, the NMPED has made clear that this assessment is for all students, not only the students who may not immediately meet the expectations of standardized assessments. In this way, the capstone is not an "alternative" assessment, as it is often dubbed, but is instead an equivalent to standardized assessments. This is an important step forward for New Mexican schools and valuing students' lived experiences.
Capstones Are Not Inherently Anti-Racist
However, this capstone assessment is not in and of itself a great equalizer, so to speak. And all capstone assessments are not inherently anti-racist measures.
In order for New Mexico's capstone assessments to truly honor students' language and culture, we recognize that each capstone must be defined by each community across the state—while meeting rigorous expectations defined by the Public Education Department.
There are several examples of large scale capstone assessments that we can learn a great deal from.
Oakland, California
In 2014, Oakland teachers gathered to develop competencies and rubrics for use across the district. In 2015-2016, their first year of implementation, many Black students failed when their research papers were scored anonymously using the new rubrics; this process "exposed a history of low expectations" (Choi, 2017). Yet, Oakland's example encouraged teachers and school leaders to revise their instructional and assessment practices to provide students with college-ready skills that align with their research capstone. Oakland Unified School District also did not mandate the capstone rubrics developed in 2014; instead, district leaders recognized teachers' professionalism and have allowed educators to adopt the rubrics in their classrooms and school-wide. The percentage of students completing a capstone assessment for graduation has increased annually (Thompson & Choi, 2018)—at least prior to the COVID-19 pandemic. However, the entire process began in 2014 as questions of equity arose due to uneven implementation of a required senior project across the Oakland district (Choi, 2017).
How to Implement in New Mexico
Oakland's successes will certainly guide us as we develop capstones appropriate for New Mexican communities. Yet we hope to push our efforts for equity and inclusion even further. Oakland's capstone competencies were developed by educators in their district but did not include student, family, or community member input, whereas the model the NMPED is currently developing seeks community input first.
This initial process for capstones includes developing a graduate profile for that district or school community. Each graduate profile should include the skills, knowledge, and assets that they value and these attributes would ultimately be included in the capstone requirements and rubrics. The capstones completed by students would then reflect the language and culture specific to that community.
Eye Contact
For example, Oakland's presentation rubric requires students to make eye contact in order to earn the highest score in that category (Thompson & Choi, 2018). Eye contact, however, is not valued by all communities across the state and many New Mexican students struggle with this White-conforming norm in public schools.
"Logical" Organization
Another example in which our New Mexican context matters is that Oakland's rubric requires that the presentation be "logically sequenced" (Thompson & Choi, 2018). According to White supremacy culture, a "logical" organization would likely be linear, organizing information chronologically or hierarchically; however, not all New Mexican communities see time as being strictly linear or may even value hierarchies. In fact, we attended a capstone presentation in a New Mexican Indigenous community and the students presented their research and final products in a non-linear manner.

They organized their group presentation around each of their three final products; this meant that while their presentation was very organized, the system of organization was not readily apparent to me, as a White woman visiting from outside of their community. Similarly, the students developed their work, presented, and were scored as a group. This collective work is another example of a value present in their community but one that defies White, individualistic culture. Yet, these are both values that might be included in a community-generated graduate profile and capstone assessment.
Moving New Mexican graduation assessments away from standardized exams that are biased against our students also requires that we are committed to removing other potential barriers and allowing students to demonstrate their knowledge and skills in a way that is meaningful to them.
Our students deserve assessments that value their identities and experiences while providing them an opportunity to demonstrate the rigor and depth of their education.
Sources
Choi, Young W. (2017, Oct. 26). Oakland's Graduate Capstone Project: It's About Equity. Learning Policy Institute Blog. https://learningpolicyinstitute.org/blog/oaklands-graduate-capstone-project-its-about-equity
Gates, M. (2019, Nov. 12). A Civil Rights Challenge to Standardized Testing in College Admissions. Harvard Civil Rights Civil Liberties Law Review. https://harvardcrcl.org/a-civil-rights-challenge-to-standardized-testing-in-college-admissions/
Rosales, J. & Walker, T. (2021, March 20). The Racist Beginnings of Standardized Testing From grade school to college, students of color have suffered from the effects of biased testing. NEA. https://www.nea.org/advocating-for-change/new-from-nea/racist-beginnings-standardized-testing
Thompson, C. & Choi, Y.W. (2018, Dec.). Performance Assessment Profile: Oakland Unified School District (OUSD).https://learningpolicyinstitute.org/sites/...
Learn More
How to Address Racial Bias in Standardized Testing - Young Whan Choi of Oakland Unified School District introduces the role of performance assessment, including the senior capstone, in bridging the racial achievement gap for the district.
Keeping Students at the Center with Culturally Relevant Performance Assessments - Maya Kaul of the Learning Policy Institute demonstrates how performance assessments can provide a critical space for students to reflect on and share their personal stories and their identities as learners.
How Do We Solve for Racism? - Through the Reciprocity Project, co-led by Future Focused Education, Charles McDonald of Community Engagement Partners describes how schools can work with families and students to repair communities with greater health and wellness outcomes.
---
Photo at top courtesy of Future Focused Education.
This article originally appeared on the Future Focused Education website.