New Designs for School
Exceptional Ideas and Practical Solutions for Next Gen Learning in K-12 Schools
April 3, 2015
Topics
Competency-based Education
Personalized Learning
Design Thinking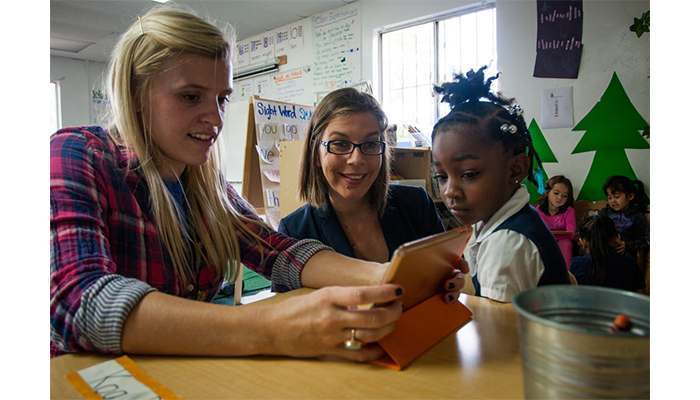 New Designs for School
New Designs for School
We've all had the experience of truly purposeful, authentic learning and know how valuable it is. Educators are taking the best of what we know about learning, student support, effective instruction, and interpersonal skill-building to completely reimagine schools so that students experience that kind of purposeful learning all day, every day.
Learn More
Reimagining how students learn involves tackling a multidimensional challenge head-on. Here's how 13 schools across the country are doing just that.
Reimagining how students learn involves tackling a multidimensional challenge head-on. So when NGLC shifted its K-12 grantmaking away from middle school learning technologies to move toward whole school models that completely transformed learning, we knew we were challenging the field to build on the work of blended learning pioneers. We asked school developers to redesign school by putting together all that we know about how people learn, all that we know about the comprehensive skills and knowledge needed to succeed in college, in careers and in life, and all that we can dream about the future of education.
Recognizing the Need to Totally Rework K-12 Education
We saw the need for dramatic improvements in achievement for students in low-income communities, and believed that incremental changes to today's schools would not make a big enough dent. Students need more from us, so we began looking for models that completely transformed school as we know it.
NGLC has funded new models for schools since 2012. The most recent cohort that launched their models this past academic year (plus one more ready to open this coming fall) are showing us just how many possibilities there are for reimagining school. These educators are connecting blended learning and self-paced, mastery-based progression with projects, games, entrepreneurship, design thinking, and personalized learning strategies.
Innovative Ideas are Great, but Actionable Plans are Better
Although we challenged the field to put forth exceptional ideas, K-12 education needs practical solutions. These next gen school developers are teaching us how to completely recreate school on the same budget, with the same human resources, and for the same students as we would find in any of the nation's public schools, even those dealing with the most intractable problems in the most challenging environments.
How can you expand the ability of educators everywhere to dream of a new future for schools? By increasing the number and diversity of examples from which one can draw inspiration and direction. The school models from NGLC grantees now fill the landscape offering even more examples of student-centered, learning-based, technology-enabled schools.
New School Models that Rethink the K-12 Experience
And here they are. We offer up these examples through profiles, two-page snapshots of each school model design, from vision to academic model and even organizational structure, and from per-pupil budget to student demographics and tech tools. Be prepared to be inspired.
Just as these educators are building on the work of those who first used blended learning, we want to know: how would you build on the work of these personalized learning pioneers?
What should the coming wave of next gen learning look like?