Designing for Equity
Creating a Brave Community: A Resource Guide to Designing Effective DEI Professional Development
August 24, 2022
Topics
Change Management
School Culture
Staffing
Tools for Next Gen Learning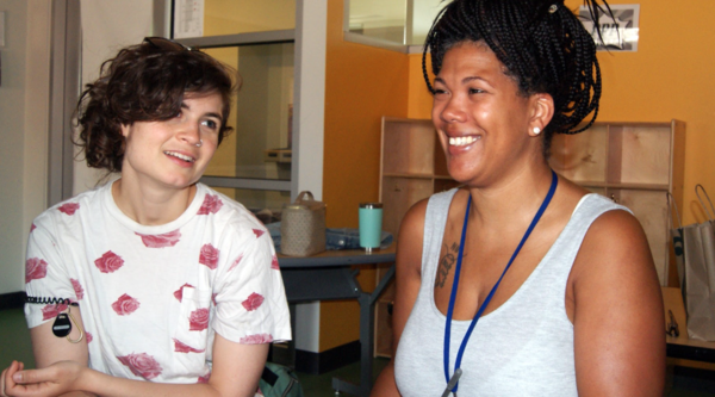 Designing for Equity
Designing for Equity
Together, educators are doing the reimagining and reinvention work necessary to make true educational equity possible. Student-centered learning advances equity when it values social and emotional growth alongside academic achievement, takes a cultural lens on strengths and competencies, and equips students with the power and skills to address injustice in their schools and communities.
Learn More
Design effective DEI PD that leads to sustainable, integrated practices embedded in your general operating procedures to address inequities, with the Awake to Woke to Work™ framework and resources.
As our country continues to grapple with how to address the impacts of systemic racism, our public schools have been at the forefront of the fight to realize greater equity. Charged with educating all of our children, schools have an obligation to acknowledge and change the systems that perpetuate inequality and the harm created by biases. As such, lots of schools are taking up the charge, even in the face of backlash from more conservative circles. As they do this, we are in desperate need of quality professional development (PD) that leads to lasting changes in the ways that we operate and in awareness of how biases impact our work.
With this context in mind, Two Rivers Public Charter School's director of alumni, equity, and empowerment, Dawnyela Meredith, and I co-facilitated a community of practice (COP) for the Diverse Charter School Coalition last year around how to design effective diversity, equity, and inclusion (DEI) professional development. Through this experience, we met monthly with a group of school leaders from 16 different charter schools across the country. Together, we explored questions around how to best develop professional development that leads to lasting change in our systems. We recently shared our synthesized learning from this experience through a resource guide.
We learned through this process that the most effective professional development practices led to the development of a brave culture that openly and honestly addresses inequities and evaluates how our policies and practices are working for all our students and families. Furthermore, we found that professional development practices needed to drive toward sustainable systemic changes to the way schools operate so that all of the educators in the system can continue to evaluate the degree to which they are equitably serving and empowering all of their students. In other words, effective DEI PD needs to lead to sustainable, integrated practices that become embedded in our general operating procedures.
We organized the work of the COP using an Awake to Woke to Work™ framework adapted from Equity In The Center®. We utilized the framework to help each school and network identify the specific work that was needed within their communities. We found it useful for communities to identify where they were on their journey in relation to this framework. Moving from there, we were able to identify the specific work that is most relevant to each school/network in the COP.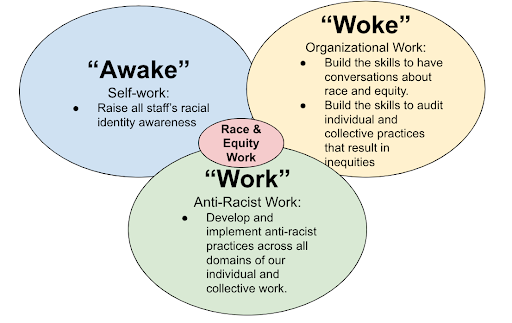 We consider each component of the framework as a separate phase, and we intentionally broke up the woke phase into two distinct phases to highlight the separate moves schools might make within them. Let's take a closer look at each of the components of the framework.
Awake Phase
The awake phase of DEI PD is the process of raising individual and collective awareness of our racial identities. As part of this phase, we seek to develop a shared understanding of how race shapes our experiences in and outside of the school community. We also explore the role that systemic racism has played and continues to play in shaping our biases and creating inequitable outcomes for our students. This phase involves some collective work as a community as well as space for individual reflection and sharing.
Woke Phase 1
In this phase, we seek to build the bravery of the community to have courageous conversations across difference about the inequities in our system and our role in perpetuating those inequities. This phase aligns with Glenn Singleton's work around courageous conversations. However, just getting folks comfortable talking about race doesn't solve inequity and so we move to the second woke phase.
Woke Phase 2
In this phase, we seek to audit our systems to get at the root causes to the inequities that exist within our systems. This often involves the data protocols that many educators are familiar with, but we should also consider other tools like consultancy protocols that lift the voices of more marginalized members of our communities. Without slowing down and auditing our systems in this way, we risk creating solutions that perpetuate biases and inequities. Too often, schools skip this phase altogether seeking to make change to address the inequities and challenges that are raised in the awake phase and woke phase 1. However, by slowing down, examining our practices more deeply, and engaging all stakeholders in analyzing our practice, we are able to identify root causes and make changes that don't inadvertently perpetuate further inequities.
Work Phase
Finally, the work phase applies solutions in response to the audit of our systems completed in the woke phase 2. The work phase varies based on what specific areas of the systems are being addressed. A cycle that couples applying solutions in the work phase with the auditing of systems in the woke phase 2 creates a system of continuous improvement.
It is important to note that these phases are not necessarily linear steps for an individual or a community. While it is not possible to get to the work phase of dismantling White supremacist culture without first getting awake, there is necessarily a need to return to structures that support staff staying awake and for new staff to get awake as they join the team. So we highlight that structures should be embedded to return to earlier phases for individuals, small groups, or the whole school as a school community moves through these phases together.
Through our community of practice with the Diverse Charter School Coalition, we were able to pool the collective wisdom of all participants to create a set of resources aligned with each of the phases in the Awake to Woke to Work™ framework described above. We hope that you find this framework useful in considering where you and your community are on your DEI PD journey and that other schools will be able to draw on these resources as they continue their own journeys to create more just and equitable school systems.
---
Photo at top courtesy of Two Rivers Public Charter School.