Professional Learning
Innovating With Your Greatest Asset, Caring Adults
June 25, 2018
Topics
Leadership
School Culture
Staffing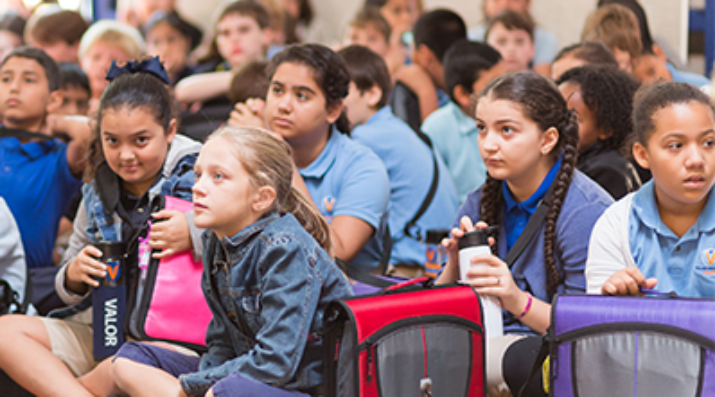 Professional Learning
Professional Learning
Educators are the lead learners in schools. If they are to enable powerful, authentic, deep learning among their students, they need to live that kind of learning and professional culture themselves. When everyone is part of that experiential through-line, that's when next generation learning thrives.
Learn More
Practitioner's Guide to Next Gen Learning

Guides at Epic Middle School and Pride Leaders at Valor Collegiate Academy are two examples of new adult roles created to promote student learning, success, and well-being.
When I first heard the word "innovation" applied to school design, it conjured up futuristic visions of open learning spaces of gleaming glass and chrome, with Star Wars-like holograms beaming experts from Europe and Asia to groups of students collaborating around a touchscreen "smart table."
What was seldom included in my notion of innovation was the role of educators, a critical—but decidedly low-tech—resource for student learning. Fortunately, members of the NGLC community have not ignored the adults in the building in their innovative school designs. To empower all students to learn and succeed, many of the schools in our network have developed novel approaches to building the capacity of their staff.
In our last edition, we looked at the unique role of the Preceptor at Vertus High School in Rochester, NY. This edition of Friday Focus: Practitioner's Guide to Next Gen Learning considers other innovative ways of deploying adults at Epic Middle School, an Education for Change Public School in Oakland, CA, and Valor Collegiate Academies in Nashville, TN. For this story I interviewed CEOs Hae-Sin Thomas (Epic) and Todd Dickson (Valor) about their schools' non-traditional ways of assigning and supporting staff to promote student learning, success, and well-being. In particular, I asked them to talk about:
The nontraditional adult role at their school
The skills and qualities they look for and cultivate for this role
The benefits to students and the school culture
A Guide for the Journey
At Epic, learning is compared to a personal "quest," in which students take a transformative journey, like in the epic poems of long ago. The language of the hero's journey is omnipresent: in the hallways, classrooms, and in the ways educators talk about character, behavior, and academics. Not surprisingly, Epic refers to the adults in its innovative student support role as Guides. Here is how Hae-Sin describes the work of the Student Guide at Epic.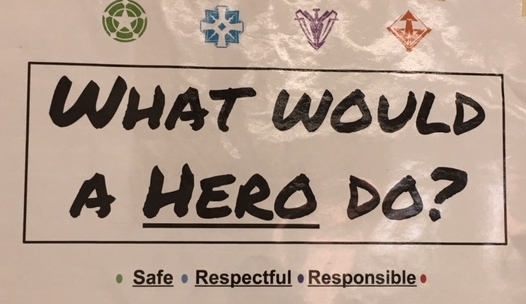 What role does the Guide play?
Hae-Sin: The guide has always been a key part of the model. The original idea was to have a Guide for every single kid, but that meant a caseload as high as 60—kind of like speed-dating. So last year we started identifying struggling students (about 25 percent of the student population). The Guides do regular check-ins with students, such as at lunch or after school, monitor attendance and grades, and serve as a connector from multiple service providers.
Teachers can also go to Guides if they need help or call upon them to sit in the classroom with the student. They are also useful for situations where a home connection is especially important. For example, they can support the math teacher to build a relationship with parents or serve as a family contact point person. Often the Guides know things about the family we would not otherwise know. For homeless kids, they might need clothes or help with transitions between housing.
What does it take to be a Guide and where do you find them?
Hae-Sin: Our guides are almost all young people of color and men. That is a priority. Typically they are under 30, maybe still in school or have a BA. They grew up in the community and have deep roots and connections to the community in which the kids live. They are almost entirely bilingual, which is good for connectivity to home.
Sometimes they are strong after-school program providers. Others come in as clerical staff, not because they want to do clerical work, but to be connected to students. Some Guides are young people who might be thinking about being a teacher and are trying out education as a career.
We did not anticipate a pipeline to the teacher role, but our current teaching staff includes three teachers who were former Guides. Others move from Guide to Head of House—from friend, cheerleader, and advisor to respected mentor— and leverage their strong relationships to inspire kids to engage academically. The Head of House monitors academic data and can work with 15 or so students in a classroom setting. This pathway is best suited to people who have more of a systems perspective. Others choose to become clinicians and work closely with just a few students.
What are the benefits of having Guides on your staff?
Hae-Sin: It gives us a more diverse staff, which is important for building relationships. They really get your story and look like you and come from your community. Guides act as allies for social-emotional support. Student survey results show that the kids who have guides feel more connected to school and report that "someone cares about me at school." The data show strong connections, engagement, and agency measures—the belief that "I can do this."
We also track referrals, grades, attendance. Having a Guide is not just about feeling good and connected, but it also helps kids academically.
What advice would you give to other schools who are rethinking their staffing models?
Hae-Sin: For supporting students on the social-emotional level and diversifying staff, nothing traditional will work, especially with adolescents and pre-adolescents. If you believe that engaging students at the relationship level—the emotional level—will advance their academics, then you have to invest in that.
A lot of times we can get stuck in the way we think about positions—we've had the same job descriptions for a century. But you can experiment, test, and pilot. We can have flexibility with defining new roles, which we haven't explored as much as we should. At Epic rethinking roles is something we like to do regularly. We play with job descriptions, org charts, and roles. We are always iterating.
Leader of the Pride
According to Valor Collegiate Academies' founders, Todd and his brother Daren, the strength of the model is the synergy between three anchors: an inclusive and diverse community, high-quality academics, and social-emotional learning based on the Valor Compass framework. Throughout their years at Valor, students progress along a developmental pathway. They "Work the Compass," earning badges as they develop skills, habits, and mindsets they will need to find their True North and live inspired and purposeful lives.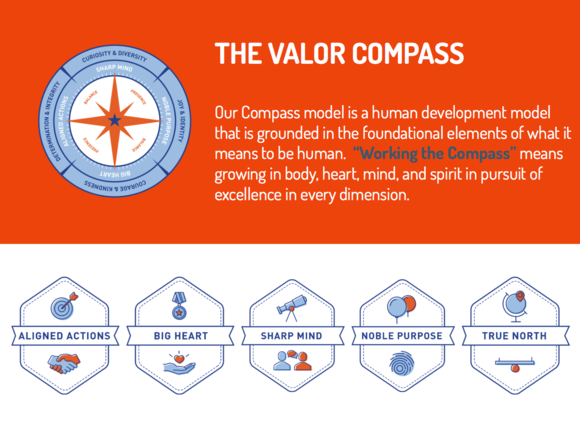 Central to Valor's model are a strong school culture, for both students and adults, and healthy, high-trust relationships. A key component of culture building takes place in diverse, single-gender groups called Prides. Todd explains the role of the Pride Leader in supporting students' academic and social-emotional growth.
Who are the Pride Leaders and what role do they play at Valor?
Todd: The vast majority of Pride Leaders are teachers—about 95 percent. We use a co-mentor model, so about 50 percent of the Prides have two leaders. Every adult at Valor is part of a Circle because we believe every adult should be part of culture building.
Prides meet for 30 minutes each day, and you can think of the Pride Leader role as an expanded definition of someone who leads an advisory. One day of each week, Pride Leaders provide academic coaching and track performance data. Two days are devoted to Compass work, helping students develop their SEL skills and habits. The other two days are spent building community in Circles. The Circle, facilitated by the Pride Leader, is where students share their "work," the growth they've made by completing badges outside of Circle.
For example, a scholar's "work" might be reflecting on what they learned from completing the "Diversity of Perspective" badge, which had them interview people with different stances from themselves on controversial topics.
The Pride Leader role includes a wide range of skills that fall outside of traditional teaching. What qualities do you look for in the teachers you hire, knowing that this role is a key part of their work?
Todd: I understand the stress around teacher capacity. It isn't easy, but it is definitely possible. Overall our feeling has been that the skill set required to run a Circle is very similar to good classroom teaching. What we look for in Valor teachers is a sense of courage and vulnerability. We call it "getting over the vulnerability hump." Teachers can do it and model it for kids. Great teachers do that anyways.
Are you willing to take risks? Do you have ability and desire to build strong relationships? If they have those two things, the majority of facilitating the group dynamics in Circle is like what happens in the classroom, and teachers pick it up quickly.
How does Valor build staff capacity to support social emotional learning and a strong culture?
Todd: Like the students, adults belong to their own Circles. The faculty Circles came about because it was the best way to train our teachers for this role. Daren had done Circles with therapists, who met in their Circles for two hours. Our design challenge for the first year was to do it in significantly less time, to drastically simplify the experience for non-therapists but keep the powerful essence of the experience. One of our theories was that we didn't have a lot of time to train, so have adults learn experientially to do it well with their kids.
One next step that's really exciting to us is that we are going to be pushing adults to earn badges the same way the kids do: developing a sharp mind and big heart, for example, but also some new ones, like leadership. We're going to meld the development of adults through micro-badging combined with social-emotional learning.
There's a lot of room for growth with the adult (Circle and Compass) work. It has a profound adult cultural impact if you do it well.
Resources:
---
Photos, from the top:
Valor Collegiate Academies
Poster on display at Epic Middle School, Education for Change
Valor Collegiate Academies badges