Professional Learning
Mastery Design Collaborative supports school redesign in Oakland
September 15, 2015
Topics
Design Thinking
Change Management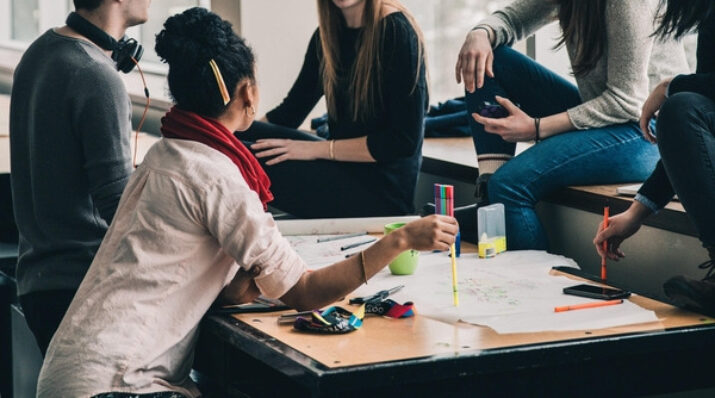 Professional Learning
Professional Learning
Educators are the lead learners in schools. If they are to enable powerful, authentic, deep learning among their students, they need to live that kind of learning and professional culture themselves. When everyone is part of that experiential through-line, that's when next generation learning thrives.
Learn More
Practitioner's Guide to Next Gen Learning

Mastery Design Collaborative shares lessons learned from supporting school redesign in Oakland and across the nation.
Theresa Sanders, a 3rd grade teacher, and her colleagues at Redwood Heights School in Oakland are participating in the Reimagine School Collaborative. In the video above, Theresa describes the need to personalize learning for her students.
The NGLC Regional Fund in Oakland
Redwood Heights is just one of ten schools in Oakland, California awarded planning grants this past spring to support the design of personalized learning models. The grants were awarded through the Rogers Family Foundation's NGLC in Oakland, one of six sites in the NGLC Regional Funds for Breakthrough Schools initiative.
The Reimagine School Collaborative
The Rogers Family Foundation partnered with non-profit organization Mastery Design Collaborative (MDC) to support school teams during the planning process. MDC's Reimagine School Collaborative is a six-month school redesign program with two main objectives:
Pilot. Design and launch a personalized learning pilot
Blueprint. Develop a school-wide Personalized Learning Blueprint to guide the school's ongoing transformation.
The first objective is important as many schools spend years designing a new school model in theory without testing any aspect of that model in advance. MDC believes that putting personalized learning into practice early and often is critical.
Robbie Torney, Kindergarten teacher at Lighthouse Community Charter II, another NGLC in Oakland grantee, describes the process of school planning and design:
The six month-program is intended to model best practices in personalized learning. The program starts with MDC developing a personalized support plan in collaboration with each school. To support each school's development, MDC lines up a series of learning experiences:
3 design workshops
4 pilot prototyping webinars on MDC's 4Ps of personalized learning
1 customized site of curated, self-serve PL resources and learning modules
Free licenses to ed tech tools ($20K in value)
Between 20-40 hours of on-demand coaching per school
Lessons Learned on School Design
I asked MDC Co-founder Samir Bolar to share the lessons-learned from the Oakland schools as well as from his work across the country. Here is what he had to say:

Anchor your design work in the needs and challenges of your students and staff. Take the time prior to any design session to explore your design idea by walking in the shoes of staff and students with fresh eyes and ears.
Understand what has come before. Every school is unique and should develop an approach to personalization that accounts for their own context. However, no one should be reinventing the wheel or repeating common mistakes. A thorough understanding of the practices and models others schools are using to personalize learning is an essential starting place for the design process.
Pick the right design team. Every design team should include, at a minimum, the teachers who will pilot the new practice in their classrooms (they must contribute to the design and feel invested in its success) and an administrator who can green light the pilot. All design team members should be instructionally skilled, open-minded, collaborative, and tech-interested (if not tech savvy).
Prioritize action. A design session should be aimed at action—putting a new practice or model into action in the classroom as soon as possible. The focus should be on designing and planning implementation of a "low resolution" prototype that can be tested immediately, and refined and developed over time. Map out how a student will experience the new practice (step-by-step) and set a goal to launch the prototype within 2-3 weeks.
Capture the evolution of your work. You spend all day drawing, brainstorming, and prototyping on chart paper and then your work goes into the recycling bin? Absolutely not. Take pictures, keep your posters, and carve out a small ideation space in your school where you can post design updates and reflect on your progress as a team. During the session, use a prototype template to record your design work.
MDC will continue to work with NGLC in Oakland grantees through the planning process, visiting teachers and leaders in their schools, and convening the group as part of the design process. To learn more about MDC, visit http://masterydesign.org/