New Designs for School
New Orleans Invests in College Readiness
May 14, 2015
Topics
Personalized Learning
Student Success
School Culture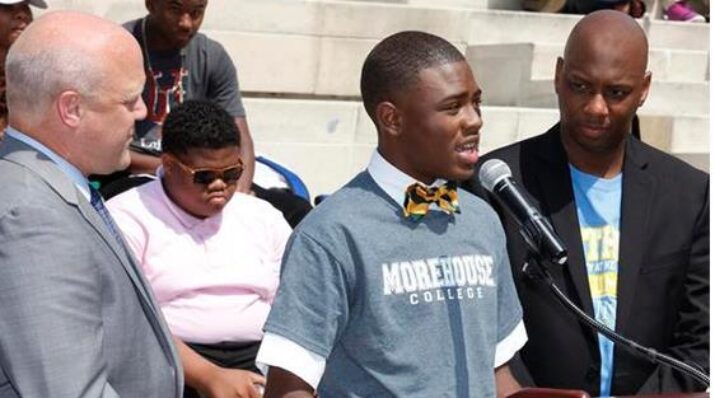 New Designs for School
New Designs for School
We've all had the experience of truly purposeful, authentic learning and know how valuable it is. Educators are taking the best of what we know about learning, student support, effective instruction, and interpersonal skill-building to completely reimagine schools so that students experience that kind of purposeful learning all day, every day.
Learn More
A snapshot of student success in the nation's largest K-12 charter market.
Search for #nolaed, #SeniorShoutOut, or #reachhigher on Twitter, and you'll stumble upon some very promising exchanges.
This year, the city of New Orleans will graduate over 2,500 high school seniors—its largest class since Hurricane Katrina. Last Friday, seniors from public schools across the city were invited to Champions Square to "shout out" the names of the colleges and universities they plan to attend this fall. Local favorites Tulane University and Louisiana State University were named alongside destinations farther afield, including Grinnell College, Morehouse College, and the University of Chicago.
Parents weren't the only ones beaming with pride and joy. New Schools for New Orleans and Educate Now!—longtime supporters, funders and advocates of the city's education ecosystem—had helped organize the event and were equally excited. This celebration is a symbol of the growing achievement and system-wide success ten years after the devastation of Hurricane Katrina.
The Big Picture for K-12 Education in the Big Easy
New Orleans is the largest charter market in the nation. Along with local partners Educate Now! and 4.0 Schools, New Schools for New Orleans focuses on providing more high-quality options for the city's students. The city's student achievement and graduation rates are both on the rise, and indicators of college-going readiness (as measured by ACT scores) have surpassed the national average. But there's still much work to be done to reach college readiness goals.
It's this readiness challenge that led local leaders and influencers to consider investments in personalized learning as a possible support strategy for interested school operators. Personalized strategies seek to create learning opportunities that free up students' and teachers' time and resources, creating a more customized fit in meeting needs for remediation as well as for growth and higher value thinking skills. In these models, students move at their own pace and with more self-direction, monitoring, and reflection.
Last week, news of senior commitments came on the heels of the announcement of a $1.5m investment in local schools' design for personalized learning from New Schools for New Orleans and its partners. As part of NGLC's Regional Funds for Breakthrough Schools initiative, the organizations created an approach to fully engage operators and education leaders with multiple on-ramps:
A nationwide recruitment effort for educators interested in school design—the 'Future of Schools Challenge'—was launched in partnership with a start-up incubator 4.0 Schools.
Existing operators can access varying funding levels to explore, pilot, or implement personalized learning in their schools.
Graduation represents both an ending of an important chapter in student's lives and an exciting new beginning. It is fitting, then, that this initiative moves forward at a time when educators are reimagining lesson plans and teaching approaches, preparing for a future they will help to build for their students.
Read this case study to learn more about how NSNO and its coalition partners are supporting the increased adoption of personalized learning practices that drive student achievement.