New Designs for School
Aspire Public Schools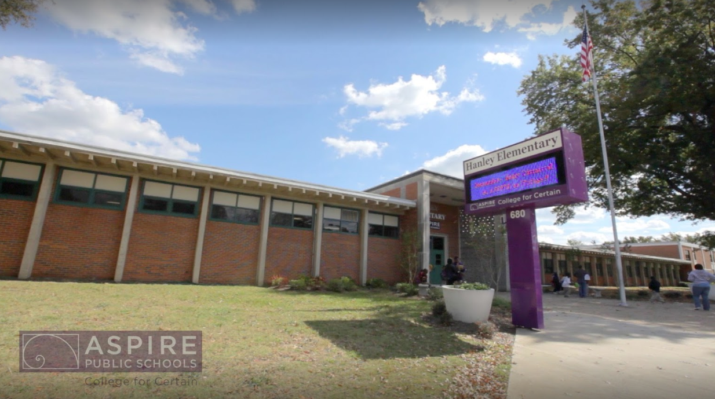 New Designs for School
New Designs for School
We've all had the experience of truly purposeful, authentic learning and know how valuable it is. Educators are taking the best of what we know about learning, student support, effective instruction, and interpersonal skill-building to completely reimagine schools so that students experience that kind of purposeful learning all day, every day.
Learn More
School Name: CODE Aspire
Grades Served: K–8
Location: Memphis, TN
Operator: Aspire Public Schools
Operator Type: Charter
Setting: Urban
Students at Opening: 331
Students at Capacity: 564
Blended Model: Station Rotation
Key Feature: STEM and Computer Science
Aspire Public Schools is bringing 13 years of experience operating high-performing public charter schools in California to Memphis, Tennessee. By combining its proven College for Certain model with a focus on computer coding, Aspire Public Schools plans to work in the Achievement School District in Memphis to open 10 schools in five years and to transform Tennessee's bottom 5 percent schools into schools that perform in the top 25 percent. CODE Aspire is Aspire's first K–8 blended learning school in Memphis. Beginning as a K–5 school and scaling up to K–8 by year four, CODE Aspire offers a rich STEM-focused education, individualized technology rich learning opportunities, and explicit instruction in computer coding skills.
CODE Aspire is committed to teaching all kids strong computer coding skills so that they will be able to better understand the digital world around them, think logically, express themselves creatively, learn to troubleshoot their own problems, and feel empowered.
CODE Aspire believes that coding:
Teaches students problem-solving skills
Provides students with practical application opportunities
Mirrors learning a foreign language
Stimulates creativity
Offers authentic project opportunities
Teaches students how technology works
Promotes collaboration
Thrives as a discipline
Can spark student interest in STEM majors and careers
CODE Aspire puts the students at the center of their own learning and focuses on meeting each student's academic needs by creating individualized learning plans for each student. These personalized learning plans (PLPs) provide teachers, parents, and students with a common understanding of the student's learning style, progress and objectives.
The blended school offers classroom rotations in K–5 during which students spend 25% of the instruction time using adaptive learning software. These K–5 classrooms are built almost exclusively on a small-group model, during which can receive differentiated instruction from teachers and via online learning stations.
The instructional model in middle school (grades 6–8) is STEM-focused and moves from a rotation environment to a one-to-one, project-based environment. Students continue to benefit from data-driven customized learning plans that allow them to pursue educational opportunities that transcend grade level. For example, teachers' use of structured data and multiple software programs allow students with different math proficiency levels to receive instruction simultaneously in a single classroom.
Because CODE Aspire is a STEM-focused school, science instruction drives scheduling. Aspire aims for all of its students to be proficient in algebra and all students take two years of Java by the end of grade 8. Teachers engage students in authentic studies of science through online inquiry units, digital simulations, STEM gaming, and virtual labs to move the study of science from the textbook to a hands-on, inquiry-based approach.
Students will be fully prepared to succeed in a variety of college preparatory high school options, including fully online high schools, blended learning high schools, and online college courses offered in conjunction with high school.
CODE Aspire aims to advance digital age learning through the use of adaptive learning programs, coding instruction, technology-driven and common core–aligned projects, and explicit instruction in information fluency and digital citizenship.
People Working On This Challenge
See More