New Designs for School
Caliber Schools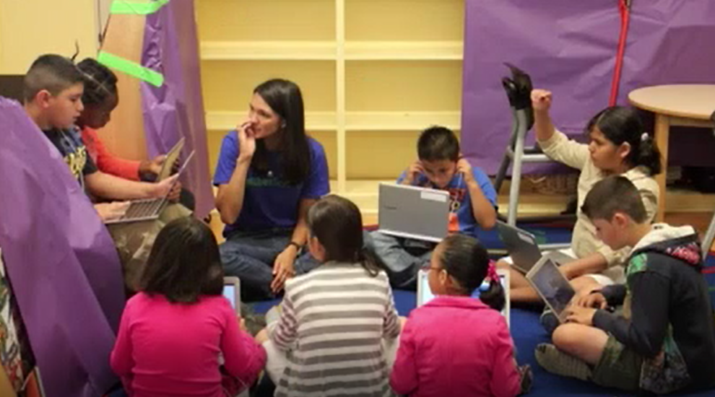 New Designs for School
New Designs for School
We've all had the experience of truly purposeful, authentic learning and know how valuable it is. Educators are taking the best of what we know about learning, student support, effective instruction, and interpersonal skill-building to completely reimagine schools so that students experience that kind of purposeful learning all day, every day.
Learn More
School: Caliber: Beta Academy
Grades Served: K-8
Location: Richmond, CA
Operator: Caliber Schools
Operator Type: Charter
Setting: Urban
Students at Opening: 270
Students at Capacity: 810
Blended Model Type: Station, Lab, Individual Rotation; Flex
Key Features: Competency-Based Learning, Project-Based and Experiential Learning, Next Generation Staffing Model, Social-Emotional Development
The Operator:
Caliber Schools is a new network of charter schools in Bay Area that plans to operate six schools opening over six years in two full K-12 pipelines.
The Academic Model:
Caliber: Beta Academy combines a blended learning approach to literacy and numeracy with a project-based approach to science and social studies.
The initial academic model, which is expected to change through iterative evidence-based improvement, interweaves a rigorous core curriculum with an intense focus on the following:

Writing

Computer coding

Projects that require analysis, experimentation, and collaboration

A deliberate social and emotional development program to build resilience, persistence, and grit

Before school starts, students complete a comprehensive assessment, a senior staff member visits their homes, and they develop an initial personalized learning plan inone-on-one meetings with their faculty advisors.
The Organizational Model:
Caliber's staffing model is differentiated and team-oriented with department chairs, master teachers, and associate teachers working together.
As a lab school, Caliber is wed to outcomes but not to a particular school design, educational program, product or approach.
Caliber intends to show that through great teaching and the right school culture, the achievement gap can be bridged—even in extremely disadvantaged areas on a public budget. Caliber Schools received a planning grant in July 2013 to support the development of this school model.
People Working On This Challenge
See More