New Designs for School
e3 Civic High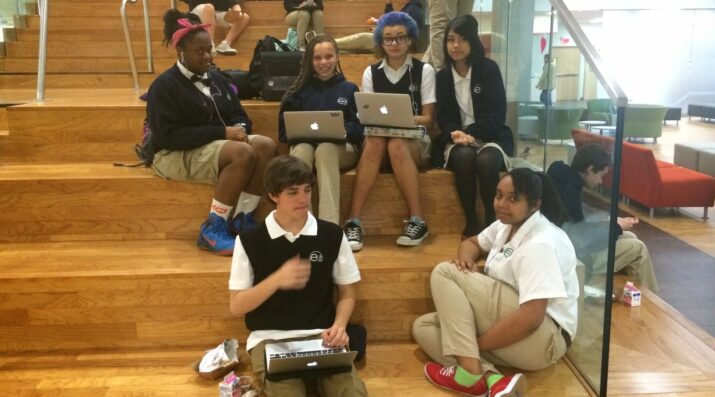 New Designs for School
New Designs for School
We've all had the experience of truly purposeful, authentic learning and know how valuable it is. Educators are taking the best of what we know about learning, student support, effective instruction, and interpersonal skill-building to completely reimagine schools so that students experience that kind of purposeful learning all day, every day.
Learn More
School: ℮³ Civic High           
Grades Served: 9-12
Location: San Diego, CA
Operator: ℮³ Civic High
Operator Type: Charter
Setting: Urban
Students at Opening: 250
Students at Capacity: 500

Blended Model Type: A La Carte
Key Features: Partnerships, Design of the Learning Space, Internships, Civic Leadership Development, Early Collge
The Operator: This district- and community-supported early college high school is located in San Diego's new downtown public library (offering access to over 1.2 million resources). The space is state of the art, offers wireless connections, and flexible furnishings and room configurations support a variety of teaching and learning strategies. The governing board supporting the school reflects an extensive community commitment and set of municipal partnerships. The school leverages these partnerships to offer a range of services including a pre-paid facilities lease, college-level coursework, college tutors, summer bridge opportunities, community-based internships, professional development for faculty, and research assistance from librarians.
The Academic Model: The curriculum has an intentional civics, service, and internship component aimed at developing deeper learning, ownership, and inquiry-based thinking skills. Students learn through a mixture of self-paced online instruction, teacher or student-led small-group instruction, direct instruction, and problem-based and project-based work. The overarching instructional approach is A La Carte with access to authentic learning in internships and more rigorous college-level coursework. Faculty use student performance data and online courseware to generate a personalized learning plan with students. As well, ℮³ students take diagnostic assessments (learning and personality styles, career interests, aptitudes, and self-managing abilities) to facilitate their placement in internships, personalize their interdisciplinary project work, and direct their college and career planning.
The Organizational Model: ℮³ is fostering college-level work, a college-going culture, and a college-campus learning environment. For example, students can arrive to campus one hour early to access ℮³ teachers, college tutors, a media studio, peer work groups, online courseware and/or a nutritious breakfast in the ℮³ Café Plaza (with its Starbucks-like setting).  Students take community college courses at ℮³ and on the campus at San Diego City College (SDCC). Students have seats in SDCC's current Summer Bridge program that is designed to increase the level of academic performance in math & English. And, ℮³ teachers participate in on-going training with SDCC faculty to ensure curricular alignment.  Specialty areas of the library have been designed to serve high school students including a Teen Center, Homework Center, and the Idea Research Tech Lab.  In addition, City librarians double as instructors for research methodology and members of the City TV staff will serve as consultants for ℮³'s digital media studio.
People Working On This Challenge
See More