New Designs for School
Florida Virtual School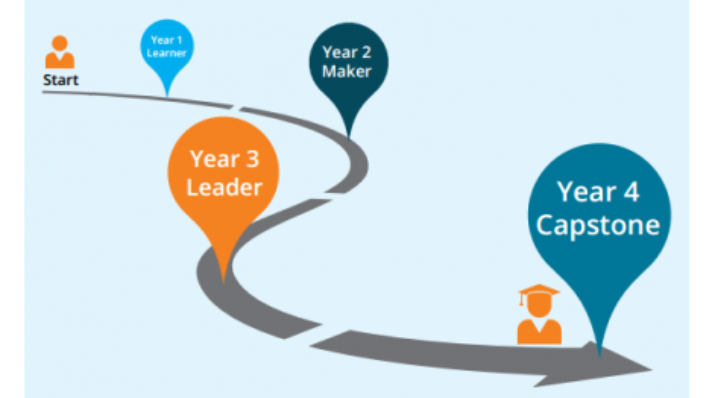 New Designs for School
New Designs for School
We've all had the experience of truly purposeful, authentic learning and know how valuable it is. Educators are taking the best of what we know about learning, student support, effective instruction, and interpersonal skill-building to completely reimagine schools so that students experience that kind of purposeful learning all day, every day.
Learn More

flvs.net/
Grant Type:
National Planning
Startup Type:
New School
PROPOSED PLAN:
School: FLVS Campus
Grades Served: 9-12
Location: Orlando, FL
Operator: Florida Virtual School
Operator Type: District
Setting: Urban
Students at Start: 120
Students at Capacity: 480 
Blended Model Type: Flex and Enriched Virtual
Hallmark: Virtual learning deepened by internships, service-learning & in-person learning centers
Florida Virtual School (FLVS) received a planning grant in July 2013 to support the development of a model that would combine best practices of virtual learning with a brick-and-mortar, community-based learning center. The overarching vision for FLVS Campus was to reinvent the school-to-student relationship, emphasizing the student as owner of and participant in his or her learning.
As an online education provider, FLVS knows that an "any time, any pace, any path, any place" model works for students, according to its 16 years of data. With an enriched virtual model added to the FLVS suite of educational solutions, FLVS predicted it would increase the efficiency of education of individual students, and decrease the time and resources spent educating the masses with a "one-size-fits-none" model.
In the proposed academic model, the four high school years would take on different levels of structure, modeling, and student choice, with Learner Year (Year 1), Maker Year (Year 2), Leader Year (Year 3), and Capstone Experience (Year 4). 
With blended, mastery-based learning, students would advance through integrated, interdisciplinary learning opportunities that are standards-based not course-based.
As educational mentors, teachers would help students determine their path to graduation, provide formative and summative feedback, coordinate and lead student projects, support students face to face and through phone, text, and email, and provide constant communication with families. Teachers would have greater flexibility in their schedule, sometimes working at the campus and other times remotely at home.
The Campus facility would have a common area meeting space, a workshop for hands-on experiences, individual workspaces for independent work, and a collaborative classroom where students would engage with in-person or remote teachers.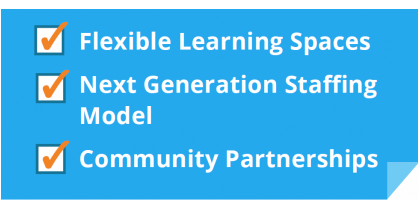 Key Features of the Proposed Model
People Working On This Challenge
See More