New Designs for School
Incubator School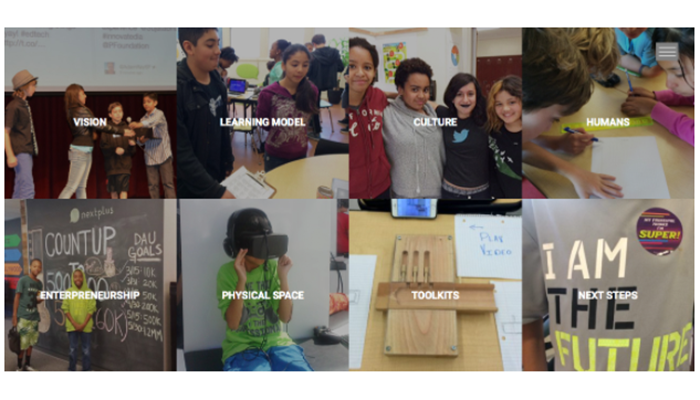 New Designs for School
New Designs for School
We've all had the experience of truly purposeful, authentic learning and know how valuable it is. Educators are taking the best of what we know about learning, student support, effective instruction, and interpersonal skill-building to completely reimagine schools so that students experience that kind of purposeful learning all day, every day.
Learn More

Grant Type:
National Planning and Launch
Start Date:
Fall 2013
Startup Type:
New School
Status:
Not operating
This breakthrough model is no longer operating; the school closed in June 2017.
School: Incubator School (Inc.)
Grades Served: 6-12
Location: Los Angeles, CA
Operator: Los Angeles Unified School District
Operator Type: District
Setting: Urban
Students at Start: 51
Students at Capacity: 735
Blended Model Type: Lab Rotation and Flex
Key Features: Project-Based and Experiential Learning, Community Partnerships, Social-Emotional Development
The Operator:
The Incubator School (Inc.) is a 21st century learning, entrepreneurship-themed Los Angeles Unified School District (LAUSD) pilot school whose 8th graders launch a startup within school and whose 12th graders launch or work at one in the "real world." The school developers think of the school as a startup whose product is an education students want and need. Eight core values summarize the school's culture:
Everyone is important.
Mindsets matter.
Problems and mistakes are creative opportunities.
A changing world requires changing learning.
Learning is relevant, personal, and fun.Product is public.
Connecting is key.
BITE: Boldness, Integrity, Tenacity, and Effort
The Academic Model:
Inc.'s ultimate outcome is graduating creative, competent, self-starting innovators with experience designing and launching a startup. Therefore the curriculum and the school itself emphasize entrepreneurship.
One-third of students' daily schedule is a rotation and flex ELA/Math Blended Learning Lab focused on Common Core standards-based skill development.
Design Studio focuses on deep, integrative learning in social science and science project- based learning
In the Incubator Period, students explore themselves in the world, emphasizing social- emotional and learning strategies development, as well as financial literacies
The Organizational Model:
Pilot schools were formed via a joint agreement between the LAUSD and the United Teachers of Los Angeles to serve as models of mission-driven innovation within the second largest school district in the nation. Pilot schools have relative autonomy over budget, staffing, governance, curriculum and assessment, and the school calendar.
To grow and manage human capital, Inc. is experimenting with online courses, MOOCs, peer coaching and training, and professional development from partner organizations.
People Working On This Challenge
See More