New Designs for School
Lodestar
New Designs for School
New Designs for School
We've all had the experience of truly purposeful, authentic learning and know how valuable it is. Educators are taking the best of what we know about learning, student support, effective instruction, and interpersonal skill-building to completely reimagine schools so that students experience that kind of purposeful learning all day, every day.
Learn More
School: Lodestar
Grades Served: K-12, starting with K-2 & 6
Location: Oakland, CA
Operator: Lighthouse Community Charter Public School
Operator Type: Charter
Setting: Urban
Students at Start: 240
Students at Capacity: 750
Blended Model Type: Individual Rotation
Key Features: Competency-Based Learning, Project-Based and Experiential Learning, Community Partnerships, Social-Emotional Development
The Operator
Founded in 2002, Lighthouse Community Charter Public Schools operates two high-achieving public charter schools, K–8 and 9-12, collectively serving 750 students in East Oakland. With a vision of transforming its community through powerful, life-changing education, Lighthouse is increasing its impact in East Oakland by opening two new schools—including Lodestar in 2016—serving low-income students and their families. The charter organization's mission is to prepare students for the college and career of their choice.
The Academic Model
Lodestar is a school built on the principles of agency and belonging in community:
Crew: Students start and end each day in "Crew" or advisory. Students build strong and meaningful relationships, set and reflect on their progress towards goals, and engage in social-emotional learning.
Literacy and Math Lab: Students develop literacy and math skills and engagement in a personalized manner. This mixed-age structure empowers students to grow at their optimal pace through just-right instruction from teachers.
Inquiry Arc: Students do real work to solve real problems during this semester-long learning expedition during which students develop knowledge in social studies or science, and develop their skills in writing as well as design through art or making.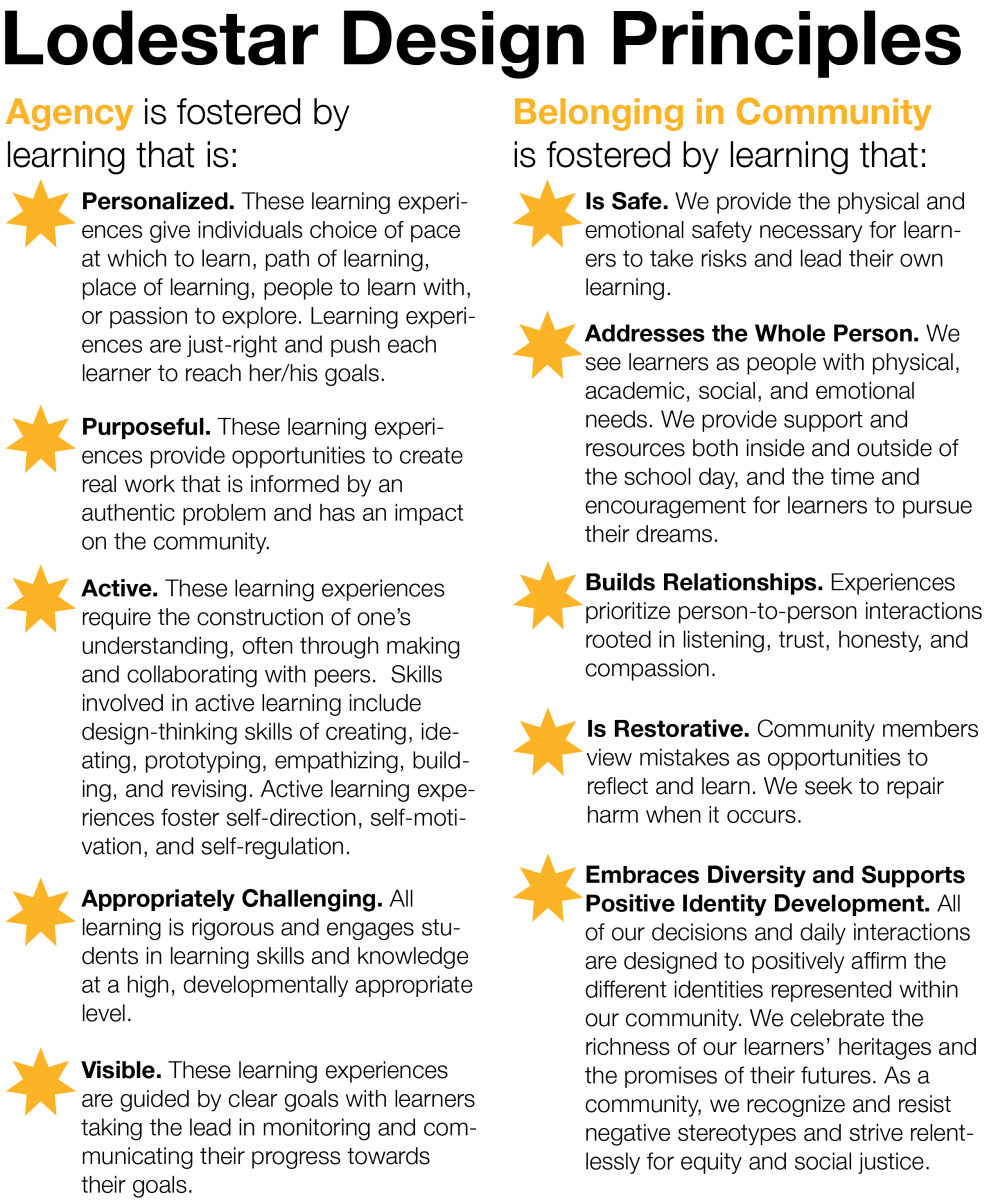 The Organizational Model
The leadership team for Lodestar includes a Head of School, Director of Instruction, an elementary school Dean of Students, and a middle school Dean of Students.
Teachers at every grade level at Lodestar specialize in the instruction of reading, math, project-based learning, or design (arts/making).
Learn more about the NGLC Regional Fund for Breakthrough Schools program that supported these grantees by visiting the NGLC in Oakland grant page.
People Working On This Challenge
See More