New Designs for School
Workshop School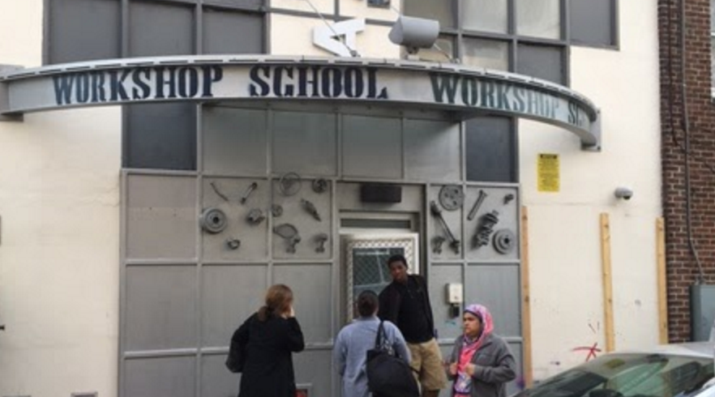 New Designs for School
New Designs for School
We've all had the experience of truly purposeful, authentic learning and know how valuable it is. Educators are taking the best of what we know about learning, student support, effective instruction, and interpersonal skill-building to completely reimagine schools so that students experience that kind of purposeful learning all day, every day.
Learn More
School: The Workshop School
Grades Served: 9-12
Location: Philadelphia, PA
Operator: The Workshop School
Operator Type: Nonprofit
School Type: District
Setting: Urban
Students at Opening: 120
Students at Capacity: 480
Blended Model Type: Lab Rotation and A La Carte
Key Features: Competency-Based Model, Project-Based Learning, School Developer Partnership
The Operator: Project Based Learning, Inc. and the School District of Philadelphia are partnering to open the Workshop School. Since 2011, Problem Based Learning, Inc. ran the Sustainability Workshop, a two-year pilot project operating as an alternative senior year program for 30 district students. Working within a large urban district in partnership with the teachers union, the partners are building off of the pilot project to create a whole school design.
The Academic Model: The mission of the school is to unleash the creative and intellectual potential of young people to solve the world's toughest problems. The curriculum is fully organized by projects related to real-world problems rather than subject. The project-based learning model has four stages: 1) make it up (envision), 2) make it real, 3) make it better, and 4) make it happen. Projects are managed using an online system, Project Foundry, which allows students and teachers to align project work with state standards and track accrual of high school credits by subject area. All students are expected to take at least two projects through stage four by the time they graduate. The day is divided into two large, flexible blocks of time with the morning focused on project work and the afternoon on learning "building blocks," either by working independently with online resources or in small seminars. Because students design projects and have individual learning plans, each student's learning trajectory is unique. They progress through the school based on demonstrated mastery of applied knowledge and skills and based on project performance.
The Organizational Model: The school uses a modularized organization: one lower house and two upper houses, each in separate facilities. Each house will be a mix of large group pod space, small team meeting space, individual carols, and shop space for hands-on work.
A group of 40 students and two teachers form a pod within the houses; co-teaching responsibilities are organized around the teaching-pair's complementary content knowledge and skill sets.
The design of the financial model focuses the majority of expenses on instructional staff and project tools and supplies.
The initial lower house facility is provided by the school district. Future houses will use existing district facilities or be co-located with university or business partners.
Rather than replicating individual schools, the Workshop School will scale by creating and expanding a network of lower and upper houses as demand requires and resources allow.
People Working On This Challenge
See More