Technology Tools
Increasing Teacher Engagement: Digital Resources for Algebraic Reasoning (Part 1)
July 1, 2013
Topics
Project-based Learning
Tools for Next Gen Learning
Curriculum & Instruction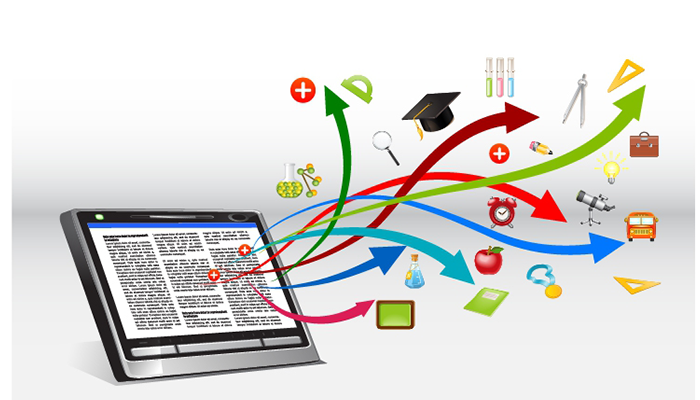 Technology Tools
Technology Tools
Educators often take advantage of educational technologies as they make the shifts in instruction, teacher roles, and learning experiences that next gen learning requires. Technology should not lead the design of learning, but when educators use it to personalize and enrich learning, it has the potential to accelerate mastery of critical content and skills by all students.
Learn More
Deborah Ives describes how Get the Math relates algebraic reasoning to the real world and how teachers can integrate the digital resource into their curriculum.
The U.S. Department of Education National Education Technology Plan 2010 report, "Transforming American Education: Learning Powered by Technology," called for empowering learning experiences for all learners, regardless of background, languages, or disabilities, to achieve. The plan emphasized the challenge "to leverage the learning sciences and modern technology to create engaging, relevant, and personalized learning experiences for all learners that mirror students' daily lives and the reality of their futures." While the field of educational technology is advancing rapidly, a gap remains in its implementation as many programs fail to adequately integrate multiple types of resources.
In this two-part series, Get the Math, a unique and flexible approach to learning and assessment that directly supports a key NGLC goal of building deeper learning competencies, will be highlighted. The development of the project and Get the Math 1.0 will be addressed in Part 1, with Get the Math 2.0 and our lessons learned identified in Part 2.
Project Description
Produced by Thirteen/WNET, Get the Math, www.getthemath.org, is a multimedia project that combines online video and interactive challenges to help middle and high school students develop algebraic reasoning skills in the context of real-world problems. Designed for classroom use, Get the Math is intended to provide teachers with powerful instructional tools that they can incorporate into their lessons, to engage students in algebraic reasoning, and to help students recognize the relevance of algebra to a variety of careers, thus answering the age-old question, "How is this ever going to help me in the real world?"
Challenges, or performance tasks, are initially presented by young professionals through easily accessible video segments focused on the math in music, fashion, video games, restaurants, basketball, and special effects. Students are encouraged to try the challenges themselves using interactive tools provided on the Get the Math website before watching a short video of two teams of teens sharing their solutions. Students further explore similar and extended algebraic concepts through additional interactive challenges. Teachers can visit the website for online resources, including a training video showing how to use project materials in the classroom, a teacher's guide with lessons plans aligned to the Common Core Content and Math Practices, student handouts, and solutions with multiple strategies.
Get the Math 1.0
Get the Math was initially developed to address a specific need: to help a diverse spectrum of middle and high school students with different learning styles and abilities recognize the importance of algebra beyond the classroom while engaging in algebraic reasoning skills that form a critical building block for mathematical literacy. According to results released in December 2010, high school sophomores in the U.S. scored 25th among 30 industrialized nations on a recent Program for International Student Assessment (PISA) math test. In a Spring 2010 report, "A First Look at the Common Core and College and Career Readiness," ACT, an organization involved in developing the standards, reported that only one-third to one-half of students are reaching a college- and career-ready level of achievement. Only 34% of students met the benchmarks for Number and Quantity, skills that build on the foundation for success in algebra; Hispanic and black students performed well below their white counterparts in all Common Core math domains; and for each of the eight Common Core Mathematical Practices, only one-third of students reached the college- and career-ready level. Additionally, algebra has been shown to be a gateway subject for staying in school: a 2006 study at Florida International University found that students who failed algebra were four times more likely to drop out of high school than those who passed the course.
In this context, we quickly realized that Get the Math had the potential to be a highly effective tool to produce the desired outcomes for students across the country. Because algebra is taught in grades 7-12 and now or soon will be a graduation requirement in 29 states, we knew the impact of this project was substantial. In order to prepare for global competition and high expectations, all students must have increased opportunities for mathematical experiences that extend critical thinking and reasoning and give them access to higher mathematics. Algebra is a course that provides an important entry point for this pathway to success by extending students' understanding and application of the skills, concepts, and language of algebra. Concurrent to the launch of GTM, the National Council of Teachers of Mathematics released a scientifically research-based initiative, Focus in High School Mathematics: Reasoning and Sense Making (2009), which stressed the role of educators in helping students with a wide range of backgrounds develop connections between applications of new learning and their existing knowledge. Using this methodology to increase student engagement, Get the Math shared the long-term goal of helping mitigate algebra as a major risk factor for high school dropouts to prepare students for greater options for their futures through the use of real-world career applications of interest to teens.
The GTM 1.0 project began with three modules, Music, Fashion, and Video Games. Multimedia Research conducted an evaluation to understand GTM's impact in the 2010-11 school year with a pilot group in order to identify further assessment needs. In addition, responses from national and state teacher training workshops were also gathered and were overwhelmingly positive. In terms of implementation, we first noted a concern voiced by a small minority of traditional teachers and administrators about adding "something extra" to a crowded high-stakes curriculum that included standardized testing.
Next Steps: Part 2
In our next post, we will share our expansion of Get the Math based on feedback from students and teachers, as well as summarize outside research and lessons learned.
Learn more about Thirteen/WNET's grant project.