Why Schools Need to Change
K-12 Schools Are Developing Mindsets for Next Gen Learning
March 20, 2017
Topics
Social-Emotional Learning
School Culture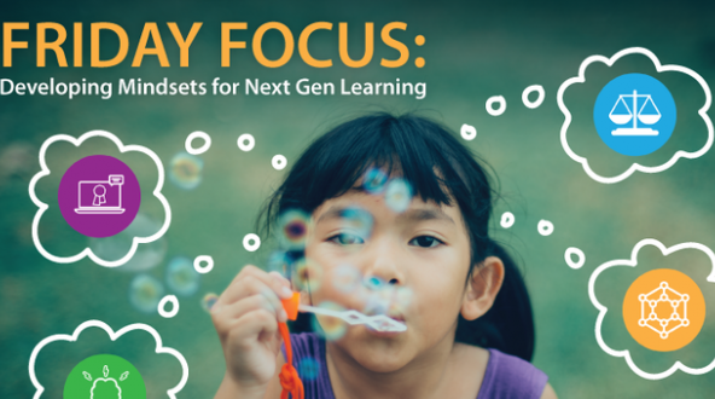 Why Schools Need to Change
Why Schools Need to Change
Today's learners face an uncertain present and a rapidly changing future that demand far different skills and knowledge than were needed in the 20th century. We also know so much more about enabling deep, powerful learning than we ever did before. Our collective future depends on how well young people prepare for the challenges and opportunities of 21st-century life.
Learn More
Practitioner's Guide to Next Gen Learning
How mindset contributes to success in learning and beyond. Part 2 of 2.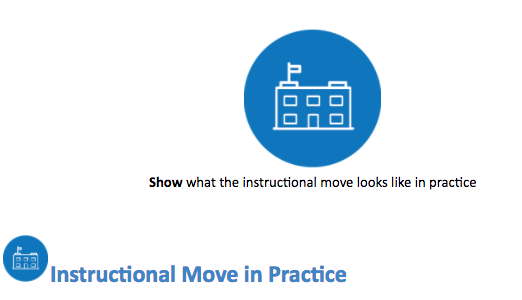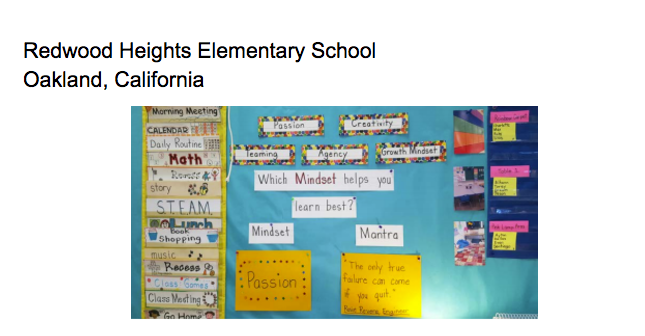 Teachers Linda Rogers and Rebecca Weissman, who are highlighted in the Christensen playbook we introduced in part 1, helped reshape how their first and second graders at Redwood Heights Elementary, an Oakland-based NGLC grantee, learned by cultivating particular mindsets.
By gaining the ability, fluency, and self-awareness to recognize and analyze their mindsets, these young students were able to identify that "good mindsets lead to good habits and behaviors, and those, in turn, lead to progress in accomplishing goals. That idea helped students feel more power and hope; when they faced an obstacle, they didn't need to depend on raw talent, which was something out of their control, and they didn't need to wait for their teacher. Instead, they began to see that they could use a mindset strategy to bring about progress on their own," writes Staker.
Learn more about the specific instructional moves Rogers and Weissman made to encourage mindsets for learning on pages 38–52 of the playbook and in the excerpt below. It's a great read!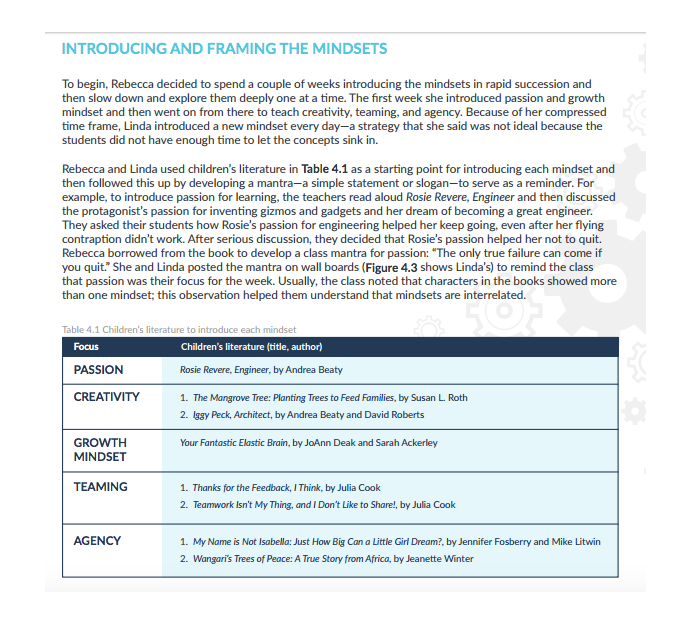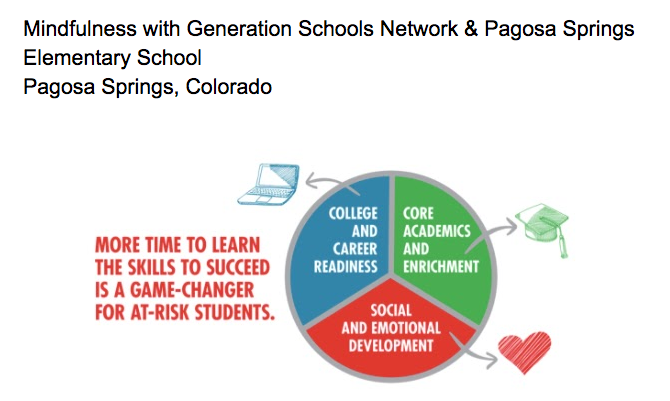 Mindsets and mindfulness go hand and hand—since mindfulness, a form of meditation, helps us settle our mind, be more present, and cultivate awareness, which in turn help us tune into our own attitudes (mindsets).
Generation Schools Network (GSN) believes in the power of mindfulness. GSN created a mindfulness teacher training and curricular unit, and Pagosa Springs Elementary School in Colorado is already implementing it. Building off the unit, the school implemented 25-minute mindfulness practices with students two days per week, giving kids another resource to counteract what can sometimes feel like busyness throughout the day. "It's a way of clearing the clutter, calming the mind, and becoming focused," explained Leslie Tjajadi, manager of Whole Student Success at GSN and one of the co-authors of the mindfulness training and unit, in this Friday Focus. Read more about GSN's model, including NGLC grantee West Generation Academy. If you're interested in starting mindfulness training in your own school or classroom, check out this comprehensive resource.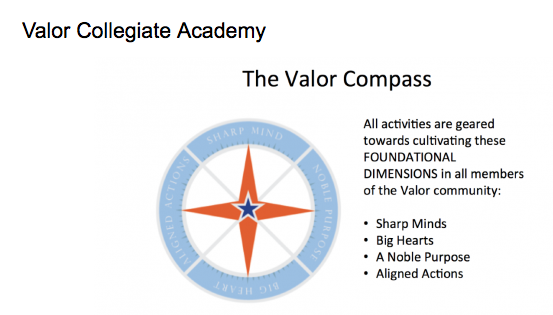 At Valor, a charter school in Nashville, a mindset of joy plays a central role. During an NGLC visit, CEO Todd Dickson explained that Valor works to ensure teacher interactions with each other and students are "palpably positive and joyful." This is critical, since Valor adheres to the guiding principle of successful companies like Google: "Happy people do good work." Read more about the joy-filled experiences at Valor.
And accompanying joy is an emphasis on growth mindsets. The school works hard to help students feel safe and comfortable taking risks with their peers, academically and in the social-emotional realm. Valor uses Circle time (for adults and students) to create space for peers to appreciate each other in deep, authentic ways and to tend to what they define as the most "basic ingredient of a community": relationships. "A community is essentially a web of relationships, and the overall health of a community can be measured by the health of its relationships," states the Valor playbook. "Circle as a community development approach provides opportunities to deepen relationships and to tend to relational 'wounds.'" Watch Circle in action and read about Stef Blouin's experience at Valor. Learn more about Valor's social emotional focus and approach through their playbook.
Additional Resources
NGLC's MyWays Beta Site includes a plethora of tools to help educators answer the three big questions of next generation learning. One part of the MyWays model, which was created after 18 months of research and ongoing study of NGLC grantees, is Habits of Success. This model includes academic behaviors, self-direction and perseverance, positive mindsets, and other elements that help propel and support students in deeper learning experiences and lifelong learning abilities. Use the Competency Correlation Tool as a starting place to think about mindsets and other Habits of Success that are integral to your students' success.