New Designs for School
Redwood Heights Elementary School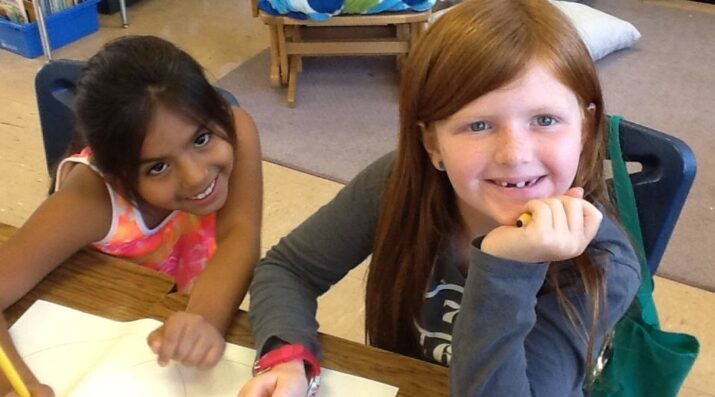 New Designs for School
New Designs for School
We've all had the experience of truly purposeful, authentic learning and know how valuable it is. Educators are taking the best of what we know about learning, student support, effective instruction, and interpersonal skill-building to completely reimagine schools so that students experience that kind of purposeful learning all day, every day.
Learn More
School: Redwood Heights Elementary School
Grades Served: K-5
Location: Oakland, CA
Operator: Oakland Unified School District
Operator Type: District
Setting: Urban
Students: 333
Blended Model Type: Station Rotation, Flipped Classroom, Individual Rotation, and Flex
Key Features: Competency-Based Learning, Project-Based and Experiential Learning, Flexible Learning Spaces, Social-Emotional Development
The Operator
Oakland Unified School District is a public education school district that operates about 100 elementary schools, middle schools, and high schools in Oakland, California. Our mission is to build a Full Service Community District focused on high academic achievement while serving the whole child, eliminating inequity, and providing each child with excellent teachers, every day.
The Academic Model
Redwood Heights Elementary School (RHS) offers personalized and blended general and special education strategies to meet the needs of every learner. The school's STEAM (Science, Technology, Engineering, Arts, Math) model is rooted in student agency, equity, critical and creative thinking, and social-emotional learning so that all students may thrive in our culturally rich and diverse 21st century communities. The academic model builds on the Common Core standards and uses the following interconnected strategies to meet every child's learning needs and ensure high expectations for all students:
Accelerate student growth using multiple blended learning models to reach diverse students
Implement competency-based instruction
Develop self-directed and emotionally competent learners with critical and creative thinking, agency and skills to succeed in the 21st century
Create identity-safe classrooms that integrate personalized education, social-emotional learning, and equity
The Organizational Model
Transformation of classrooms and other spaces on campus to create flexible, alternative seating and multiple learning spaces
Redesign of schedule to allow for 1.5 – 3-hour blocks of instructional time for ELA and STEAM
Robust professional development throughout redesign process
Additional FTE Blended Learning and Maker Wizard to build staff capacity
Learn more about the NGLC Regional Fund for Breakthrough Schools program that supported these grantees by visiting the NGLC in Oakland grant page.
People Working On This Challenge
See More