Building Community
Six Innovative Colorado Schools Awarded Funding
April 22, 2015
Topics
Competency-based Education
Personalized Learning
Student Success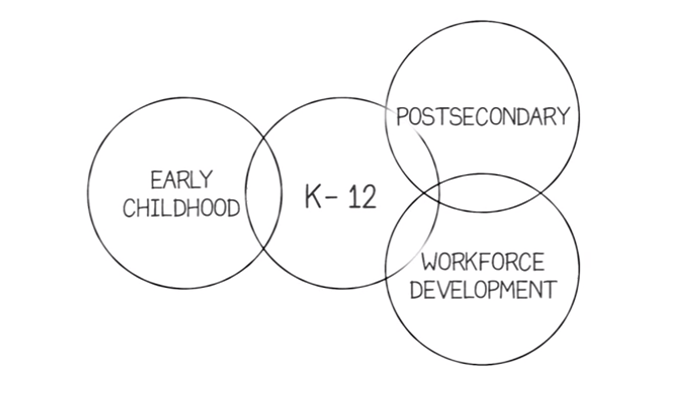 Building Community
Building Community
When educators design and create new schools, and live next gen learning themselves, they take the lead in growing next gen learning across the nation. Other educators don't simply follow and adopt; next gen learning depends on personal and community agency—the will to own the change, fueled by the desire to learn from and with others. Networks and policy play important roles in enabling grassroots approaches to change.
Learn More
After months of planning, reimagining and redesigning, partners in Colorado recently announced additional support for six schools.
After months of planning, reimagining and redesigning, partners in Colorado recently announced additional support for six schools in three districts. Each school will receive up to $220,000 to continue the hard work of reinventing the learning experience to better meet students' current needs while preparing them for success after high school. The Denver Post noted that this work occurs against a backdrop of the state's new graduation guidelines, which effectively raise the expectation of what a Colorado high school graduate can know and do.
Taking a Big Picture Approach to Education
What's interesting about the work in Colorado is the extent to which state partners are collaborating with educators and attending to a systems approach. The approach looks at the many connections within instructional environments, and the connections between policy and practice. For example, as teams of educators in each school wrestled with next gen designs for learning—especially those that enabled more student directed learning and choice—district administrators and state officials listened and pledged support for removing barriers in the current design and operations.
Unfortunately, it's unusual for educators' expertise to be trusted in such a way that they are granted permission to change traditional institutional operations. District environments can typify command and control cultures and be prescriptive in the face of state testing and accountability. Yet teachers in these six schools have been invited to rethink more than just their classroom instruction and school cultures. They are addressing school- community connections, technology enabled customization, seat time, grading policies, and the design of pathways and supports that would enable every student to experience college and career success.
Scaling Successful Models
The selection of participating schools attends to feeder patterns as well (meaning connections between grade levels) and to representative types of schools in the state. The hope is that what's learned and implemented in the six schools can inform and benefit ALL schools in the state as next gen learning is adopted and adapted more broadly. So, sharing is intentional.
These six school and district teams are helping to reinvent the look and feel of future learning (see also future of learning; essential frameworks). When I recently attended their public pitch event, a team from each school with 15 or more educators talked authoritatively and enthusiastically about the opportunity to help students succeed using flexible technologies, data platforms, online portfolios and community connected learning. Teachers talked about meeting the needs of specific kids, kids they hadn't been able to reach before due to time and other constraints. They tone was optimistic. They expressed gratitude for these changing times and the new opportunities emerging. Listening to what they'd learned, it was evident they'd been provided the time to process their vision, and the support to begin building it.
Colorado is developing a winning formula, pairing educator-led redesign with flexible supportive leadership while addressing connections on multiple levels. Redesign work takes time because it's only achieved through adult learning, changing mindsets and new individual and organizational practice. It requires patience, a tolerance for the inevitable chaos that comes with any change, and in Colorado, a healthy dose of systems thinking.
Learn more about the Colorado Coalition.