Why Schools Need to Change
Transforming Power through Youth-Adult Partnerships
July 25, 2023
Topics
Learner Agency
Student Success
Change Management
Leadership
School Culture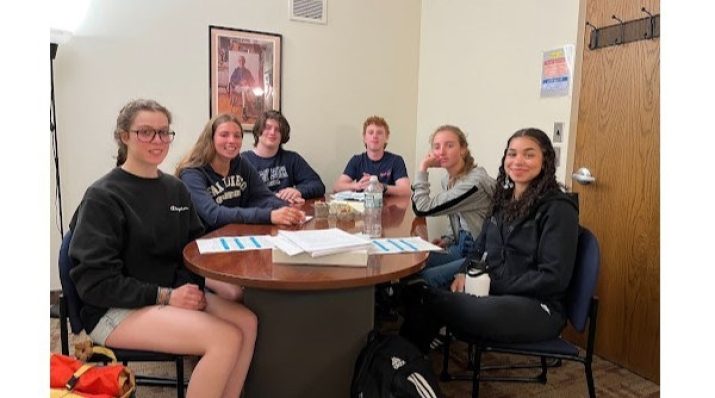 Why Schools Need to Change
Why Schools Need to Change
Today's learners face an uncertain present and a rapidly changing future that demand far different skills and knowledge than were needed in the 20th century. We also know so much more about enabling deep, powerful learning than we ever did before. Our collective future depends on how well young people prepare for the challenges and opportunities of 21st-century life.
Learn More
The Student Adult Advisory Board at Monument Mountain Regional HS brings youth and adults together to collaborate on changes they'd like to see in their school.
At Monument Mountain Regional High School (MMRHS) in Great Barrington, Massachusetts, efforts are being made to ensure that strong youth-adult relationships are built into the ecosystem of the school. This has come primarily through the Student Adult Advisory Board (SAAB) with a mission for "youth and adults to identify change they'd like to see in order for Monument to be the best version of itself and collaboratively working toward that change" (You can read more about its inception in this article from UP for Learning). The work that is happening at Monument is one that resembles more of an Indigenous worldview and one that is aligned with NGLC's vision for schools to have active change agents at all levels of education, no matter what westernized role they hold.
Now, more than ever, educators and partners must continue to expect and want more systems and structures that are human-centered, that work to transform power, and where liberatory collaboration is the norm. As you'll hear from SAAB youth and adults that I interviewed, this board is uniquely different from any student advisory board I've ever observed.
Seeking Liberatory Collaboration
Students from the DEI and academic advancement committees within the SAAB—Jordan, Tessa, Lukas, Jackson, Hannah, Mirabelle—as well as adult leaders Keith and Sean opened up to me about the successes they have accomplished so far and opportunities they are seeing in MMRHS' transition into a competency-based learning model. Their approaches throughout their work within SAAB reflect several of the increasingly widely-recognized Liberatory Mindsets developed by the National Equity Project (NEP) and partners. We use three of the mindsets in this article—Seek Liberatory Collaboration, Focus on Human Values, and Work to Transform Power—as a way to frame and help describe the compelling, human-centered work that the student and adult members of the SAAB have been doing. To start, Keith and Sean talked about why they decided to transition from a traditional grading model to a competency-based one, a purpose deeply grounded on holding equity at the center of their work:
Keith: "A lot of issues around equity, and concern that there was segregation in the community that broke down along class and race (socio-economic), and it felt like the school was divided socially and through access to deep thinking, rigorous work."
Given this work, adults thought that it would be important to engage youth in decision-making related to grading and for developing a more student-centered culture:
Sean: "I really started getting involved in SAAB with a group of freshmen last year who would be embedded into this [new learning] model who were concerned that they were losing out on a more rigorous program. And so, they wanted to make sure that their voices were being heard and that they were providing a platform for their entire class voices to be heard. They did a good deep dive into engaging and getting feedback and having conversations with classmates as well as with faculty that were teaching within the program, too, because they didn't want to—in the process of us addressing issues of equity—to basically create a more marginalized experience for everybody."
Jackson and Lukas talked about seeing this process as an opportunity to give feedback as adults considered the grading redesign:
Jackson: "I think just the incorporation of feedback from students is so important. If we end up having to change something about the system, then feedback is a necessary part of that. And that input will obviously be taken into account in a redesign."
Lukas: "I think having student input and teacher input is really important. They are at the ground level of where everything is being implemented. So being able to have that experience will just make sure that everyone can have the best experience possible."
To that end, another student, Tessa, offered an aspirational view of why this feedback is so important:
Tessa: "It lays the groundwork for future generations of students. Even if everything is perfect for us right now, in the future, this teacher-student relationship will be embedded into the framework of our school and hopefully, it will just keep improving. Even after we're gone."
In many schools, what Tessa pointed to can be an extremely ambitious multi-year goal that may seem unattainable because of current structures and culture. And while this might seem ambitious, this is indeed doable, and I offer these two questions to consider as you seek to build strong adult-youth relationships:
How does your district/school culture encourage staff, students, and stakeholders to exchange ideas and practices about any transformation? Which individuals or groups are not participating and why?
What structures foster connections between youth and adults? What structures currently serve as barriers?
"I think having student input and teacher input is really important. They are at the ground level of where everything is being implemented." –Lukas
Work to Transform Power
Identifying intentional structures for youth-adult decision-making is just the beginning. In order for these structures to work, the people involved need to recognize existing power dynamics between youth and adults and find ways to transform power to be equally distributed. We know from research that people are more motivated and committed to engage in meaningful work when they are comfortable sharing their perspective, can participate in decision-making, and firmly believe that the organization they are seeking to help change is willing to make those changes (The Power of Sharing Power; Conceptualizing and measuring youth–adult partnership in community programs: A cross national study). Students Hanna, Lukas, and Mirabelle talked deeply about things that have to be true about developing a working partnership between youth and adults:
Hannah: "I think that a really important aspect of it is making sure the entire school community is aware that this is a partnership and that's something we're still working on. But I think my subcommittee this year has had multiple times where we've been wanting to meet certain teachers and it has just been very difficult to do that in some situations. Our specific subcommittee has to do about grading and policy and teaching, and teachers obviously have a lot going on. They have a lot of stress. They have amazingly difficult jobs, and it's hard for them to want students to come in and, in a way, critique what they're doing. So I think trying to cultivate a full school environment where everyone understands we are all here to help each other and learn from it. And the other part that I notice on the student side is that it's really easy when something isn't going right, especially with your grades, to place blame on the teachers; and then it turns into hostility and that obviously is not effective for any sort of partnership. So it's important just going into things with an open mind and being open to understanding different perspectives."
Lukas: "Trying not to have adversarial relationships with teachers is a big part of it, where you have to understand that, especially in the early stages, that they're also trying to work through how the whole system works and adapt their rubrics and change their grading as well. So everyone is adapting, you have to acknowledge that as a student."
Mirabelle: "And I think a big thing on all sides, whether you're administration or teachers or students, is being ready for misconceptions. Starting this work this year as a freshman I really had no idea what was happening and was really surprised by the inner workings and behind the scenes of implementing the system. And so, if adults in this situation are ready for misconceptions that students may have and students are ready for misconceptions that adults may have about their experiences, then we would be better prepared for learning experiences."
This resonated with the adults who indirectly spoke about Blackfoot Nation's belief of self-actualization. Giving each individual the opportunity to exert power in a community can become messy, but, as you will see in the MMRHS youth and adults' statements, it is a necessary process that ultimately helps garner the best possible conditions for all to feel like they are being heard. This is the kind of centered-structure power that leaves behind traditional top-down decision-making.
Sean: "Our mission statement does not differentiate between our students, faculty, and administration. We as courageous learners, as involved citizens, individuals with integrity, and we as adults embody that as a community. Versus faculty creating the structures and conditions that were more focused around control and maintaining order, which is more associated with and leaning more towards totalitarianism as opposed to an open society. It sounds really big and philosophical, but it's really essential for all of us to understand that. It is really important for us to create the conditions where students can feel like they can actually see you as a person. There are boundaries that need to be appropriately maintained, rights and responsibilities to care for the health and well being of the students in our building. They have to feel like they have some voice, and not like this is a gift we're giving them, but they should be expecting this as us doing work together."
Keith: "I only remember being valued as a human being by one teacher and it was only for a moment in time. It's not where we are in history. Kids have so much information now and what we need them to do is to be able to evaluate it not just against community norms, but in order to get to know themselves. That's education broadly, that's the ultimate power sharing. They can explore who they are, and what they are about and what they need to learn according to the state. What I heard Sean saying is that this teaches citizenry in a really good way. Students are smart, they are the experts on this building. And to include their voice means that we are going to do a better job while giving them these platforms to find their voice, find their collaborative skills, leadership skills, and organizational skills. Those are tremendously wonderful gifts that the process can give to everybody involved."
Power in its traditional form needs to be dismantled in order for this type of work to flourish. Ultimately, we have to remember that we as humans give power to those systems and structures depending on how we choose to live by them. We must go beyond performative actions of inclusion to ones that deeply embed youth voice in decision-making. The following section gets at how you might create a more human-centered culture, but I leave you here with two questions to consider as you work to transform power:
How are youth and adults currently working together in your learning environment? How closely are you working with those most impacted by the change you are actively pursuing?
To what extent do your design solutions transform power and how do you know?
It takes a lot of meaningful work to build an entire community that firmly believes in strong youth-adult relationships, where youth voices are valued as much as adult voices are.
Focus on Human Values
Designing for genuine shared power across stakeholders puts an emphasis on building strong relationships. There is a lot of work that needs to go into getting to know a community and to be able to see each individual as a holder of knowledge and expertise, especially for those who are closest to the change being implemented. Consider the following reflection from Keith:
Keith: "I helped to organize a retreat for SAAB at the beginning of the year. Administration was being called out for not listening and supporting students. And at one point, I just gave everybody the hairy eyeball and I was like, 'You do know I am administration right?!' It was early on in my first year as an administrator and what I recognized is that students saw me differently. I think it was because I listened a lot, I asked questions more than I gave answers, I tried to say yes to things that mattered to them, and kind of shared in their excitement for what they were trying to create which was a better version of ourselves. So it gets to the fear of judgment. The bias work is just ongoing and never-ending because we are a product of our culture. I know that in the coming year we are going to do work around microaggressions and not only identifying them, but also what happens when you commit a microaggression and how do you kindly own it and not feel shame but rather empathy and learning. I think the more conversations like that that we can have, the better they will feel and the smarter they will feel, myself included."
What Keith talked about is being a good listener and grounding the school's transformation on the feedback and experiences that students were sharing. As a community, Monument has created space for reflection where they point to the good, the bad, and the ugly. Students talked about how they felt their stories were heard this year as part of SAAB:
Hannah: "One example I can give is last year I was part of a four-person report and study on how students were adjusting to the competency-based system; Tessa was part of that and Lucas and Jackson helped facilitate conversations around that. A lot of teachers were super willing to let us into their classrooms and utilize their advisory time to try to figure that out. Of course some teachers were still very against us doing the report and were not appreciative of it or didn't really consider it, but there definitely were teachers who were willing to let us have that time and space to try."
Tessa: "They also made it possible for us to present to the school committee with elected officials who run the school district, which I don't know if we would have been able to do without the [SAAB] committee."
While Keith quickly centered his own practices on being an active listener of the MMRHS youth, students acknowledged that this work takes time and that not everyone will jump at the idea of new and unknown practices right away. It takes a lot of meaningful work to build an entire community that firmly believes in strong youth-adult relationships, where youth voices are valued as much as adult voices are. That community-wide belief comes from having ongoing reflective conversations, reminding people of their purpose in building these relationships, and giving space through systems and structures that focus on human values throughout. Here are two questions to consider when reflecting on your community's focus on human values:
How might we honor the stories, experiences, and emotions that our community shares?
How might we best practice collective sense-making for the betterment of our community?
"I was nervous at first walking into SAAB as a freshman, but once I became comfortable and understood that we were all in this together, I was able to prosper and create positive change." –Jordan
Student Outputs through Active Decision-Making
So what happens when you build these intentional youth-adult partnerships? What comes out of them? This example from MMRHS suggests two specific outcomes that we at NGLC have also observed in other schools: (1) Meaningful and intentional work that centers the voices of those most closely affected by changes being implemented; and (2) Liberatory collaboration, where there is a shift in power that is more communal and less hierarchical. Here are some examples of changes that were implemented at MMRHS based on student voice being amplified in their learning community:
Tessa: "We realized in our subcommittee group that there wasn't really an information base for parents or students to go to on the school website that explained what proficiency-based grading was. We were able to work with the administration and the people who run that website and make changes to it. We created a page that explains proficiency-based grading at our school."
Mirabelle: "I think communication was a big idea whether it was communication between students, student to teacher, student to admin, admin to teacher, admin to parents, students to parents. But making sure communication was sort of a full circle was a big idea." [Mirabelle refers to the district's communication platform being used more intentionally to get information to families and students]
Jordan: "Competency-based learning was the start of the mutualism here and these conversations allowed me to implement my idea of equity and inclusion in the whole school. When we had a specific assembly, it led to positive connections around negative interactions that certain people have had with racism and discrimination. We did so at a level where everybody was able to take it in and have discussions at the same level. I don't think that we would be able to have that without the communication between teachers and students and administration and so on."
Student Outcomes
Without a doubt, participating in SAAB has left an indelible mark on students at Monument Mountain Regional High School. Consider the following takeaways from SAAB student leaders and how this sharing of power through intentional youth-adult partnerships has made a mark on them:
Jordan: "I was nervous at first walking into SAAB as a freshman, but once I became comfortable and understood that we were all in this together, I was able to prosper and create positive change and build recognition of the current problems within the school community."
Tessa: "Even if, within the four years that you're at high school or within however many years you're participating in the group, even if you don't see a ton of change in your school, you're still going to learn a lot and you're going to get the ball rolling for other students, for the teachers, and for other generations."
Lukas: "It is invaluable to be able to deal with issues with people that you might not understand fully, or people you don't know. I think that's just something that's really important because when you're out in the real world, not everyone has the same kind of issues as you do and everyone does not have the same kind of process of thinking through things."
Jackson: "There's no real reason to be afraid of joining [a] group. If you're passionate about the work, then it's only good to get involved."
Hannah: "The only person who can truly advocate for your needs is yourself and I think by joining a group [like SAAB], you're just helping add a perspective. There's never a time where having more perspectives and having a well-rounded knowledge of what the community needs doesn't benefit you."
Mirabelle: "It was really refreshing to be in a room of not only students but also adults who are saying 'yes, we're having the same struggles' [...] It was honestly very refreshing and rewarding to be able to work collaboratively with people who saw an issue that you didn't want and to fix it. [...] And, if nothing else, you'll at least garner an understanding of the issue that you're trying to fix. And that is worth a lot."
A youth-adult advisory board and other youth-adult structures like it tap into who youth are at their core and allow them to actively contribute to a community they are a part of. It is the most authentic form of democratic citizenship that can exist in a school community as we prepare youth to go out into the world.
The SAAB is a refreshing example of including youth voices in school decision-making in ways that trust youth to make informed decisions.
Tips for Creating a Strong Youth-Adult Partnership Ecosystem
To end our interview, I asked the two adult SAAB members to talk about what is needed in order to build this type of ecosystem within any school community. Think about the following sound advice as you consider integrating youth into decision-making:
Sean: "My suggestion would be that you've got to decide that this is going to be your North Star. This has got to be something you wholeheartedly believe in and that this is not something you play with and that you think is fundamentally essential. Then, you want to ensure that the collaborative process you want to create for students, you have to make sure that staff feel that, in some cases first. They've got to feel like they've been brought into this in a way that they can weigh in and give perspective and be part of the planning. And then as you start pushing it out, the adults will come to this in a way that you want them to because they feel valued and supported and have a chance to sit with it. [...]There was a natural kind of evolution that happened that we saw that this was really an incubator for democratic citizenship. And in order for that to actually happen you had to be willing to have faith in the capacity of students to be able to weigh in and that school should be created for students to have the capacity to build toward being their better selves. We had to be ok with the messiness of that and the iterative nature of that and we also need to see ourselves as learners."
Keith: "I think this work benefited greatly from outside community partners who had experience in helping us do what has not been the natural order of things which is to share power and collaborate. Speaking as a recovering teacher myself, I started teaching at a progressive school and it was very difficult for me to give up that traditional teacher power in order to make way for students to have voice, but once I did it was such a rewarding thing that I never wanted to go back."
As both Sean and Keith acknowledge, involving youth in school decision-making and transformation is far from easy and it requires a deep and intentional shift in power structures. In many places, archaic systems and policies don't allow for youth voices to be truly included in district and school level conversations. When youth involvement is symbolic or performative, it can be more harmful than helpful. The SAAB is a refreshing example of including youth voices in school decision-making in ways that trust youth to make informed decisions. At Monument, youth are seen as self-actualized and as intrinsically wise individuals, and each person is given space to express who they are within their community—a common aspect of Indigenous kinship worldview. (See Restoring the Kinship Worldview for more.) It is the kind of space that we can only hope exists in every school in every district, the type of space that nurtures imagination while helping a community become a more actualized version that more closely resembles the needs of this time.
Meet the MMRHS Student Adult Advisory Board
Youth Bios
Jordan (She/Her) is entering her sophomore year as a student athlete at Monument Mountain High school. She is involved in multiple equity based groups in the school such as SAAB (student adult advisory board), Diversity Equity and Inclusion committee, Restorative Justice, as well as an Inclusion Task Force Leader. Jordan has a passion for social activism and hopes to continue her work in the future through advocacy in the career of law.
Jackson (He/Him) is a sophomore at Monument Mountain Regional High School (MMRHS). He is a member of the Student and Adult Advisory Board (SAAB) sub-group focused on academic program advancement, with most of his focus on the proficiency-based grading system. Jackson is looking to further increase his involvement within student government going into his junior year.
Tessa (She/Her) is entering her junior year at Monument Mountain Regional High School. She plays soccer and lacrosse and she participates in student government. Since freshman year, she has been working with teachers and administrators to create a voice for the student body and to make positive changes to her school experience. She has been a part of MMRHS's Student Adult and Advisory Board since freshman year. She hopes to continue working with NGLC to improve her community for the rest of her high school career.
Hannah (She/Her) is entering her junior year at Monument Mountain Regional High School. She is a tri-sport athlete and participates in numerous student/teacher advocacy groups such as Student and Adult Advisory Board (SAAB). She is a lead facilitator in her subcommittee, Academic Program Advancement, which focuses on her school's shift toward competency-based grading. She hopes to continue her work and advance the school's progress towards teacher student partnership as well as its mission to grade for equity.
Mirabelle (She/Her) is a freshman at Monument Mountain Regional High School. Mirabelle is a member of Monument's Student and Adult Advisory Board (SAAB) and serves on the Academic Program Advancement sub-committee. Mirabelle runs Cross Country in the fall, and Track in the spring. She also enjoys participating in after school theater programs.
Lukas (He/Him) is a sophomore at Monument Mountain Regional High School. He is currently a varsity wrestler, as well as a member of the Charley's fund fundraising group. He is also a member of the Student Adult Advisory Board, which facilitates the partnership of members of school administration, faculty, and students in order to improve school policy and culture. Lukas is also a part of the school's concert, marching, and jazz bands where he plays the drums. He hopes to attend MIT after he graduates in 2025.
Adult Bios
Keith (He/Him) - Before becoming a science teacher Keith Wright was a military intelligence analyst and Czech linguist, a paralegal for the U.S. Department of Justice, a freelance writer, and a wetland scientist. He taught science in middle and high school as a founding faculty member of the Springfield Renaissance School, part of the Expeditionary Learning School network. In 2015 he was awarded the Presidential Award for Excellence in Mathematics and Science Teaching by President Barack Obama. He is currently the assistant principal for career, vocational, and technical education at Monument Mountain Regional High School in Great Barrington, Massachusetts.
Sean (He/Him) - Sean Flynn has served as a guidance counselor for 23 years at Monument. He was the recipient of the Massachusetts School Counselor of the Year in 2008. He serves as a coordinator of Monument Mountain's internship program which has been recognized as an exemplar by the local Berkshire Workforce Board and Masshire in 2015. Sean is a strong advocate for youth adult partnership and student voice and student-led initiatives, and currently serves as a faculty advisor and member of SAAB.
---
Note: A previous version of this article omitted the attribution of the liberatory mindsets to the National Equity Project. NGLC regrets the error, particularly as our organization deeply believes in the value and power of these mindsets and has integrated their use across all of our programming, both external and internal. The mindsets are part of NEP's larger body of work on liberatory design, the result of a collaboration between Tania Anaissie, David Clifford, Susie Wise, and the National Equity Project [Victor Cary and Tom Malarkey]. We encourage interested readers to consider downloading the liberatory design card-deck and incorporating them into their own work.

Photo at top courtesy of Monument Mountain Regional High School.