New Designs for School
Ingenuity Prep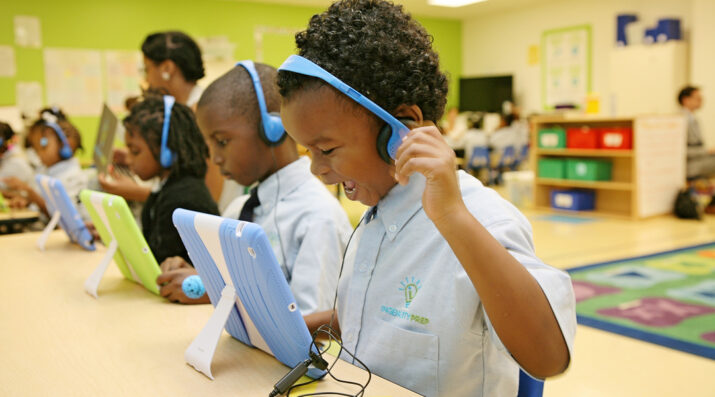 New Designs for School
New Designs for School
We've all had the experience of truly purposeful, authentic learning and know how valuable it is. Educators are taking the best of what we know about learning, student support, effective instruction, and interpersonal skill-building to completely reimagine schools so that students experience that kind of purposeful learning all day, every day.
Learn More
School: Ingenuity Prep       
Grades Served: PS-HS
Location: Washington, DC  
Operator: Ingenuity Prep
Operator Type: Charter
Setting: Urban
Students at Opening: 108
Students at Capacity: 1,000
Blended Model Type: Station Rotation and Flex
Key Features: Next generation staffing model, Community partnerships, Civic orientation
The Operator
Located in Washington, D.C., Ingenuity Prep prepares students to succeed in college and beyond as impactful civic leaders.  Growing a grade-level each year, the organization aspires to expand – in the coming years – across multiple campuses that will eventually feed an Ingenuity Prep high school.
The Academic Model
Ingenuity Prep's teacher career pipeline features resident, associate, lead, and master teacher positions – each with varying degrees of instructional responsibility and release time.  Master teachers – those with the deepest content knowledge – carry the heaviest burden of planning for and executing the highest-leverage instruction and, correspondingly, receive one full day of release time per week.  
Ingenuity Prep grade-level teams loop with cohorts of students across grade-level bands (PS-PK, K-2, 3-5, 6-8).  In serving as content-specialists, teachers cultivate deep content-knowledge across a range of developmental levels, leaving them well-suited for the looping process.  Through grade-level band looping, Ingenuity Prep provides for sustained relationships with students and families and minimizes the inefficiencies that occur at the beginning of each new school year when teachers must learn anew the academic, social, and emotional needs of their students.
Through utilizing digital content and multiple teachers in each classroom, approximately 6% of literacy/math learning time will occur in groups of more than 15 students – with approximately 70% of literacy/math learning time personalized through digital content and teacher-supported, discourse-rich, small-group instruction with 3-8 students. 
The Organizational Model
Ingenuity Prep is guided by a simple theory of action: With more learning time and more efficiency and effectiveness in its model, the school can do more: rigorous core content and 21st century civic leadership development.  With this in mind, Ingenuity Prep's model rests on four pillars:
Extended day, extended year
A teacher career pipeline and looping teams of content-specialized teachers
A personalized, discourse-rich, blended model
A 21st century civic leadership program
People Working On This Challenge
See More