New Designs for School
Utica Community Schools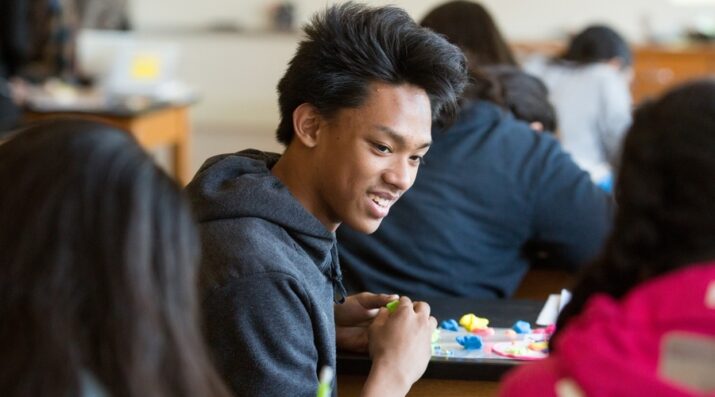 New Designs for School
New Designs for School
We've all had the experience of truly purposeful, authentic learning and know how valuable it is. Educators are taking the best of what we know about learning, student support, effective instruction, and interpersonal skill-building to completely reimagine schools so that students experience that kind of purposeful learning all day, every day.
Learn More

www.uticak12.org
Grant Type:
National Planning
Planned Start Date:
Fall 2014
Startup Type:
Complete Redesign
Student agency of voice, choice, and opportunity to learn
School: The Campus for Connected Learning
Grades Served: 7-12
Location: Sterling Heights, MI
Operator: Utica Community School District
Operator Type: District
Setting: Suburban 
Students at Opening: 200
Students at Capacity: 600
HALLMARK FEATURE: Personalization, Anytime/anywhere learning, Higher education partnership
Utica Community Schools, Michigan's second largest public school district, is an active member of Digital Promise's League of Innovative Schools and a recognized leader on the effective use of technology to drive student achievement. The 28,000-student district has developed a model to better serve its students, especially those in need of additional support. The academic model will prepare and support students to achieve readiness to succeed in college and in the careers of their choice. In the personalized learning culture, students, teachers, and administrators will collaboratively work within a flexible, open-agency model that has clear expectations for performance. A variety of instructional approaches will be supported by anytime, anywhere access to high-quality digital content. Student mastery of competencies will be measured using a system of adaptive assessments, project-based assessments, and measures that reflect college readiness benchmarks.
The school day for middle school aged students will be more structured with equal time for individualized online learning, direct instruction and small-group work, and project-based learning. High school age students will transition to a flexible, non-age-based schedule. They will be expected to be on the school campus during the "core" hours of instruction on each of the scheduled school days. Within the "core" instructional hours, the students will be engaged in personalized, self-paced learning through a variety of methods, including project-based learning. "Non-core" options, available across an extended day, include internships, workshops and classes offered through community partnerships, college courses, small group and one-on-one instruction/support, and success coaching.
The district has partnered with The University of Michigan-Flint to offer UCS students courses for college credit. These courses will be offered in the same facility to allow students to move seamlessly between college-credit and high school courses.
People Working On This Challenge
See More