New Designs for School
Putting the "Breakthrough" in Breakthrough Model Schools
July 15, 2013
Topics
Competency-based Education
Project-based Learning
Social-Emotional Learning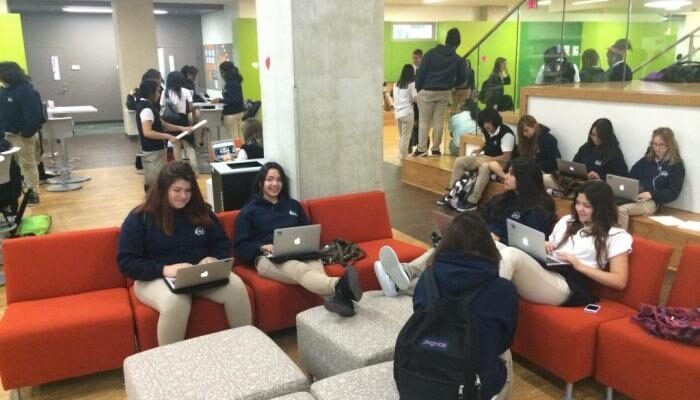 New Designs for School
New Designs for School
We've all had the experience of truly purposeful, authentic learning and know how valuable it is. Educators are taking the best of what we know about learning, student support, effective instruction, and interpersonal skill-building to completely reimagine schools so that students experience that kind of purposeful learning all day, every day.
Learn More
There's a lot to observe about 38 enormously promising school designs awarded grants by NGLC today, but this is most important: Each makes you think, "I want my kid to go to THAT school!"
Today, NGLC announces eight new recipients of $450,000 breakthrough school model launch grants and 30 recipients of $100,000 planning grants. See the press release. There's a lot to observe about these varied and enormously promising school designs, but at some level, this is the most important: Each of the 38 applications makes you think, "Ooh! I want my kid to go to THAT school!" Each proposal articulates a vision for how the design dimensions for breakthrough schools—personalized, competency-based, blended learning—work together to create exciting and engaging learning environments that prepare students for college-level work.
We're finding over time that each group of NGLC grantees expresses a kind of collective personality based on some unifying themes—and, perhaps, collective advances in the field as well. Here are some observations specifically about the eight new launch grant recipients, all of which will open their doors to students this fall. NGLC will follow up with more on this emerging cohort of new models and on the 30 planning grant recipients (see our press release for more information).
Compelling partnerships are entering the personalized/blended learning space.
Great Oaks Charter School of New York City is partnering with Swedish-based Kunskapsskolan Education to access their online learning platform and resources. The platform, which houses competency-based learning and tracking mechanisms, will help Great Oaks bolster a strong tutoring strategy drawing on the MATCH school model, which is designed to meet students' individual needs.
Launching in San Diego as a new early college high school, e3 Civic High will build in early access to college coursework and college tutors through a partnership with City College. A prepaid leasing agreement with the city's brand-new downtown public library secures state-of-the-art space for the new school and features a media studio, a Starbucks-like café, and access to research librarians.
Breakthrough school leaders are deeply focused on the HR components of their models.
Washington, D.C.-based Ingenuity Prep offers a teacher career pipeline featuring resident, associate, lead, and master teacher positions, each with varying degrees of instructional responsibility and release time. Master teachers—those with the deepest content knowledge—carry the heaviest burden of planning for and executing the highest-leverage instruction and, correspondingly, receive one full day of release time per week. The system is based on demonstrated skill (not simply years of service), and each level serves as a gateway to the next. Ingenuity views this approach as a central (and required) design element in pursuing a blended, personalized learning model.
KIPP San Francisco College Prep made a strategic decision to implement higher student-teacher ratios in the short term in order to dedicate more time for professional development. This site will serve as KIPP's first blended learning high school. The network seeks to learn how to develop digital skills for daily blended instruction alongside its existing "no excuses" college-going culture. Teachers will have one intensive week before the start of school and regular PD sessions each month thereafter.
Some smaller districts are leveraging their strengths and embracing new models of learning at the school and systems levels.
Using flexibilities granted by the state of Kentucky, Danville Independent Schools has been planning to comprehensively redesign its middle and high schools for several years. All students will meet state-set ACT benchmark scores by the end of 10th grade through a competency-based learning approach, while 11th and 12th grade students focus on project-based learning and community-based internships to develop research skills and interests. With one of the best-rated financial models in our applicant pool, Danville should help illuminate how this kind of district redesign is supported and sustained.
To show that blended learning can improve the extent to which traditional schools and districts effectively personalize learning, the Lebanon (Pa.) School District plans to engage all students in a station-rotation model of blended learning at its high school. This effort is intended to change the instructional practice and culture of the school and reflects several years of planning and piloting. Lebanon is a founding member of the Pennsylvania Hybrid Learning Initiative, a consortium of 50 blended learning pilot schools across the state.
Personalized, blended, competency-based schools are prioritizing real-world knowledge and skills, gained through authentic modes of learning.
The nonprofit group Project Based Learning and the School District of Philadelphia are launching the Workshop School. The school is fully organized by projects related to real-world problems rather than by subjects. The school's model integrates blended learning and mastery-based progress with problem-based learning in grades 9 to 12. Projects are managed using an online system, Project Foundry, which allows students and teachers to align project work with state standards and track accrual of high school credits by subject area.
Virtual Learning Academy Charter School (VLACS), New Hampshire's statewide online public school, is redefining "school" to mean wherever learning occurs, whether in a classroom, online, or in the community. VLACS offers a 100% self-paced, competency-based approach (rather than a course-based curriculum) that harnesses the face-to-face learning potential of internships, service learning, and distributed learning team-based projects.
Reviewing scores of applications from incredibly inventive school designers exposes you to great ideas. The applicants' sense of possibility is infectious. At some magical point of saturation, you develop a whole new awareness—an appreciation for where these thinkers and doers are going and thus where we collectively in education may be headed. Once this appreciation seeps into your awareness, it's as if it was there all along. You start believing that all of these possibilities can be realized, and that we can all learn from their successes—as well as their failures—to bring about truly effective, 21st-century learning for all students. The strong showing in this grantee cohort by school districts, along with charters, gives us great hope.