Building Community
The Inside Story: NGLC Regional Funds for Breakthrough Schools
July 17, 2015
Topics
Competency-based Education
Personalized Learning
Project-based Learning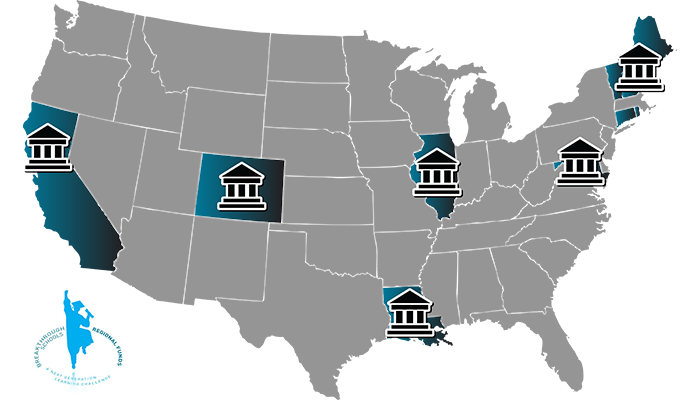 Building Community
Building Community
When educators design and create new schools, and live next gen learning themselves, they take the lead in growing next gen learning across the nation. Other educators don't simply follow and adopt; next gen learning depends on personal and community agency—the will to own the change, fueled by the desire to learn from and with others. Networks and policy play important roles in enabling grassroots approaches to change.
Learn More
The inside scoop about the 49 next gen schools that have been selected by the six NGLC Regional Fund partners to join the current national cohort of NGLC schools.
Today, roughly one year after launching the Regional Funds for Breakthrough Schools, NGLC announced that 49 next gen schools selected by the six regional partners will join the existing national cohort of 41+ schools to create a portfolio total of 90.
This press release tells the story of today's announcement. Tom Vander Ark goes further in his blog, appearing today on the EdWeek website. EdWeek also featured the story on its Digital Education blog. And EdSurge covers the announcement. Below, we unpack the story further, explaining the larger context and the pivotal role that the NGLC regional partners play in incubating the expansion of next gen learning.
What's exciting about today's announcement?
It's exciting that right now 29 more schools are actively engaged in becoming next gen models where personalized strategies will be implemented—and that another 20 schools are soon to follow. By fall 2016, 25,000 students will have the opportunity to learn in ways designed specifically around their individual needs and interests and as a result, be better prepared for the changing demands of college, career and community life.
Why does that matter?
The strategies that defined excellence yesterday will likely not generate excellence tomorrow. Our schools have to be more fluid and proactive in meeting the changing needs of society and of the students the serve.
Every parent wants his or her child to benefit from an excellent education. But the strategies that defined excellence yesterday will likely not generate excellence tomorrow. Our schools have to be more fluid and proactive in meeting the changing needs of society and of the students they serve. That's a new notion and a different expectation for most schools. Next gen strategies embrace those notions of change; so, these schools are helping to define the ever-rising bar of excellence and preparing students to meet it.
Prior to launching the regional funds, NGLC funded 41+ models nationally. These schools re-imagined learning environments, used time differently, differentiated teaching roles, and designed more applied and personalized learning experiences. Their charge was to rethink school as we know it and provide proof points from which others could learn. The cohort of 41+ schools is very diverse, yet collectively they act like a north star to help inform and guide interested educators and others committed to the future of learning (video).
NGLC models are not alone in embracing new forms of teaching and learning, yet the total number of "breakthrough" schools in the U.S. is relatively small, so ensuring access to next gen learning for every student (part of our vision) is an obvious equity issue. It begs the question, "how do we accelerate next gen adoption (broadly defined)?" This is where the regional partners are playing an instrumental role.
How are the Regional Partners helping to scale next gen learning?
The most direct way is in the number of school teams they help surface and support through implementation (and by pairing local and national expertise and funding). Prior to CityBridge Foundation becoming a partner, for example, we received only three applications from D.C. across five different national RFP cycles and funded just one school, Ingenuity Prep. Due to the foundation's efforts as a partner, that same D.C. ecosystem generated 42 applications (23 in the pilot round and 19 in the first cycle) of which 13 are now being directly funded. The same trend has emerged across all six sites. Combining local networks and intensive support for applicants with national expertise and selection processes has stimulated strong interest in next gen learning.
Another way partners are helping to scale next gen learning is by nurturing a culture of innovation and developing a next gen mindset among early adopters. Proposal workshops began to take the shape of modified communities of practice, and partners worked hard to attract early adopters—educators in both charter and district settings who are motivated to learn and do more. Engagement in these learning communities provides an important sense of shared identity (as change agents) and agency (permission and choice to take action). The learning agenda often includes design thinking, in-person and/or virtual exploration of NGLC's national models, and core elements of personalized learning such as competency-based progressions, blended learning, or project-based approaches driven in part by the learner's interests. Ed-tech meet-ups, integrated learning platforms, and other digital tools also are showcased. As a result, early adopters ignite or re-activate their passion for learning and with their teams, generate promising visions for locally designed breakthrough schools.
What other insights can you share?
A subtle but potentially powerful scaling effect appears to be hidden in the development of the next gen mindset. In the course of discovering next gen learning, participating educators develop this new way of thinking, which like a lens enables them to see a different set of possibilities for students and schools; so, even when their school proposal is not directly funded by the regional partner, they remain committed to new ways of teaching and learning and stay connected to the sources of inspiration and community that refresh and challenge them. In that regard, regional partners have influenced many more schools and educators than is reflected by the number of their grant awards.
The notion of developing new mindsets speaks to the important role of adult learning in facilitating classroom and school-based transformation. Adopting the technical aspects and procedures of a new school model or technology alone won't generate different conditions or results. Effective teams understand the motivations behind the changes they initiate: What problem is being solved and why. They themselves live up to the tenets of the personalized learning model they seek to bring to their students. They adopt entrepreneurial approaches to the work, using rapid prototyping, and solicit direct student and community involvement in reworking their designs.
These practices introduce a different cultural norm to traditionally prepared educators. Partner-designed workshops and learning communities reflect carefully curated resources from the provider marketplace—strategy and design support centered on next gen learning models, led by organizations such as 2Revolutions, Mastery School Design, 4.0 Schools, Alvo Institute, Education Elements, Blueprint Educational Consulting, and the Great Schools Partnership (an expert on competency and itself, one of the regional partners). Partners are facilitating a learning experience not readily available elsewhere—so they're addressing a niche need among early adopters.
Finally, regional partner school selections produced a large number of proposals for redesigning existing schools in traditional district settings—work that is notoriously complex and challenging. That's important, considering that the majority of our existing national models are charter school new-starts (with significant operating autonomy); and, the majority of U.S. students are enrolled in traditional district schools where learning has yet to be reimagined. In this regard, you could say regional partners are pioneers, helping all of us understand the strategies and types of support best suited to in-district school redesign. That's a development we're excited about and will continue to watch. By developing the capacity and untapped potential of educators in traditional district schools, and engaging schools in networks rather than one at a time, many more students and communities can benefit from next gen learning, and that could have huge implications for scale.
What's next for NGLC and the Regional Funds?
We're busy with resource- and tool-creation, and community building supports to this new cohort of schools that is implementing over the next two years. We hope to support more Regional Fund-style efforts in more cities and regions across the country and continue to field inquiries from inspired, local educators, foundations and coalition groups. We'll also be sharing more lessons learned from the partners themselves on our blog and through related outlets.