The 70 participating schools and districts relied on three key factors in their response to the pandemic:
1. Symmetric, forward-leaning orientation
2. Healthy culture
3. Strong yet flexible systems
The Challenges We Know Too Well
93 percent of U.S. families reported some form of distance learning—a new experience for most.
Staffing assignments, pedagogy, grading policies, and food services—everything was radically changed.
News and changes upended ed leaders' decisions every day.
Inequitable access to tech devices and reliable internet could no longer be ignored; the impact was devastating.
Student engagement fell, across the board, and public school enrollment dropped nearly 3 percent, the most in over 100 years.
Organizations like Center for Reinventing Public Education, American Institutes for Research, Economic Policy Institute, and the RAND Corporation explored these pain points and found that millions of stakeholders—parents, educators, and learners—were frustrated with responses. Overall, the predominant narrative about learning, teaching, and parenting during this time is negative at best and rage-inducing at worst.
A Different Narrative
Fortunately, the crisis-and-awfulness narrative is not the only one out there. Some schools, districts, and communities, while facing extreme challenges from COVID, found that their organizational cultures, systems, and learning models served them well, or at least aided in their response.
These schools and districts addressed COVID by leaning into their own organizational 21st-century skills—resilience, collaborative problem-solving, flexibility, innovation. They modeled the competencies they (and communities everywhere) want most to help their students develop.
The Prepared project looked at what the field might learn from these places. Not only to better prepare for the next crisis, but as a signal for how public schools and districts should operate in this 21st century. Our findings are organized around three factors:
1. Symmetric, forward-leaning orientation
2. Healthy culture
3. Strong yet flexible systems
Scroll down for a summary of the three key factors as well as stories from participating schools and districts or read the full report.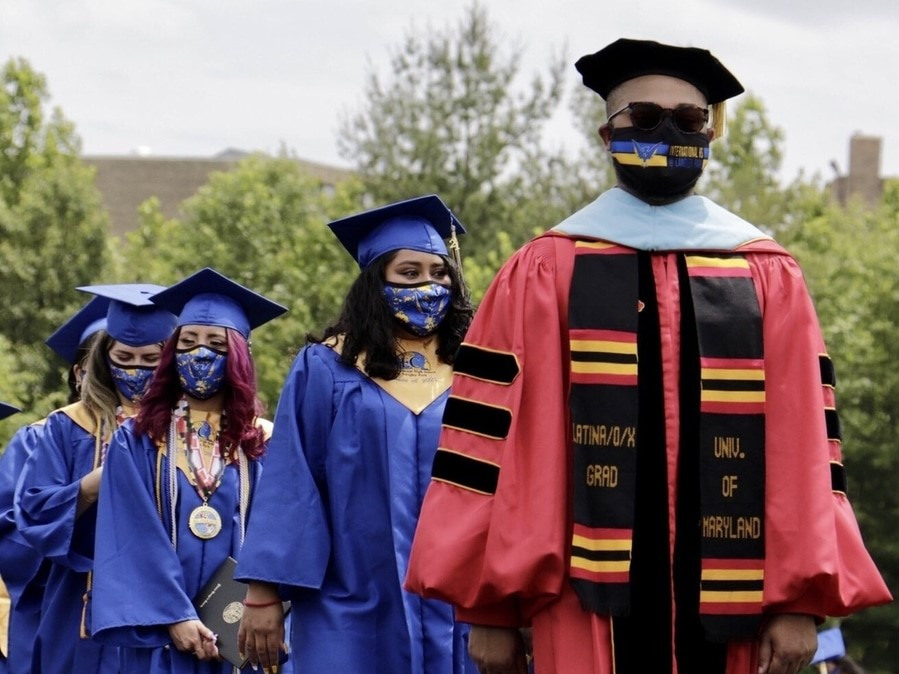 Courtesy of Prince George's County Public Schools
1. Symmetric, Forward-Leaning Orientation
Participating schools have worked hard, some for more than a decade, to develop adult working cultures and systems that align with their aspirations for kids. The operating norms in many participating schools and districts can be described as adaptive agility, at all levels—and that includes students. This forward-leaning orientation has two key dimensions: 1.) Organizing school/district life around a 21st-century vision of student success: resilient, innovative, collaborative, self-initiating, problem-solving lifelong learners; 2.) Tuning both the learning model and the adult/professional environment to that vision of success by enabling and distributing agency. LEARN MORE IN THE REPORT
The Stairway of Enabling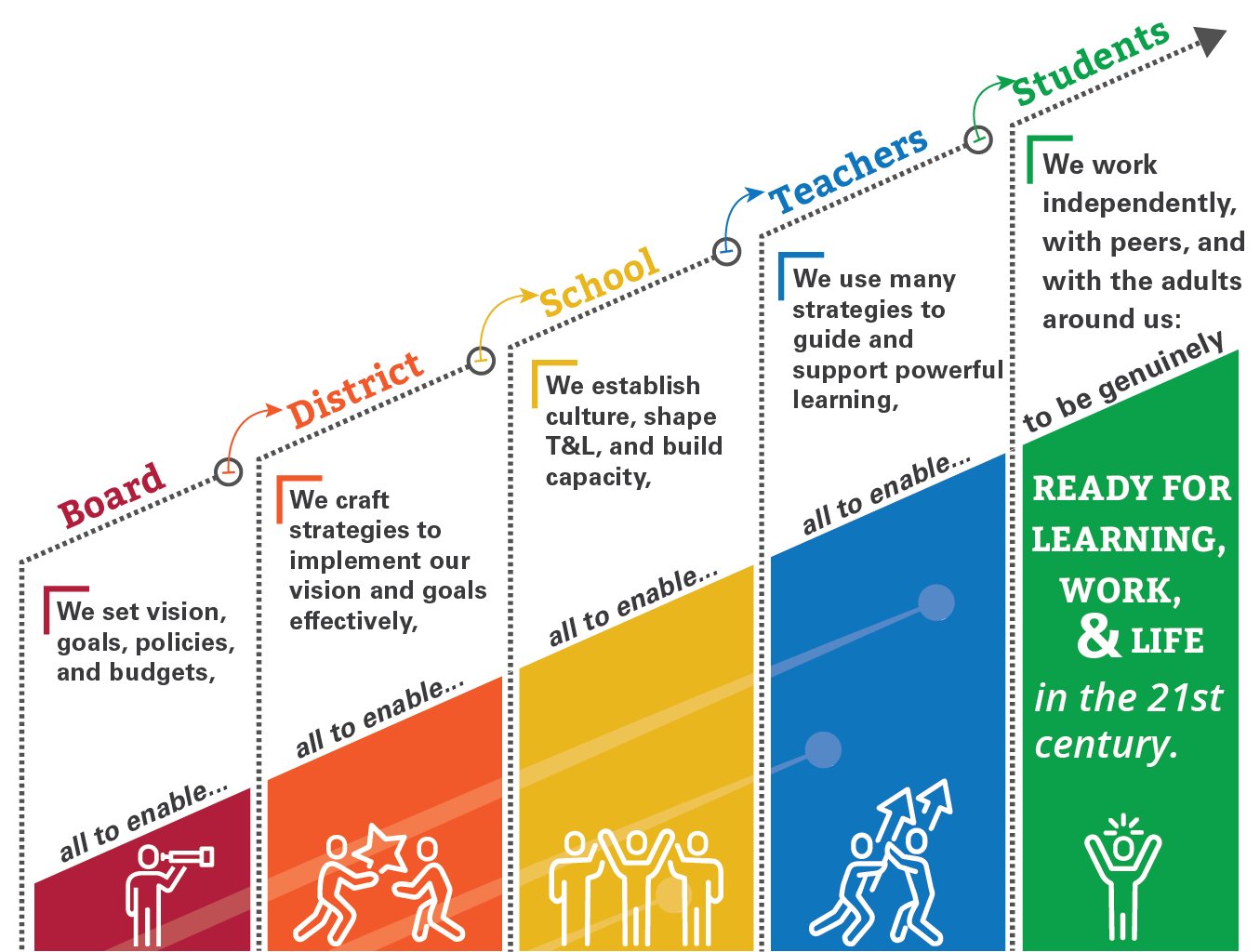 Each level in a school or district's organization defines its job as empowering and enabling those at the next level to do the best work they can possibly do. Credit: NGLC
2. Healthy Culture
A healthy working culture, shaped by the strength of shared values and beliefs and how school and district personnel show up and interact among the learning community, helped many navigate the challenges, large and small, that they faced when the crisis hit. At many of these schools and districts, the culture extends beyond the school personnel and students. Culture is about everyone in their community and their communities are their culture.
Prepared project participants pointed to two dimensions of culture in particular: 1.) Priority on strong relationships; and 2.) Mission-driven spirit and habit of agility and adaptation. LEARN MORE IN THE REPORT
"Ed Leaders: Your Path Out of COVID to a Radically Better Future Is Hiding in Plain Sight"
3. Strong yet Flexible Systems
The healthiest culture in the land, declared one district leader, won't get you very far without strong, resilient, and flexible systems. Participants pointed to strong, flexible financial, human-resource, and curricular/instructional systems—always backed by an equally strong reservoir of trust between governance and administration. Constant, clear communication and deep, broad, embedded use of technology were essential. LEARN MORE IN THE REPORT
How Strong, Flexible Systems Prepared a District: Three Examples
Careful budgeting and entrepreneurial revenue-seeking gave the reserves needed to hire staff and buy technology quickly.
Multiple layers of community involvement embedded throughout the district helped make for effective COVID communications and feedback.
Sensible technology adoption over 14 years provided the base for building the district's remote learning model.
Prepared Project Stories
We invite you to read these stories from project partners to take a closer look at the key factors that participating schools and districts relied on in their COVID response.
This Epiphany Changed These Schools and Districts and the Lives of the Families They Serve. It Could Do the Same for You. by Emily Liebtag, Education Reimagined, and Andy Calkins, NGLC. Is your school or district truly living your graduate profile? Among students and adults? If not: shouldn't it? The stories of these schools' response to COVID vividly demonstrate why.
Prepare for What Comes Next: 3 Essential Factors of a School's Successful COVID Response by Elina Alayeva, Springpoint. Distributive leadership, a collaborative culture, and student voice can keep students engaged and learning, even in the most challenging of times.

Clear Values, Compassionate Leadership, and a Can-Do Attitude by John Watkins and Kim Frumin, Deeper Learning Dozen. These districts faced the complex challenges of the pandemic with a human-centered approach that allowed their response to be nimble and agile.

Adult Learning Culture: An Underrated Ingredient for Success in Uncertain Times by Chelsea Waite, Christensen Institute, and Beth Rabbitt, The Learning Accelerator. Three next gen schools demonstrate why it's so important to invest in adults to build a learning culture that's strong enough to weather any storm.
Three Schools that Found the COVID-19 Pandemic to Be "Business as Usual" by Alin Bennett, Lindsy Ogawa, and Paul Haluszczak, Education Reimagined. During the pandemic, three learner-centered environments doubled down on what they were already up to: providing learner-centered experiences focused on relationships and the conditions for each child to thrive.
How Two Schools Went Remote but Stayed Connected by Elina Alayeva, Springpoint. Systems and practices that prioritized relationship-building with students and staff helped these schools stay on-mission and keep students healthy, engaged, and learning during the pandemic.
Take the Next Step: Use This NOW!
Choose one of the activities we provide to catalyze your own learning transformation!
Learn More
---
Photo at top by Allison Shelley for EDUimages, CC BY-NC-4.0