Enabling Change
How Districts and Charters Shape Local Strategies for Next Gen Learning
August 10, 2015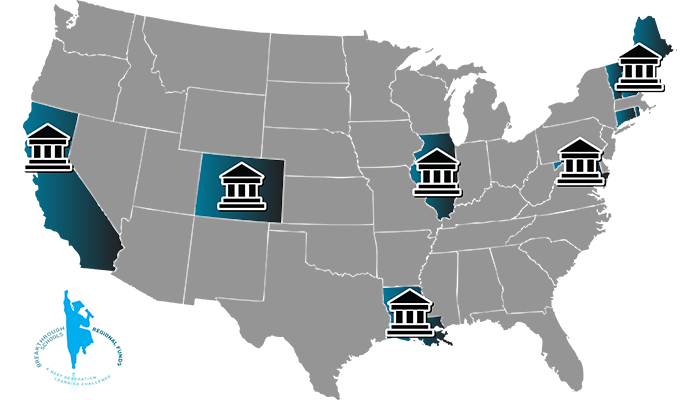 Enabling Change
Enabling Change
Next generation learning is all about everyone in the system—from students through teachers to policymakers—taking charge of their own learning, development, and work. That doesn't happen by forcing change through mandates and compliance. It happens by creating the environment and the equity of opportunity for everyone in the system to do their best possible work.
Learn More
The local context of a region influences the strategies used to build an ecosystem where next gen learning can thrive.
Looking across the six sites participating in the NGLC Regional Funds for Breakthrough Schools, we see that their local context—the assets, partners, and challenges in their region—influences the strategies used to build an ecosystem where next gen learning can thrive. Given all the possible influencing factors, the NGLC cohort is intentionally diverse. We believe it points to a notion that there's no one best way to incubate next-gen learning. A key to unlocking the way it may work best in your locale is an issue of fit.
Collectively, the NGLC regional sites are providing support for many more plans to redesign schools (district and charter) than new school designs (only charter examples in this cohort). The mix of districts and charters varies by site, as shown in the chart below of schools that have received at least a planning grant.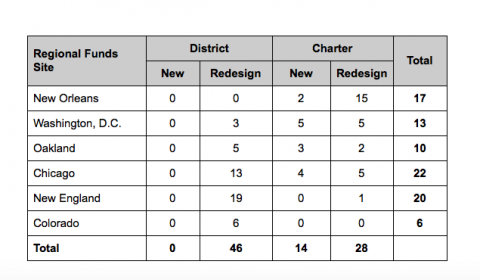 From a strategy perspective, the regional approach may be determined more by the balance of new school start-ups and redesign of existing schools regardless of their district or charter affiliation. One useful way to think about it may be by looking at their orientation to change in the region along a continuum from systems to school-by-school. A systems orientation concentrates on the connections between policy and practice and attends to the full K-12 education system, from state to school-level. A school-by-school orientation reflects grassroots change one school at a time, inviting a variety of solutions and entrepreneurial educators to create the ecosystem. All the sites work with, support, and invest in school teams, and they each embrace both systems and school-by-school change, but they use them to different extents in their strategies.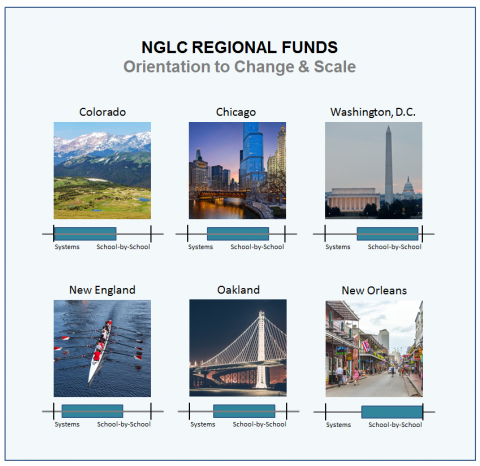 A Systems Approach to School Redesign
Driver for Change: A call to action in state-level policy
Values: Alignment, Buy-in at multiple levels, On-going supports for educators
Schools: Representative schools marry together strategies such as project-based learning, individual student data portfolios, and competency progressions. Examples are Deer Isle Stonington, Great Bay Charter, and Holmes MS.
State and local education agencies are built for stability more than innovation. As a result, regional partners in Colorado and New England, both intermediaries, play a facilitating and coordinating role in support of district and state next gen learning objectives. Both school practice and district and state policy are viewed as essential ingredients in a strategy that seeks a systems approach to school-based transformation. In Colorado, the regional partners attend to district policy revisions as part of the strategy, working to create the enabling conditions for school redesigns to flourish, and learning how the system can create new incentive structures. New England employs a principled strategy of Global Best Practices combined with proficiency-based learning and graduation.
Every participating school is an existing school redesigning the learning experience. With one exception, they are all in traditional districts. Representing a coalition of the willing, each school team and its leaders competed for this opportunity. With this approach, we observe greater consistency in both the next gen model types adopted in these regions and in the types of supports provided.
Benefits:
School leaders are supported in the redesign process by their supervisors, evaluators and budget authorizers.
Opportunity to scale next gen learning practices from an individual school to all schools in a district and across a state.
Challenges:
It is difficult to overcome entrenched practices when "changing from within." Pressure exists to implement only proven practices.
School-based transformation that is district-supported or policy-driven blurs the lines of ownership between school educators and district or coordinating leaders.
Redesigns are iterative in their evolution, making it challenging to see the transformation and its effects.
School-Driven Innovation and Bold New Designs for Learning
Driver of Innovation: Individual edupreneurs, Underserved students/communities, City-based branding
Values: Educational equity, Calculated risk-taking, Improving achievement through innovation and diversified talent pipelines
Schools: A mix of iterative redesigns and a handful of new niche learning designs resulting from flexible chartering environments. See Rooted School, Monument Academy, New Orleans Charter Science and Math High School, and Cleveland ES
The regional next gen school design effort in New Orleans and Washington, D.C. is predominantly charter-focused. These regional sites support models for new schools and existing school redesigns. Part of their market-based strategy involves recruiting new innovators inside and outside the region and supporting them to create break-the-mold school designs. Another part of the strategy is to work with the leaders of established charter management organizations to pave the way for innovation within their highly codified school models and strongly branded networks. Similar to the district redesigns in Colorado and New England, charter school redesigns take a more iterative approach to innovation, building on current practices and resources rather than inventing something entirely new. In Washington, D.C., district redesigns are also part of the mix. These are driven by self-directed teachers and school leaders more than by district-organized teams. Innovative whole-school models are emerging in these district schools, a result of the trusting relationships between the lead partner and the district. Both sites have a multi-faceted strategy for incubating personalized, next gen schools, but the element that most distinguishes them is their recruitment of entrepreneurial leaders for new schools.
Benefits:
In general, charters environments enjoy more flexibility and fewer barriers to innovation than do districts.
Plans for new schools are not limited by existing structures or school culture.
Challenges:
Multiple operators and a less-centralized innovation strategy make it more challenging to ensure that next gen learning reaches the region's students equitably.
For existing CMOs, it's hard to change when their model has proven successful.
Recruiting school operators that are new to the region demands attention to communicating with local communities, and addressing the local needs.
A Balanced Portfolio of Schools
The Regional Funds in Chicago and Oakland involve districts and charters and employ multiple tactics to support new schools and redesigns. Although the strategy is focused on school-level transformation, the lead partners recognize the need to draw in both district leaders and leaders of established CMOs, and are deliberate about communicating and engaging with them. Building on trust, lead partners serve the district by providing support for research and development around next gen learning, support for innovative teachers in their schools, and funding and professional development for whole-school redesigns. Partners are transparent in their communications and at key moments in the selection process, district staff participate in the review of school proposals. These partners are committed to building a community that learns with and benefits from diverse models, conditions and strategies.
Benefits:
Partners provide a layer of professional learning to both districts and charters that would otherwise be unavailable. They also create unique cross-pollinating effects.
Partnerships ensure a truly regional perspective that any one organization in an educational ecosystem cannot achieve.
Challenges:
Multiple strategies divide the attention of regional partners and challenges their capacity to effectively coordinate across multiple partners and strategies.
When many stakeholders are involved, trust, partnership-building, and developing a shared vision are vital but take more time to achieve.
Lessons for Regional Next Gen School Design
Although the NGLC Regional Funds are new, what we are learning suggests that regional innovation may be most successful when it works within the strengths of the local ecosystem, harnessing the flexibility of charters and the stability and endurance of districts.
In general, it may be easier for new school concepts and designs that look and feel really different to emerge from charter environments where flexibility is welcomed and few existing structures and traditions compete with creative notions. However, large districts with innovation-focused leadership can offer room and support for innovative designs. And it is in general easier to scale and sustain redesigns within a district. It may take longer but district redesigns have potential for making long-term impacts.
As Robin Lake, director of Center for Reinventing Public Education, recently wrote,
"delivering twenty-first century learning experiences at scale will take much more than just inventing interesting new school designs. If we're serious about innovation, states and districts will need to tackle politically difficult subjects like union contracts, accountability policies, and school-level autonomies. We'll also need to tackle some pretty boring—but essential—implementation work to replace antiquated and risk-averse central office systems and habits with nimble and updated ones...We know the values and practices necessary for school systems to achieve much greater levels of dynamism in their problem solving. It is in our power to make these changes."
Lake's commentary applies to charter organizations as well. The regional strategies face similar challenges and use similar messages and tactics for charters that are part of established CMOs as they do for district schools. There is a similar dynamic between a school and its CMO as there is between a school and its district. Partners may use different language to communicate, but the fundamentals of the strategy are the same.
Whether district or charter, or a combination of both, at NGLC we believe these regional sites are constructing portfolios of "high quality schools that match the needs and interests of students, families, educators and the broader community."
For more information on the schools in the six regional hubs, see:
---
This blog first appeared on Getting Smart on August 5, 2015 and is part of a series on the Regional Funds for Breakthrough Schools. For more, stay tuned in September for the final published project, Getting Smart on Regional Next-Gen School Design.

Related Posts