Technology Tools
A Shout Out for Learning Technology's Role in Middle School Student Achievement
February 19, 2015
Topics
Tools for Next Gen Learning
Curriculum & Instruction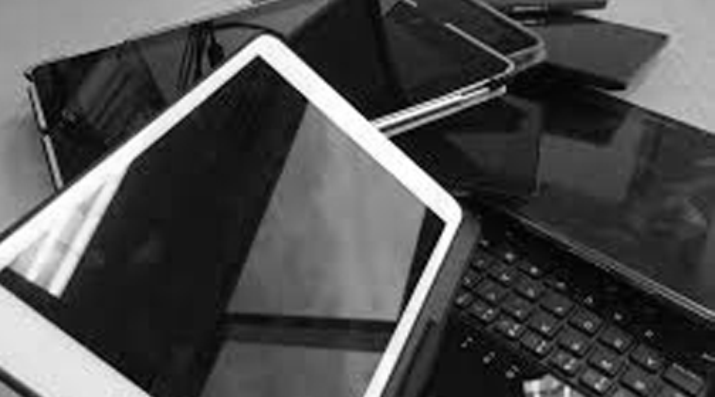 Technology Tools
Technology Tools
Educators often take advantage of educational technologies as they make the shifts in instruction, teacher roles, and learning experiences that next gen learning requires. Technology should not lead the design of learning, but when educators use it to personalize and enrich learning, it has the potential to accelerate mastery of critical content and skills by all students.
Learn More
Three practices to use Common Core-aligned learning technologies successfully.
This marks the final post in my blog series about NGLC's Building Blocks for College Readiness program, with takeaways to advance 7-9th graders' math and literacy skills. NGLC recognized that middle school students' proficiency in these areas has far-reaching impacts on students' high school, college, and career success, and grantees used their NGLC funding to develop 19 Common Core State Standards (CCSS)-aligned learning technology tools to advance student achievement.
You may ask: do learning technologies really help build student skills? If you circle back to my first blog post—Can Technology Boost Middle School Math & Literacy Standards?—I posed the question, too.
If you review the web pages that NGLC created for each grant recipient, your answer would be "yes!" On these pages, you'll find results showing positive outcomes in terms of student achievement and/or engagement (interest in math or science, increased motivation, etc.). You'll also find supplemental presentations and research publications.
Here are a few examples of results you will find on the grantee pages:
Three Practices to Use CCSS-Aligned Learning Technologies Successfully
1. Integrate Learning Technologies Directly into Curriculum
My last post discussed the importance of defining learning outcomes before choosing a learning technology. Now I want to add a third element in the planning mix: curriculum. The Building Blocks for College Readiness program offers two important findings about the relationship between curriculum and learning technologies:
When a learning technology is directly embedded into a specific curriculum, teachers and school leaders are willing to devote more time to implement it.
It is important to understand how a learning technology can be integrated into the curriculum to support CCSS content rather than used as a supplemental add-on that takes time away from core curriculum.
Here's how I illustrate the relationship between these three elements:

Learning outcomes and curriculum are the means to student achievement. As their enabler, learning technology must relate to both. Thus, an understanding of the three elements' interactions is required to facilitate student achievement goals.
We know that schools and teachers are searching for new instructional materials to help them implement the CCSS. That's why NGLC included the specific CCSS addressed by the grantees' tools on their profile pages. Many grantees also shared documents that map standards to individual elements of their learning technologies and provided lesson plans or specific class activities. Other grantees embedded CCSS-tracking into their learning technology and emphasized CCSS-aligned instruction in their training:
For example, when creating its WhyPower game, DaVinci Minds developed display mapping of Common Core-based embedded assessment results so teachers can view class-wide progress on specific standards. And CCSS tracking is embedded into the game design. Students earn career badges indicating exposure or completion of standards.
Thirteen/WNET hosted webinars about CCSS for Math and to guide educators on how to use its Get the Math game to teach key Mathematical Practices. They attracted a total of nearly 1,000 participants from across the country and around the world.
I think North Carolina State University (NCSU) really articulated the positive results gained from understanding the relationship between learning outcomes, curriculum, and learning technologies:
"The team found that a tight curricular integration created a more conducive learning environment that provided continued support to both the teachers and students. The curricular plan helped teachers with this classroom integration by tightly mapping in-game activities with out-of-game classroom experiences and elaboration. With this guidance, combined with teacher training, instructors were able to seamlessly integrate the software experience into the classroom and effectively use it as both a personalized teaching tool and also as a motivational tool for student engagement."
–NCSU final report
2. Don't Assume Automatic Acceptance of Technology in the Classroom
Technology is engrained in students' lives; just look at middle school and high school student tech usage levels today: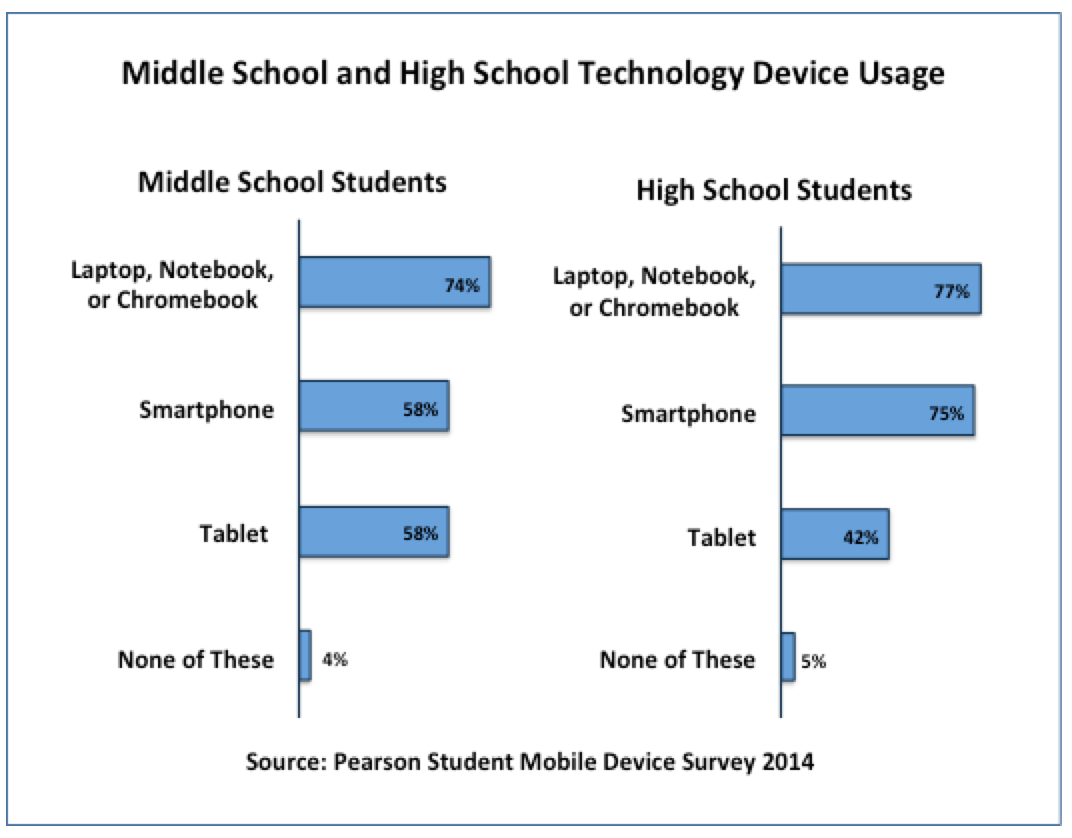 What I found interesting about the Building Blocks for College Readiness findings was students' tech usage did not translate into automatic acceptance of learning technologies. In fact, as this next chart shows, almost 30 percent of teachers felt that student resistance was an implementation barrier.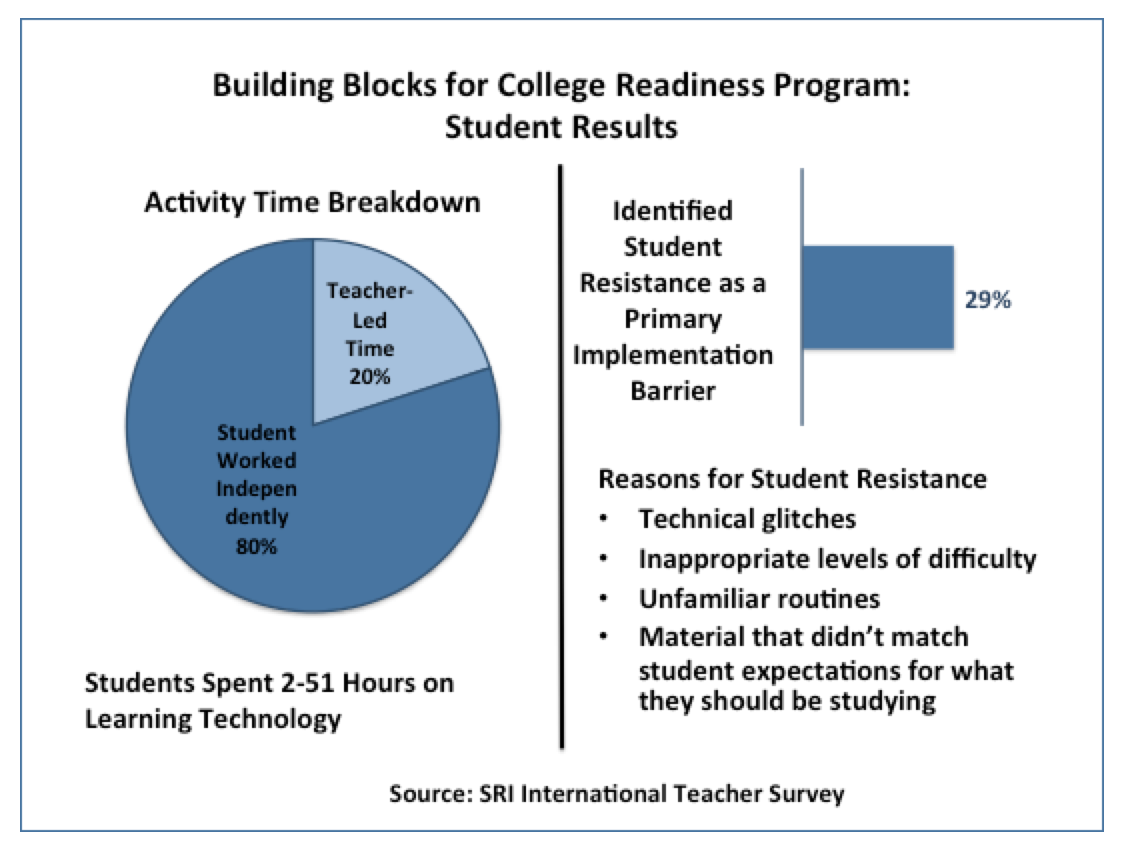 Yes, a time lag exists between the grant's 2011-2013 timeframe and today. Student adoption and use of technology may now be higher, but as the chart shows, student resistance stemmed mainly from non-technical issues.
Their resistance issues point to the need to:
Calibrate curriculum and learning technology tools to students' capabilities.
Instruct students on how to use the learning technology tool, and to set proper learning expectations.
And resistance due to technical glitches reinforces the need for teachers to test-drive learning technologies so they can work out tech issues before students use the tools, as I suggested in a previous blog post. It won't stop Internet service disruptions or limited availability of computers, but it will prevent frustrations arising from software glitches and system incompatibilities.
3. Use Learning Technology to Strengthen Students' Interpersonal Skills
The chart above shows that students invested considerable time on the learning technology tools, mainly working independently during class time. What it doesn't show is that some students accessed their learning technology tools outside of formal class time—during free time at school or at home.
When reading the grantee final reports, I was struck by how classroom use of learning technologies brought students together—not only fostering peer-to-peer teaching and collaboration among students, but changing their behavior towards each other:
In general students enjoyed using the learning technology tools. In fact, one grantee observed that student attendance improved on days when the tool was used in class.
Several grantees noticed marked increases in student interactions when using the learning technologies.
Sometimes students who were not normally vocal took on a new, active role in the classroom. Quiet students who were recognized as "gamers" became experts and assumed leadership and mentoring roles helping fellow students learn to play the games.
In some cases students became more casual and familiar, like putting a hand on another's shoulder while they looked at a screen together.
My takeaway: Learning technologies may bring to mind images of isolated students working on their own, but these behavioral dynamics offer another dimension to consider when integrating learning technology in the classroom. These kinds of interpersonal skills can help students prepare for college and beyond.
Learning Technology Resource: Platforms
At the end of previous posts, we looked at NGLC-funded games and learning modules. Here is the final category: learning and assessment platforms.
The platform-based learning technologies serve as organizers for collections of content with embedded assessments. They offer interactive features that allow users to engage with the content in a variety of ways and pull specific material together for individual students and may even be customized for teachers and parents.
One Final Thought...
I hope you found my blog series helpful! I want to leave you with Classroom, Inc.'s words about learning technology's incredible potential to help middle school students develop the needed skills today in order to thrive tomorrow:
"Our hypothesis that we could develop a learning game that tapped important CCSS reading standards, and that students would also enjoy and learn from, proved true. With our understanding of the CCSS, we were able to develop engaging, rigorous, and appropriate levels of nonfiction text in a game setting that students liked and were motivated to read."
–Classroom, Inc. final report
---
This is the fourth and final post in a series on technology-enabled innovations designed to advance seventh-to-ninth grade student achievement. Read the other posts below.  Note: All findings are drawn from an external evaluation conducted by SRI International as well as grant recipients' results and observations.