New Designs for School
Student Voice: A Look Back as We Plan Ahead
February 19, 2021
Topics
Learner Agency
Design Thinking
School Culture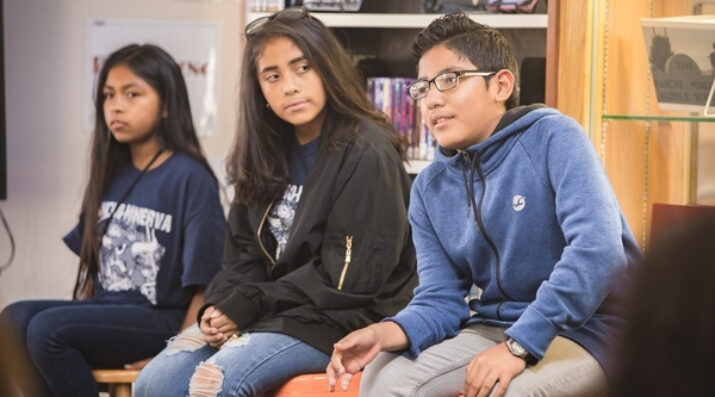 New Designs for School
New Designs for School
We've all had the experience of truly purposeful, authentic learning and know how valuable it is. Educators are taking the best of what we know about learning, student support, effective instruction, and interpersonal skill-building to completely reimagine schools so that students experience that kind of purposeful learning all day, every day.
Learn More
Practitioner's Guide to Next Gen Learning

These stories of learner agency and co-creation feature young people designing their own learning and redesigning their schools and communities in the process.
During a time when our necessary national and local response to the pandemic stripped students and teachers of a sense of control, we realized the importance of giving power and control back to our students.
—Jeff Heyck-Williams, director of the Two Rivers Learning Institute in Washington, D.C., in "The Power of Student Choice in Remote Learning."
For the last few years, the Friday Focus: Practitioner's Guide to Next Gen Learning and NGLC blog have made student agency and voice the focus of our February publications. We have used this guide and other spaces to highlight practices that empower learners and to give voice to young authors telling the stories of how they learn best.
Revisiting both the why and the how of learner agency seems especially important this year, as we imagine what teaching and learning will look like post-pandemic. Re-opening, rethinking, and rebuilding education for equity and lifelong student success will require the best ideas from all stakeholders, and that includes the learners themselves.
To remind ourselves of what we collectively know about the power and value of student voice, this edition of the Practitioner's Guide to Next Gen Learning serves as a retrospective of stories from recent years about young people designing their own learning and, in many cases, redesigning their schools and communities in the process. In particular, we highlight:
How learner agency works as a lever for equity
Ways educators and students co-create learning
Voices of young people about their learning
Empowering Learners for Equity
Learner voice is a cornerstone of many models that aspire to personalized, next gen learning. It is not surprising, then, that providing opportunities for learner choice and self-direction is a common goal among schools and districts in the NGLC community. Take a look, for example, at recent, broader definitions of learner success—such as the MyWays Student Success Framework or one of many updated graduate profiles—and you are likely to see learner agency reflected there as a key element to support future success in learning, career, and life. In addition, as a number of our guest bloggers have pointed out, learner voice can also serve as an engine for equity and positive change, for both the individual learner and the larger community. For example, in "Designing for Race Equity: Now Is the Time," Andrew Plemmons Pratt explains how the school redesign work of CityBridge Education is guided by the equityXdesign Framework. Referring to the Framework's key principle of ceding power, Andrew describes ways to deeply engage learners to be co-designers of equitable learning.

This spectrum of design power dynamics, from the equityXdesign Collaborative, challenges adults to move from soliciting learner input to enlisting them as co-designers of the school program.
For Theresa Bruce, a social studies educator in Baltimore, Maryland, knowing how to advocate for themselves and their communities is an imperative for all learners, regardless of their ethnicity or zip code. In her blog post, "21st Century Learners as Activists," she shares ways she supports learners to develop critical information analysis and advocacy skills and then, in social action groups, apply those capabilities to identify and address injustice in their school and in the wider community.
Maya Kaul's blog post, "Keeping Students at the Center with Culturally Relevant Performance Assessments," explores the potential of performance assessments to center learners' cultural identities. Multidisciplinary projects, presentations of learning, and reflections on learners' educational trajectory, she explains, can provide a critical space for students to reflect on and share their personal stories and their identities as learners.
In "Student-Led IEPs: Realizing the Promise of the Individuals with Disabilities in Education Act," Rossana Mahvi and Jeff Heyck-Williams address learner agency and inclusion in the context of Individualized Education Plans. Noting that traditional formats for developing a learning plan often exclude the most important stakeholder—the learner—the authors propose using an inclusive process, one in which learners are provided with the tools and spaces to engage in a continual cycle of reflection, celebration, and adjustment.
Designing with and for Learners
Providing students with some degree of choice in their learning is not a new practice. However, schools and districts that have embraced personalized, next generation learning often conceive of learner agency in more profound and expansive ways. Rather than exercising limited choices within structures defined by adults, learners in many schools in the NGLC community work alongside educators to design learning experiences and even to shape the entire school model.
As explored in Jeff Heyck-Williams' blog post, "Student-Led Conferences: A Key Structure of Student Agency," supporting every student to be a life-long active participant in their own education can begin in elementary school. Student-led conferences, he explains, empower students to own their data and their learning by sharing where they have gone in the last semester, describing where they are planning to go, and mapping out with the adults in their lives how they are going to get there.
At some schools, a significant step in cultivating learner agency involves adults co-designing a signature learning experience with the learners themselves. For example, in "Co-Designing Learning WITH Students: a Snapshot at Souhegan High School," the authors—including students, as well as educators—describe and share perspectives on how they collaboratively transformed their New Hampshire school's traditional "Junior Research Paper" to a learner-centered "Junior Learning Project."
Another blog post that features learners speaking about the experience of co-design projects is "Transforming High School by Engaging Student Voice: Co-Creating Learning," by Matt Doyle and Craig Gastauer. With a focus on the relationships between learners and educators as they co-create learning experiences, the story also includes a Student Perception of Co-Creation video, in which high school learners in Vista, California, explain how they see their voices impacting their learning and what a difference it makes for them.
"Students as Innovators and Co-Creators at Del Lago Academy" tells the story of how learners co-designed the prototype of Competency X, the digital badging element of their high school's portfolio-based assessment model. The piece also describes how learners continue to collect data and work with adults to refine their high school's innovative approach to assessment based on learner feedback.
Of particular interest to schools and districts that are embarking on redesigning their school models, "Learners Front and Center for Learner-Centered Design" features the work of student designers in Fall River, Massachusetts, who are taking a leadership role in reimagining learning at their school, including conducting empathy interviews, researching innovative models, and co-facilitating adult professional learning. Tapping students' expertise for educator professional learning is also the focus of "Student Voice in Teacher Professional Learning." In this blog post, Young Whan Choi explains the important roles learners from Oakland, California, played at an educator summer institute on project-based learning, from setting the vision for the week to giving educators input on planning effective PBL units.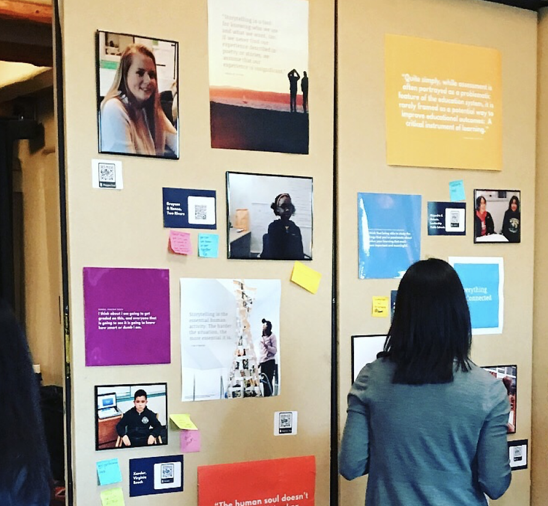 Participants at the Assessment for Learning Project's annual convening in 2018 immersed themselves in learners' experiences with assessment as it is and as they'd like it to be via a multimedia student voices installation. (Courtesy of Amanda Avallone)
Leveraging learners' voices to catalyze change at the ecosystem level is the focus of two stories based on multimedia student voice installations. In "Listening to Student Voices: the Sound of Assessment for Learning," NGLC's Tony Siddall describes how members of the Assessment for Learning Project (ALP) interviewed hundreds of learners to create an installation for their annual convening. Throughout the event, the faces, quotes, and voices of students talking about how they experience assessment surrounded and inspired education leaders as they discussed how assessment for learning could become the norm in public education.
One participant in the ALP convening, Tony Monfiletto, subsequently partnered with ALP to create a similar installation focused on the experiences of learners in his home state of New Mexico. His blog post, "What Happens When You Really Listen? Student Voices Reshaping Policy," describes "If You Ask Me…", an interactive, touring exhibit. The culmination of a 1,000-mile road trip across New Mexico districts, the installation captures learners' answers to the questions, "How do you learn best?" and "What would you change if you were in charge?"
To support educators to enlist learners to help to shape and accelerate school improvements, Kelson Goldfine's blog post, "How Do You Include Students in School Improvement? Six Tips from YouthTruth," features the work of six districts that have not only made student feedback a priority but regularly recruit students to lead the full process—from surveying, to reflection and interpreting, to prioritizing next steps and strategic planning.
Amplifying Learner Voices
As the stories above attest, implementing strategies and structures for including learners as stakeholders and co-designers, not just "users" of education, can serve as a powerful force for improving the learner experience, the learning environment, and even the community beyond the school walls.
However, even the best structures and processes do not nullify the value of simply listening to young people talk about how they experience learning. Therefore, the stories below highlight the voices and writings of learners themselves.
In "A Middle School Student's Take on Personalized Learning," Sophia Halkias shares the results of her interview with Jonathan Reyes, an eighth grade learner at CICS Bucktown in Chicago, Illinois. In particular, Jonathan discusses the advantages of a self-paced program and the challenge of finding a balance between independence and responsibility.
Matt Doyle's "Building Student Agency into Learning Pathways, a Student's View" includes an essay by Navarro Peck, a learner in Vista, California. Using examples from his classes at Mission Vista High School, Navarro points out the benefits of a personalized, learner-centered approach to learning.
"Learners' Perspectives on Formative Assessment Culture" features the voices of four high school learners from Tulsa, Oklahoma, who presented at the 2020 Assessment for Learning Conference. In this interview, they identify key elements of formative assessment and explain why and how creating a formative assessment culture in the classroom supports learning.
As part of her virtual consultancy experience with NGLC, Ricky Sierra, a learner at Da Vinci Extension in Hawthorne, California, published "A Student's Perspective: Some Truths about Real-World Learning." In her story, Ricky contrasts Da Vinci Schools' project-based learning with traditional models and emphasizes the importance of strong relationships with adults to create a safe place for creativity.
Written during the pandemic, "Reclaiming Education through Community Partnerships" argues that schools should not try to return to "business as usual" when the crisis is past. In her blog post, Zayda Kellogg, a student at Peoples Academy High School in Morrisville, Vermont, explores what remote learning has taught her: that she thrives when she has more agency over her learning and can connect with peers and adults from the community who share her interests.
"Learners Lead at Lindsay Unified," an interview with Alexis "Lexi" León, a senior at Lindsay High School, tells the story of how she and other learners serve not only as leaders and change agents in her school district, but also as ambassadors for personalized learning for visitors and partner districts from across the country who are working to transform the learning experience.
Resources
---
Photo at top courtesy of NGLC: Middle school students in Vista Unified School District in California discuss their learning experience with visitors.